College is undeniably a time to work hard, but it's also a chance to have new adventures, meet new friends, and, throw the best parties. 🥳
Spice up your get-togethers with these top 27 fresh college party themes full of dancing, fun activities, and stunning photos for Instagram.
1. Zombie Apocalypse 🧟
Dance like it's the end of the world and immerse the crowd in post-apocalyptic vibes with a zombie-themed college party. 
Costumes are not a problem. Pick out any worn-out clothing lying around and decorate it with red paint or old make-up and voila, you're instantly dressed. 🧟 
Keep the party going and organize fun games like a zombie crawl race or a body part scavenger hunt to knock your guests dead!
2. Bonfire Night 🏕️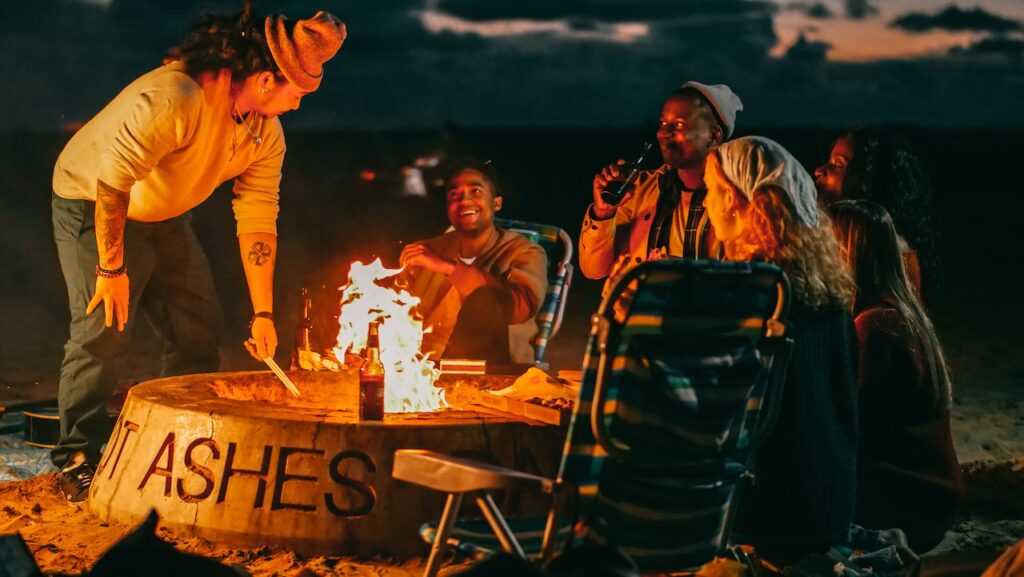 Remember how thrilled you were on your first bonfire, singing along to songs and telling spooky tales? Recreate the same bonfire experience at a college party with your friends. 
Share stories over the crackling flames, enjoy the ambiance, and toast s'mores as darkness fall. You can even put up LED lights from the dollar store to set the mood for this college party theme. 👻   
Whip up quick budget bites, eat al fresco, and relish the outdoors. 
3. Prom 👑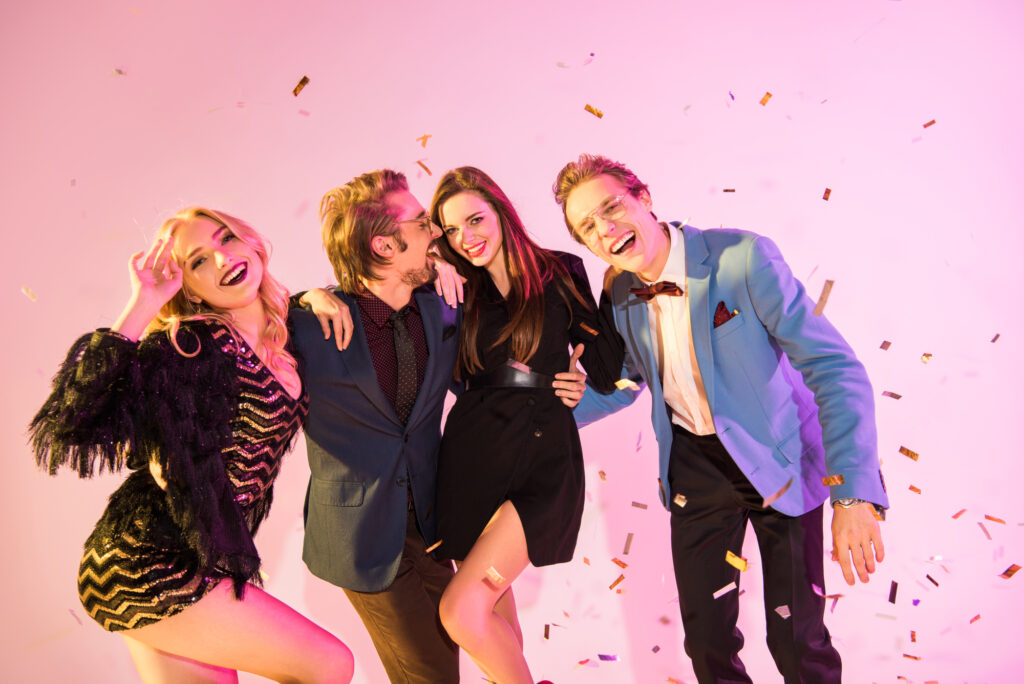 If prom memories make you smile (or cringe), this college party theme may be a great way to relive (or redo) your prom night. 👑
Mix and match some high school favorites and iconic dance anthems that your guests can dance along to, buy some plastic tiaras and sashes to award the night's prom king and queen, and remember to put up a DIY photo booth for that perfect prom memento! 🖼️
4. When I Graduate 💭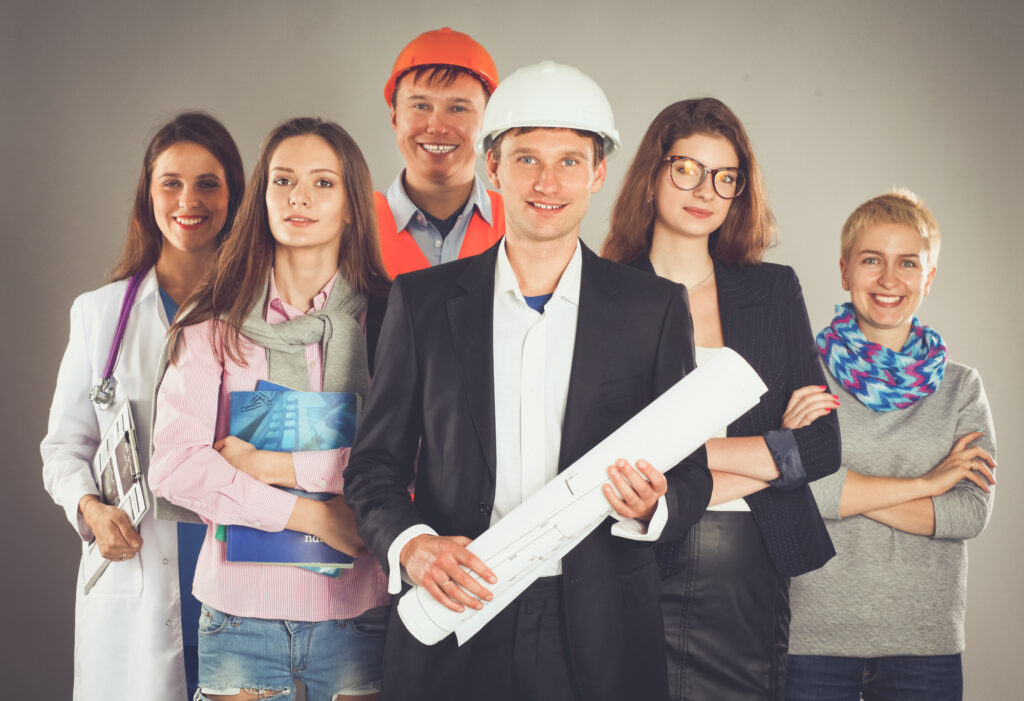 Whether you want to be a corporate boss or are looking to serve the community, this theme is your chance to dress for the job you want after graduation.
Come as a nurse, mad scientist, businessman, or engineer — show off your future profession, and be surprised at how this can be a great conversation starter. 🙌
This party doesn't have to break the bank. Put together DIY costumes or borrow uniforms from some of your friends to nail the look. It'll be fun to invite your guests to an impromptu fashion show so they can showcase their outfits too. 🥼
5. Casino 🎰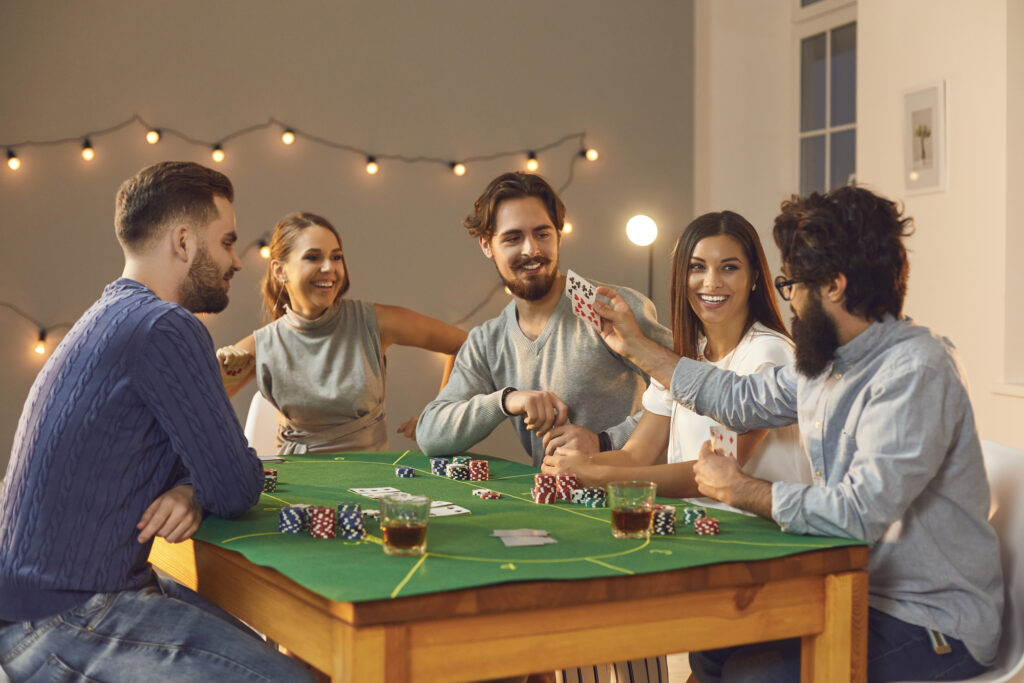 What's a casino-themed night without stakes, right? With just a couple of dice and a few packs of playing cards, you can transform your dorm into a high roller's paradise with casino favorites such as blackjack, roulette, and, of course, poker. 😉   
If you want to keep it fun but competitive, give the winners unusual prizes like drinking coupons instead of cash. You can even create fun challenges for those on the losing side, as long as it's in the spirit of friendly competition.  
Go all in and set up the mood with some fun music, and everybody will feel like it's their lucky night at your casino night college party! 🍸  
6. Superheroes 🦸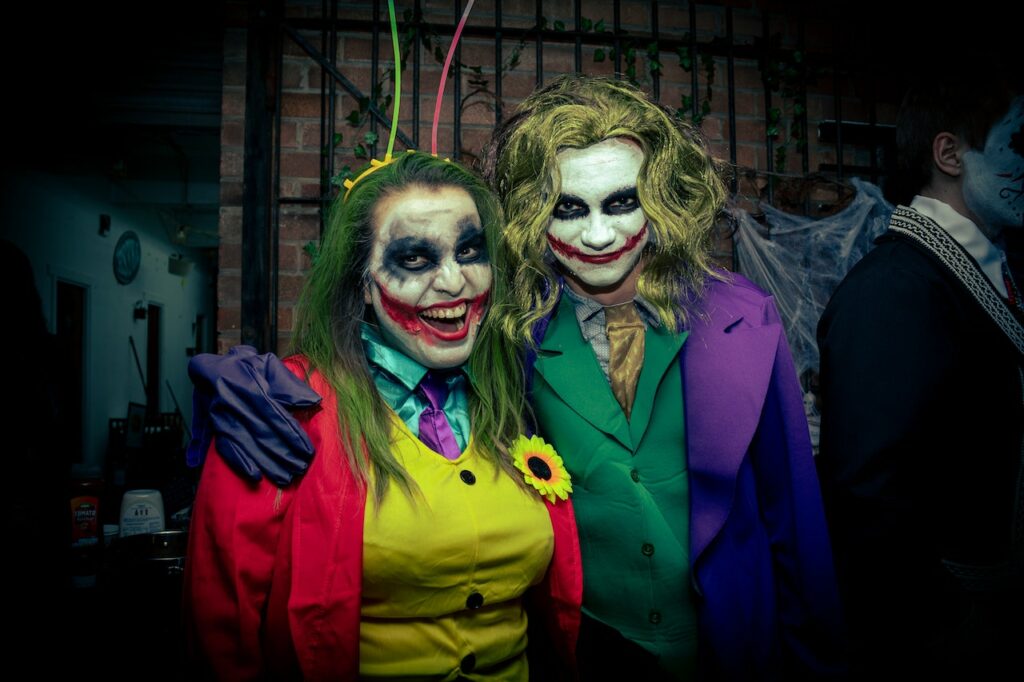 Whether you're dressing as the diabolical Joker from the Batman series or as everyone's favorite Captain America, a superhero college party theme is a chance to geek out and show up as your favorite characters with friends. 🦹
Transform a space into a superhero cave and put up posters with classic titles like "Batman," "The Avengers," or "Watchmen." Remember to check out local thrift stores or DIY your decorations.
Stay true to the party theme and play superhero movie soundtracks as background music! 🎵  
7. Disco 🕺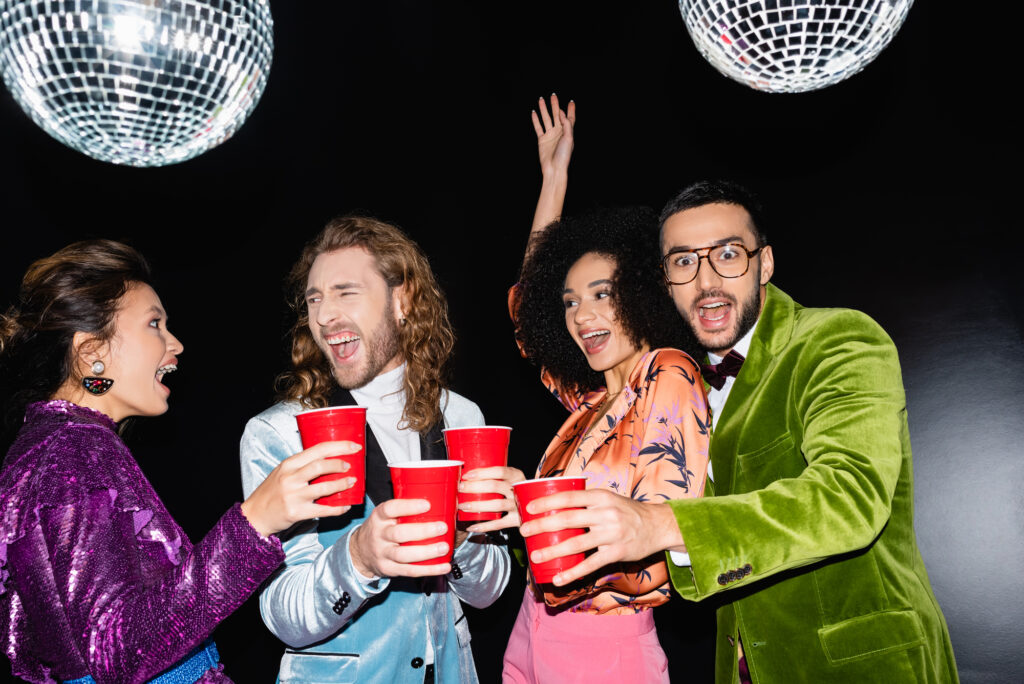 Dust off your dancing shoes for a 70s disco college party theme. Do it in the dorms, or split the cost of renting a roller skating rink or bowling alley with your friends. 
No need to feel pressure about food planning. Go for sliders, hotdogs, milkshakes, or sodas, or whip up some iconic 70s party dishes like a prawn cocktail or deviled eggs.
Remember what's essential — curate a college party playlist that guests can sing and dance along to. Lit dance floors and disco balls are always welcome! 👯
8. Disney ✨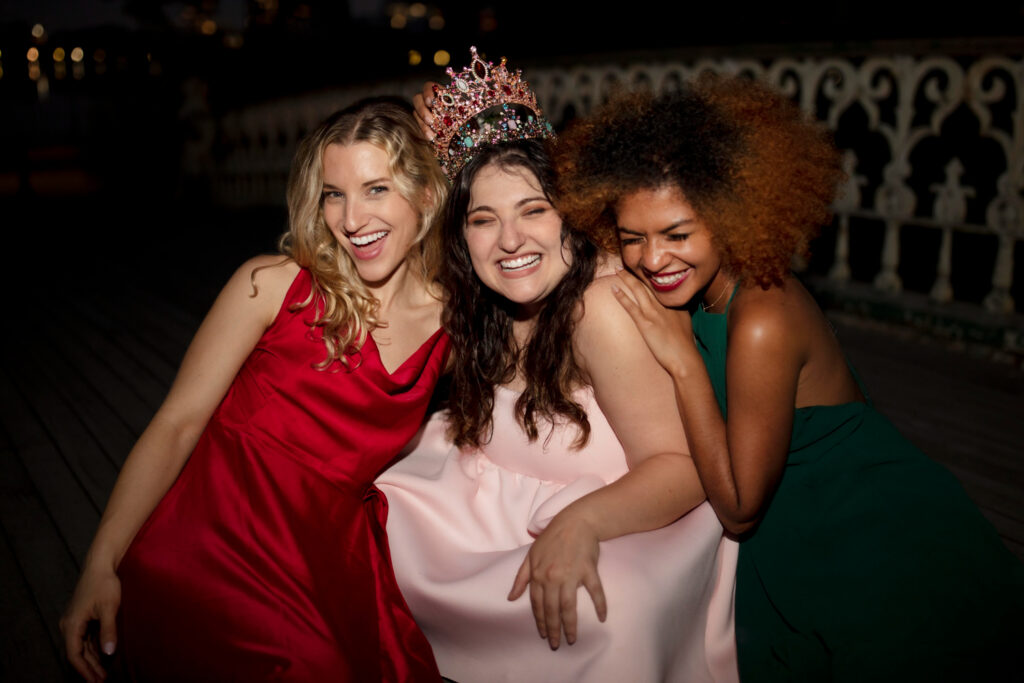 Live your fantasy of being a prince or princess and unleash your inner magic as you and your friends dress up in a Disney-themed college party! ✨
Go for a more generic approach to the Disney college party theme, so your guests can recreate their favorite character costumes. 
Put up a few castle backdrops, play classic movie soundtracks, and you're good to go (even if it's past midnight)!
9. Wild West 🤠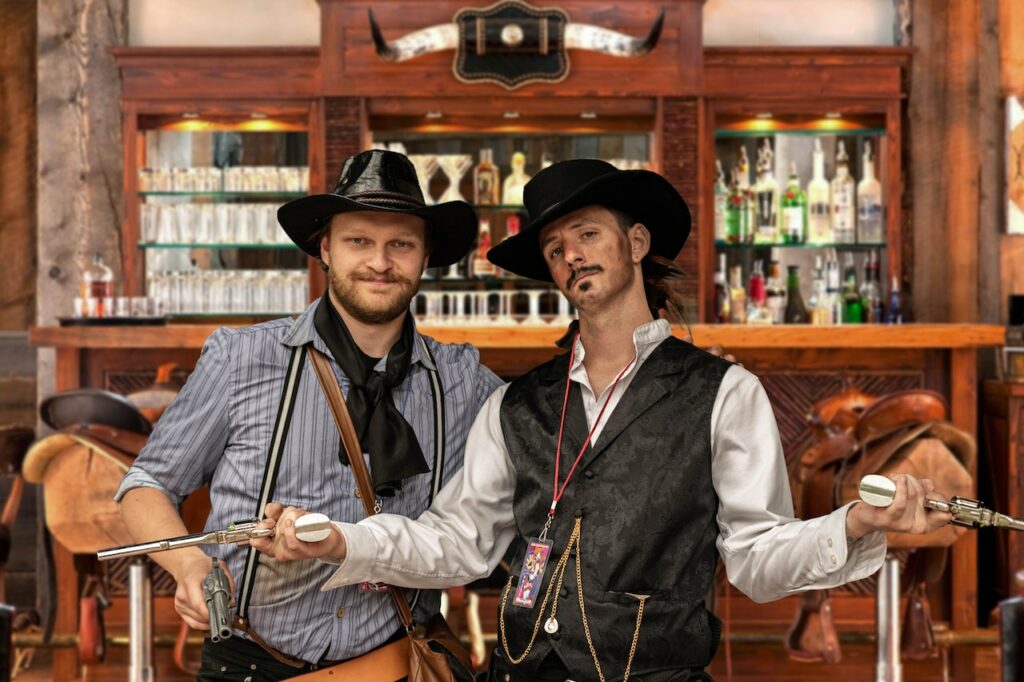 Saddle up and get ready for a swinging western college party attended by outlaws, cowgirls, and bandits. Turn your space into the Wild Wild West with a huge western welcome banner!
Invite guests to come in their finest cowboy and cowgirl gear, incorporating plaid, red bandanas, and fringe to match that western mood (all things your peers should have, hiding in the back of their wardrobes).
Playing drinking games such as ring tossing on boots or balloon popping using water guns are surefire ways to keep your guests hootin' and tootin'. All set? Giddy up now and have a night of line dancing, lasso slinging, two steps, and yee-haws. 🐴   
10. Glow in the Dark 💡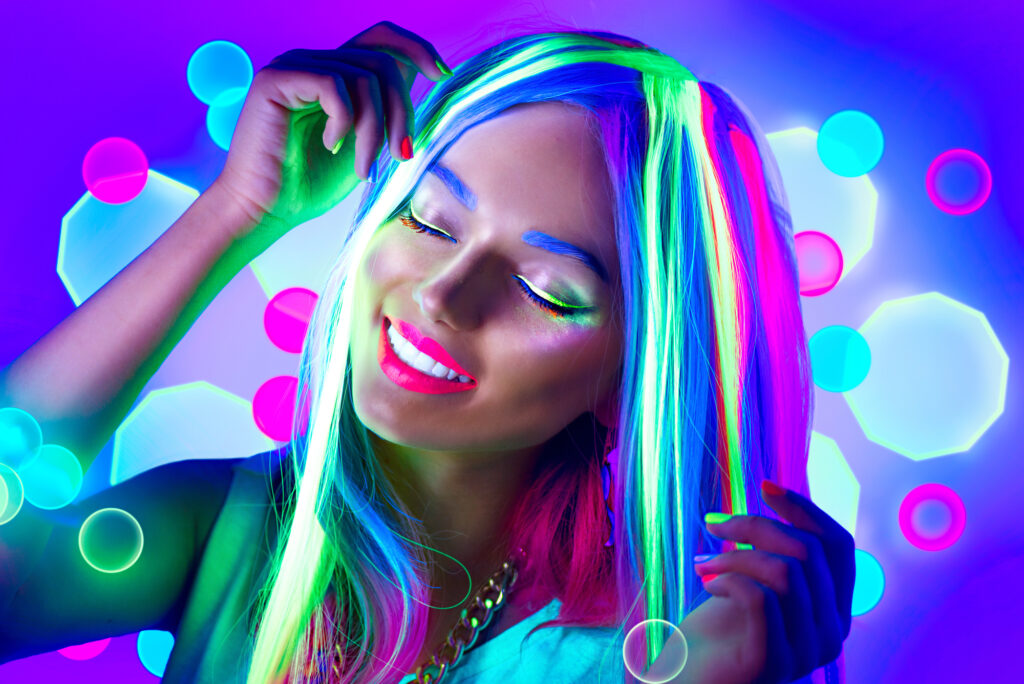 Tired of your usual dance parties? Turn a regular night into a visual spectacle with a glow-in-the-dark college party theme. 🤩
This college party is all about great music and dancing so make sure your playlist is banging. Surround the venue with neon bunting and use reflective colored tape to mark the dance floor. 
Incorporate fluorescent makeup and face paint on your guests for some great pictures and get that full effect while dancing too! 📸
11. Fright Night Delight 😱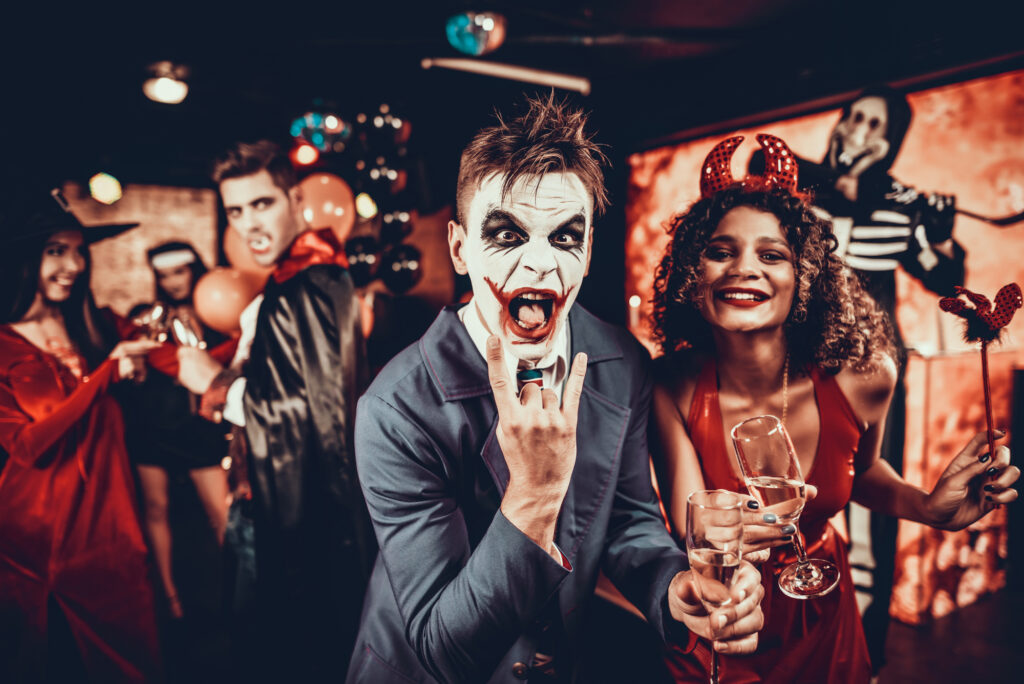 You don't have to wait for Halloween to have a night full of frightful delights with your college friends. 
Turn an indoor space into a spook-fest any time of the year with ambient lighting and background music, or find a scary spot outdoors. You can even DIY a photo booth with props like cardboard gravestones, cauldrons, skulls, spiders, and cobwebs. 🕸️
Add some Halloween-themed nibbles, curate a killer playlist, and this college party is sure to make a mark!       
12. Foam and Bubbles 💦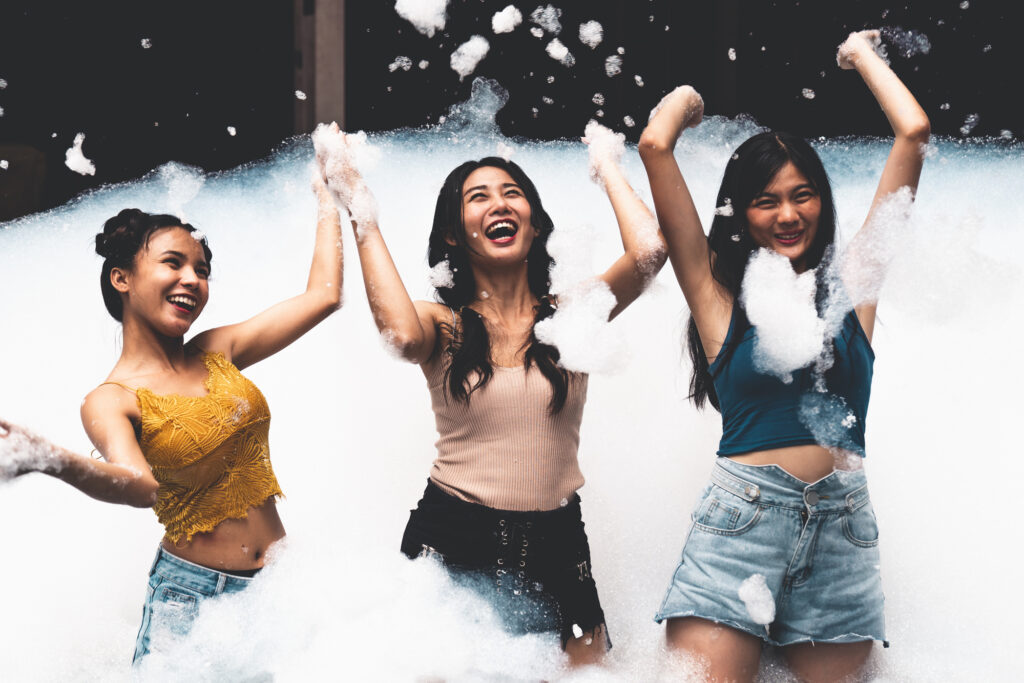 Bust out your bathing suit, blast some summer hits, and just add bubbles for this summertime college party theme. 😉
Look for a nearby rental store, or pool your money to buy a foaming machine from eBay. Get your cameras ready and compete for the coolest pose to spice up the party.
Planning for easy-to-cook snacks and drinks? Remember to use reusable plastic cups and plates as an added safety precaution, and to avoid single-use cutlery.
13. Rock 'N' Roll 🎸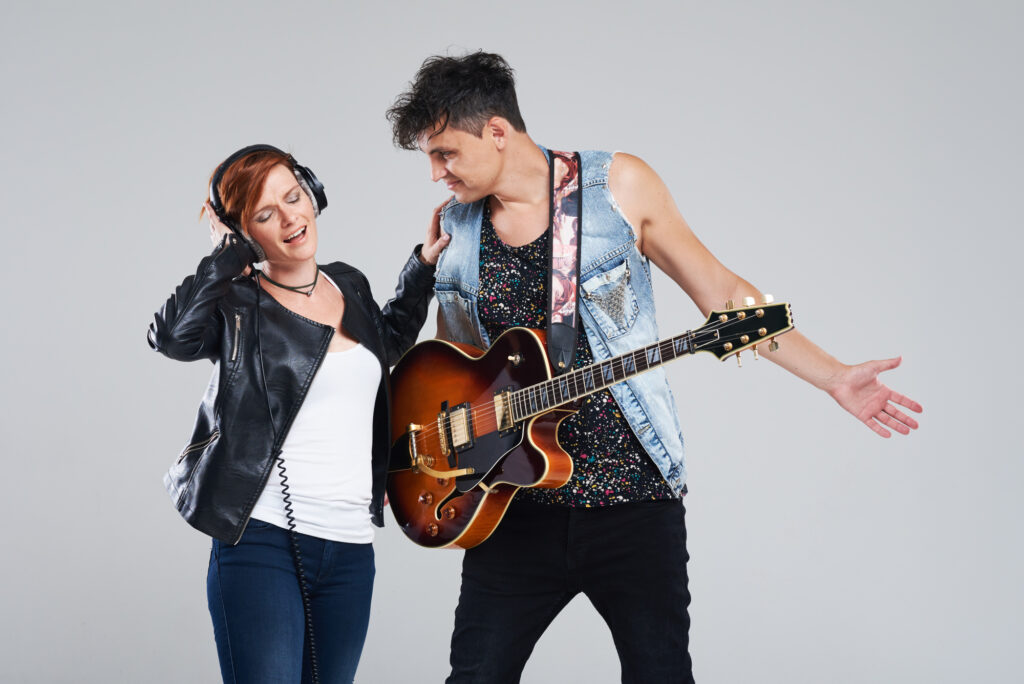 Take out your guitar and start riffing because it's time to let loose and live your rock star dreams! 🎸 
Get into that hardcore spirit and request your guests to dress in their finest rock attire. They can come as their rock 'n' roll superstars of choice or simply opt for general rock-themed clothing. 🤘 
Hold a costume contest for friends during dance breaks, or find out who can create the best impersonations of rock icons.
14. Pirates 🏴‍☠️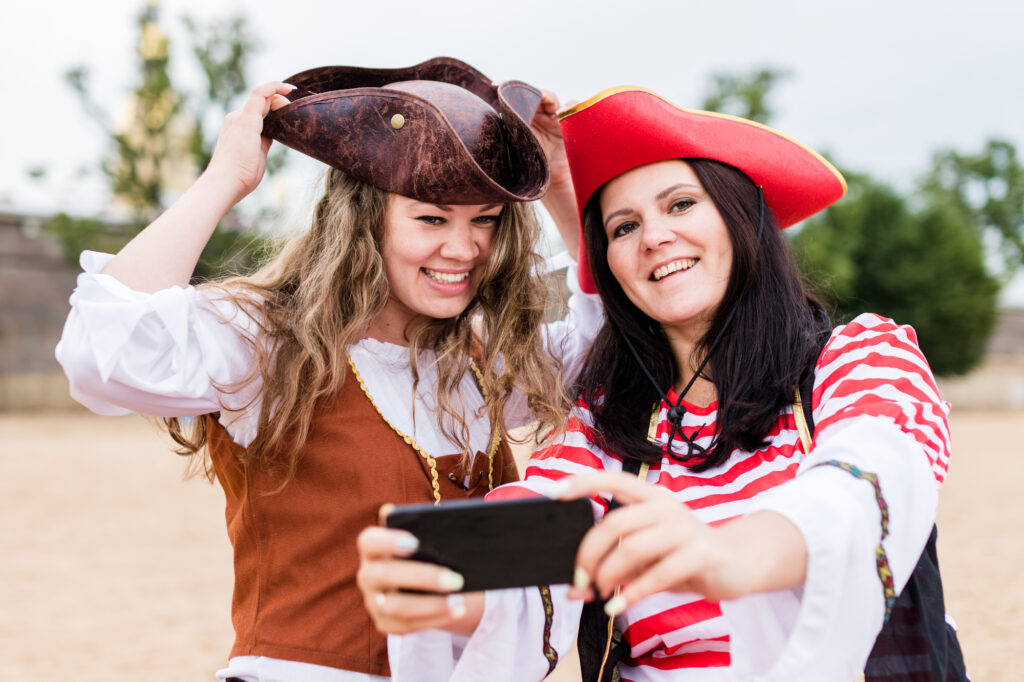 Dress up like Captain Hook, Captain Blackbear, Elizabeth Swann, or Captain Jack Sparrow, and come aboard this pirate college party theme.
Go the extra mile and take a quick trip to the dollar store. Buy some pirate-themed bites like cheese goldfish crackers, and grab materials to make your own "skull and bones" flag for your college party. 🏴‍☠️
Bring every buccaneer on deck and play pirate-theme games like cannonball-tossing using water balloons and make the losers walk the plank (just kidding). 🤭 
15. Roaring Twenties 🥂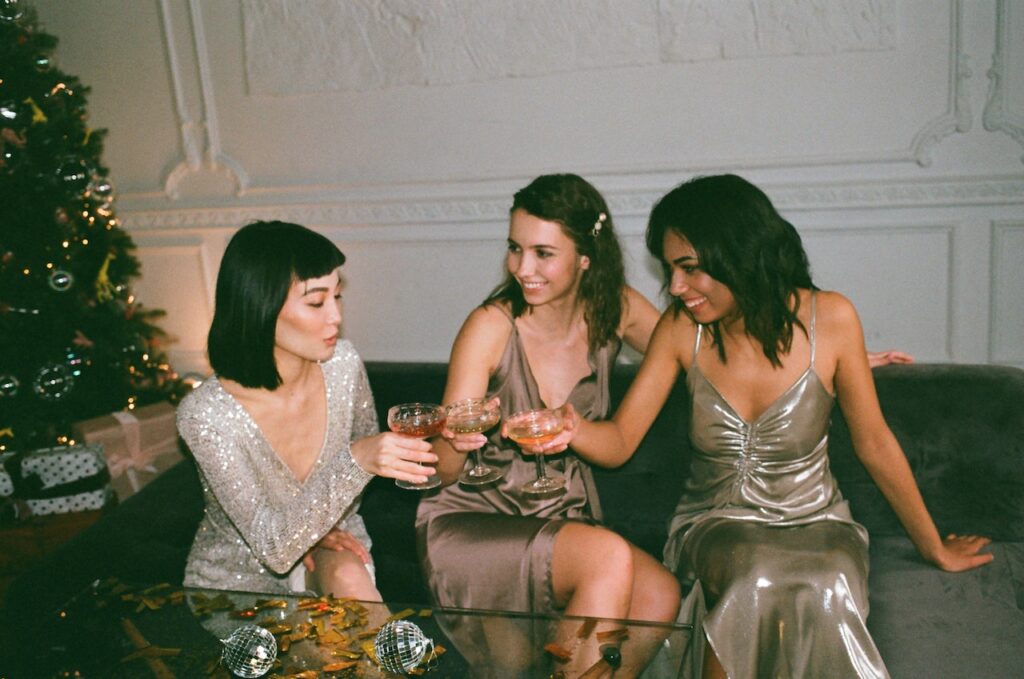 Pull out all the stops by incorporating art deco lights, sparkly streamers, and plenty of glitter or confetti into this roaring twenties college party theme.       
On your e-invites, remind your guests to show up in flapper dresses and dapper hats and embrace the decadent decade. Put up a photo wall for your guests' 15 seconds of fame and mementos for Instagram!      
Make sure you have a decent sound system and play some 1920s music, including lots of ragtime and swing melodies to get everybody grooving. 💃 
16. Angels and Devils 👼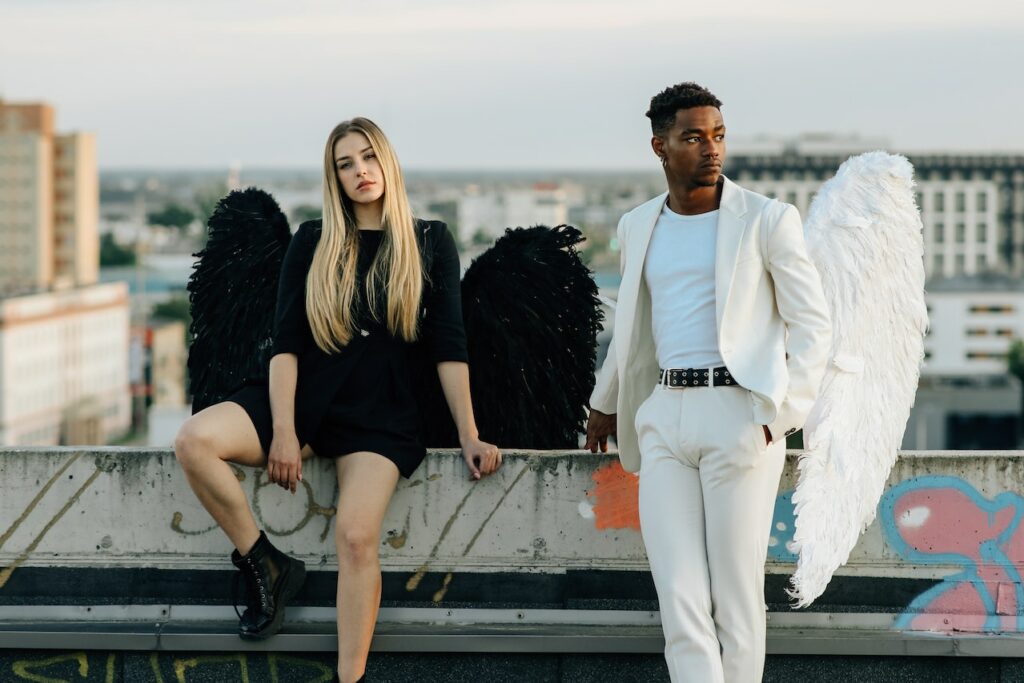 Stay on your friends' good side and invite them to this sinfully good college party. 👼 
Spruce up the venue with props or old toys from thrift or dollar stores — think devil horns, red capes, halos, or feathered wings.
No party is complete without fun games and activities. Set up a mini catwalk for guests and have a fashion showdown for the best angel and devil costumes or think of fun consequences when you play truth or dare. 
17. Witches and Wizards 🧙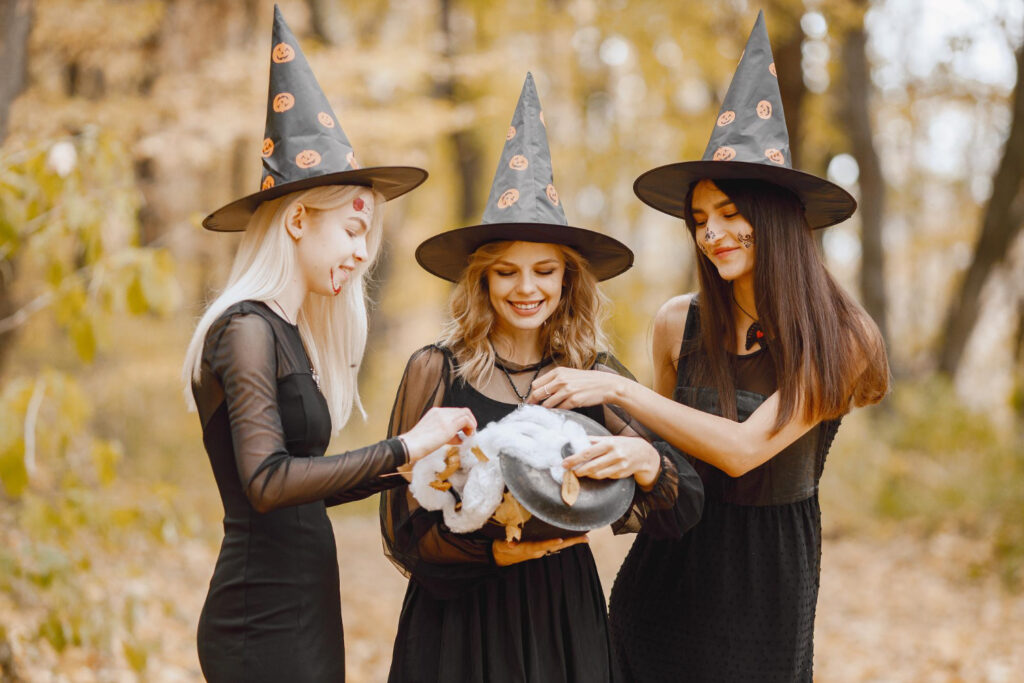 Did you know you can turn a plain evening into a wickedly fun college party with wizardly props like eerie candles or broomsticks? 🕯️
Keep the party going with tarot-reading sessions, exploring spells and ouija boards, or even mixing up your own potions (drinks). Throw in some spellbinding music and prepare appetizers such as finger cheese sticks or peanut butter mummies for that extra charm.
What are you waiting for? Go and tell your coven to save the date for this witches' and wizards' college party theme!
18. Karaoke Night 🎙️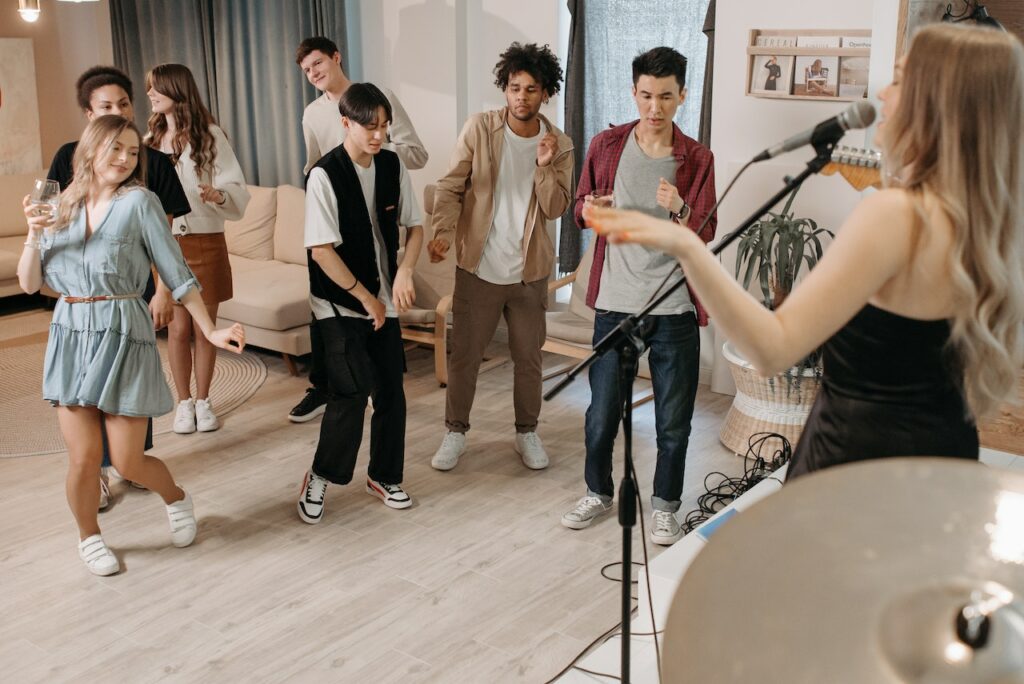 It doesn't matter if you're the next Mariah Carey or sound like you're crying for help, a karaoke college party theme is all about having a good time and singing loudly as if no one is listening. 🤭
Sing your favorite tunes in this get-together where everyone gets the chance to take center stage. Set up your own karaoke system and curate well-known party favorites to encourage your guests to embrace the limelight! 🎤
Tip: No karaoke machine? YouTube is your best friend. Search for lyric videos on YouTube and curate a playlist for your guests. Set up your desktop computer, laptop, or tablet, and cast the video onto your smart TV. You can also use a projector if available.
19. Mardi Gras 🍸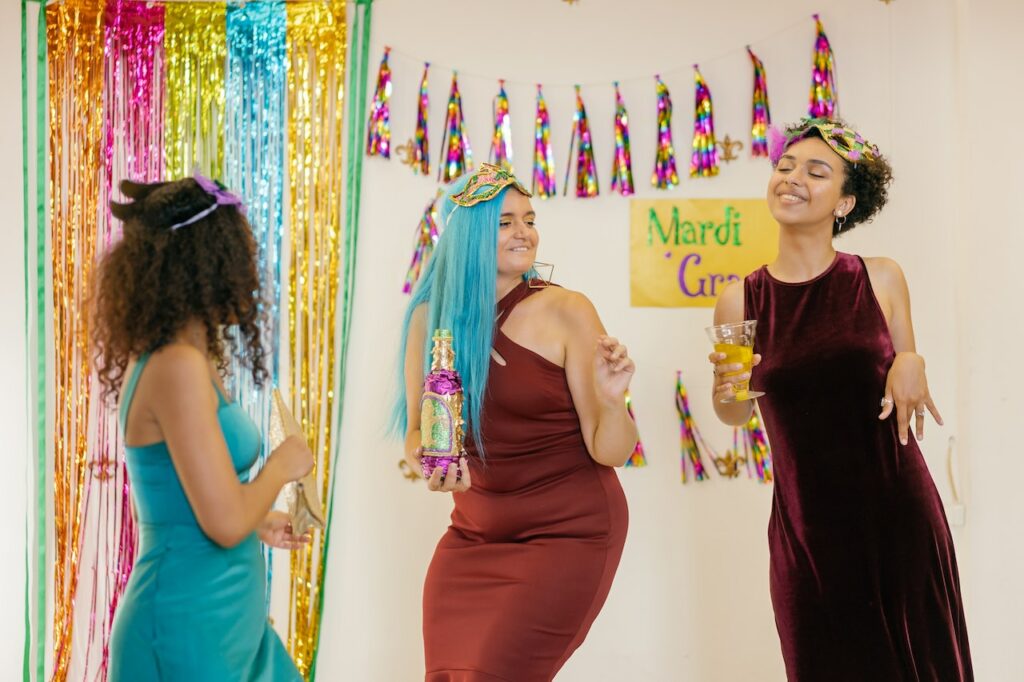 Mardi Gras is a vibrant celebration rooted in traditional spring and fertility rites best known for its street parties in New Orleans and its distinct use of the colors purple, yellow, and green. 
So if you're craving street parties down Bourbon street, grab your masks and beads to bring your Mardi Gras college party theme to life!
Dress outrageously in dazzling neon colors and put on excellent dance music or refined jazz to liven up the celebration. 🎺
20. Masquerade 🎭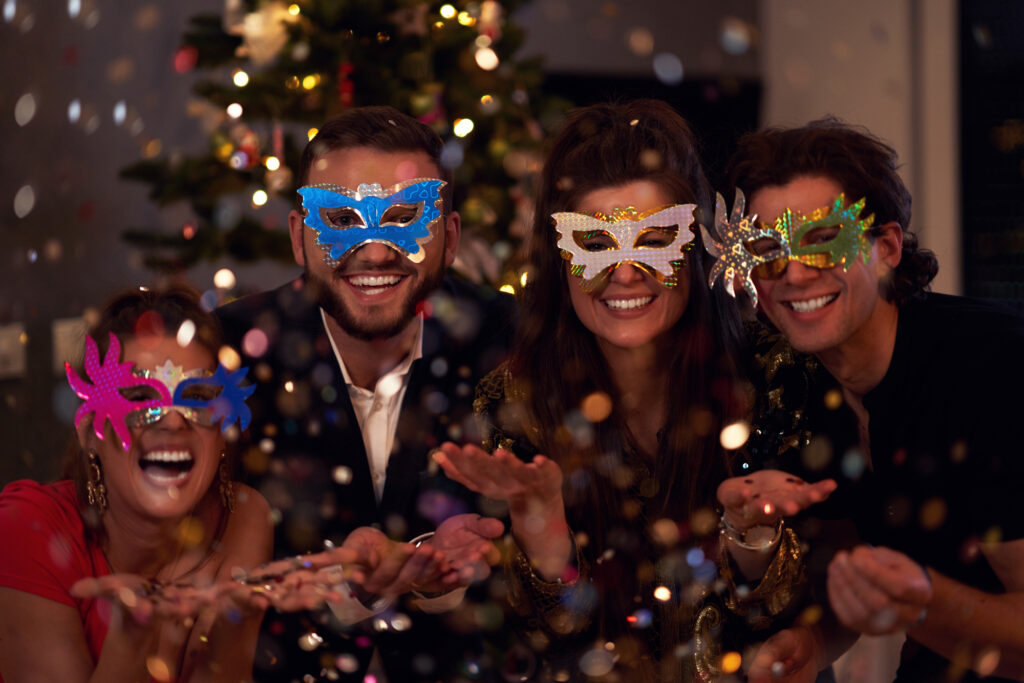 When it originated in Italy during the Renaissance movement, masquerade parties were reserved exclusively for the aristocratic classes. 
Now even college students with the tightest of budgets can glam up and enjoy a night of mystery with a lavish masquerade college party theme. Fill the space with sparkling garlands, various types of masks, and gentle yellow lights to create a sophisticated vibe.
Prepare sumptuous nibbles or finger food such as bite-size fruit or veggie kebabs. Organize your playlist, blend some waltz and modern music together, and dance the night away! ❇️    
21. Hip-Hop Night 🔊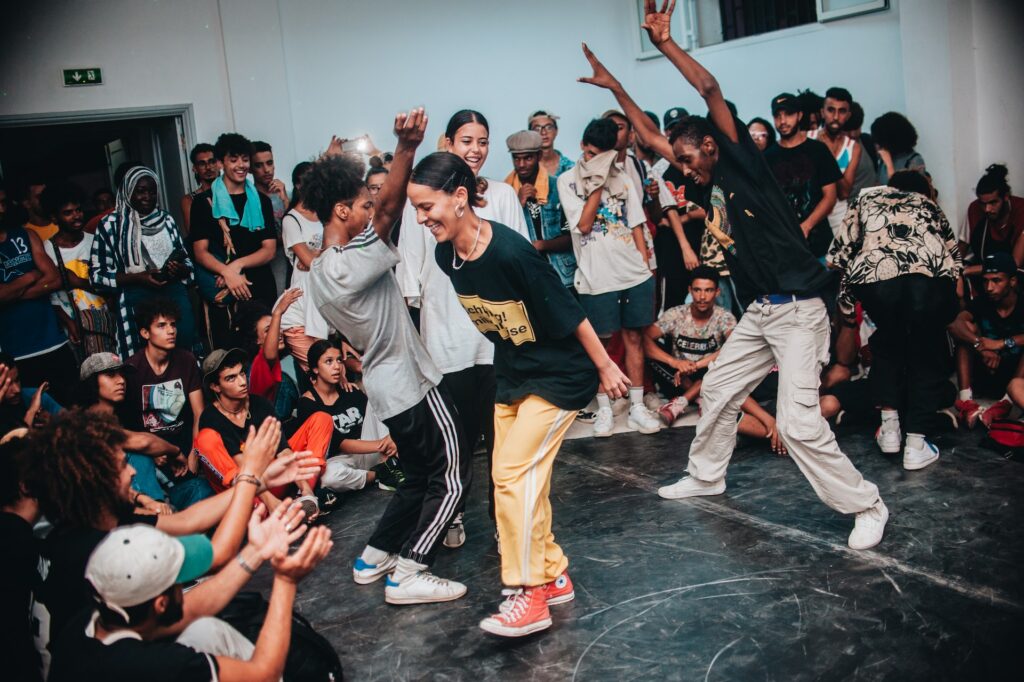 What exactly is a hip-hop college party? Think boom boxes and colorful art as backdrops; an eclectic mix of rap music from various decades; and non-stop dancing. Sounds like a fun night, right? 
The music ranks above all else, so take the time to set up a decent sound system. You can even put up mics and a makeshift stage for those who want to flex their rapping skills.
A friendly dance-off is also a great way to stay fit while having fun with your friends. 🎤
22. Be a Movie Character 🎬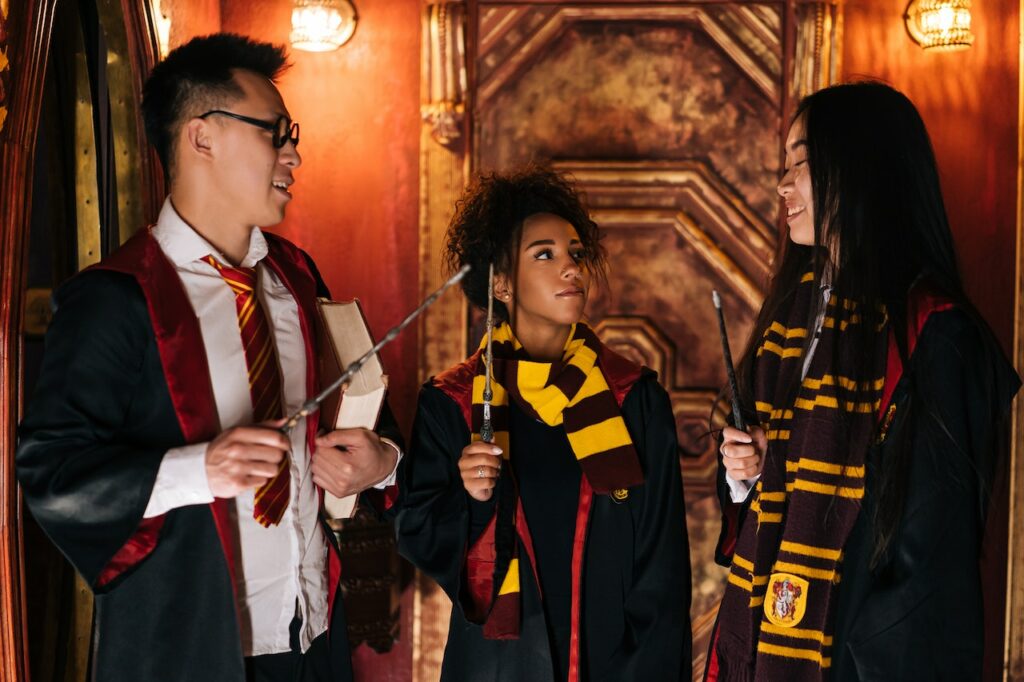 Loved Meryl Streep in The Devil Wears Prada? What about Wednesday Addams or Harry Potter? Get the chance to look like your favorite movie characters when you organize your next college party!
Bring out your inner film buff for a fun night of movie character costumes, unlimited popcorn, memorable photos, and movie trivia challenges. 🍿
Dance your film-loving hearts out at this movie characters' college party theme.
23. Toga-ther Again 🍷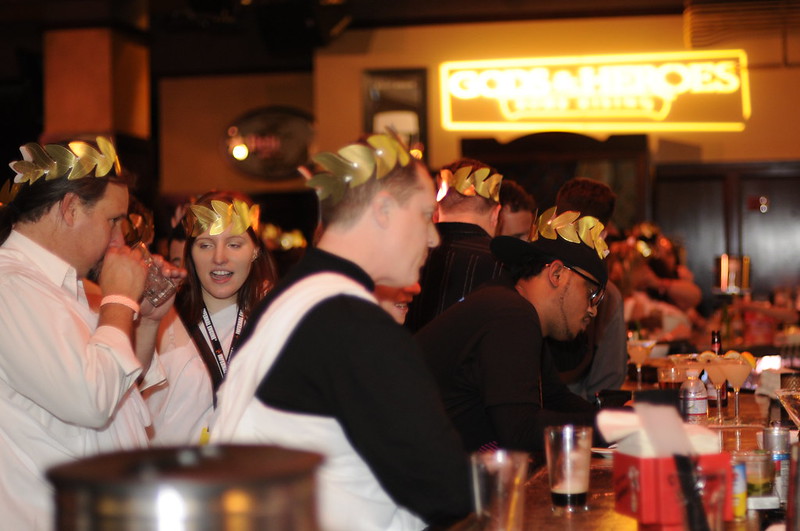 Dress your home like an ancient court and party like the Greco-Romans do!
Hang a big white tablecloth or bedsheet as a backdrop for your toga-themed college party and ask your friends to wear linens, golden leaf crowns, and sandals — DIY your way to achieving this time-traveling college party. 👌
Looking for a fun activity for the evening? Hold a tiny catwalk event to allow everyone to show off their toga creations. Toga-themed parties are celebrations with plenty of drinking (just as in ancient Roman times) so make sure you are well stocked up on beverages. 🥂 
24. Wear a Wig 🦰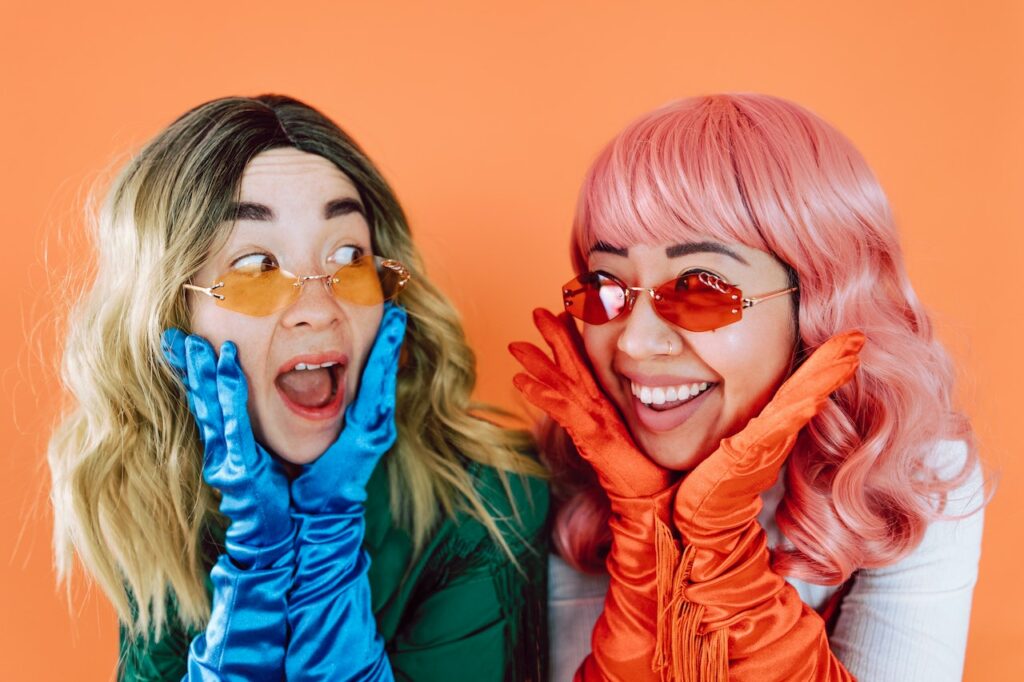 Spice up your look and change hair colors with this wig college party theme! You'll need vibrant backdrops, fun-colored shades, some funky props, and guests dressed in color-popping wigs in various styles.
Hold a fashion show or a dance-off and watch your friends strut their colorful looks. Remember to take lots of photos for the 'gram too! 🤳
There's no strict protocol for food and drink selection, but if your budget permits, put together vibrant food color combinations to match the dynamic vibe of your college party theme.
25. Aliens and Astronauts 👽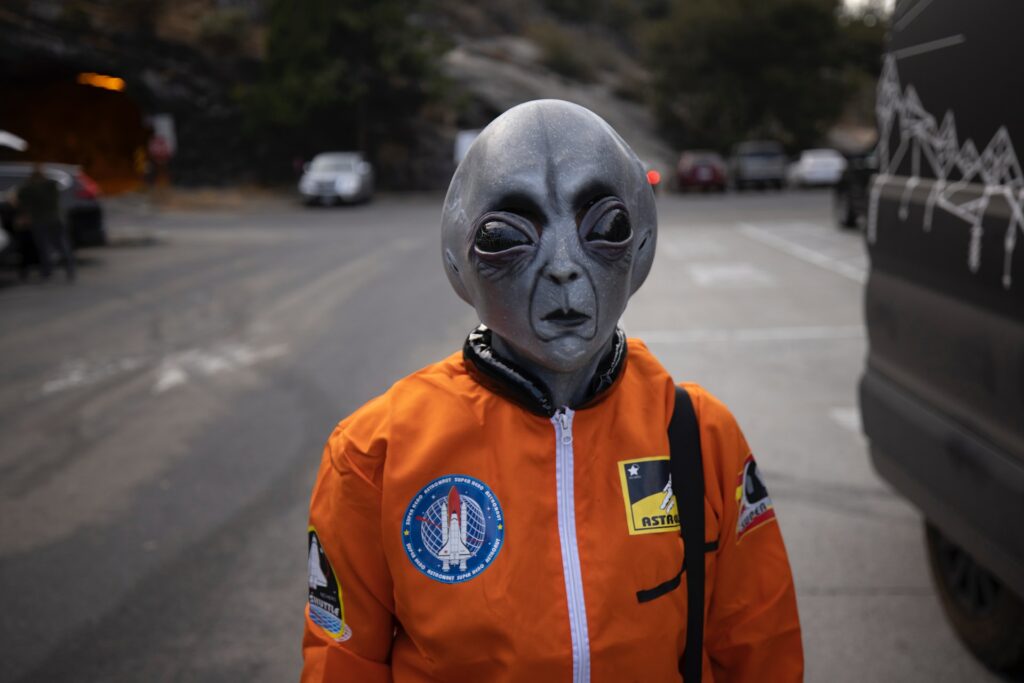 Take your guests on an intergalactic mission by hosting an alien and astronaut college party. 
Build an immersive galaxy experience using blackout curtains, glow-in-the-dark stickers, and space-themed accessories like planet balloons or asteroid printouts. It's a terrific way to liven up your space, and it makes an excellent backdrop for a homemade photo booth. 🚀 
Light up the party with fun activities such as a contest for the best moonwalk dance!
26. Tropical Islands 🥥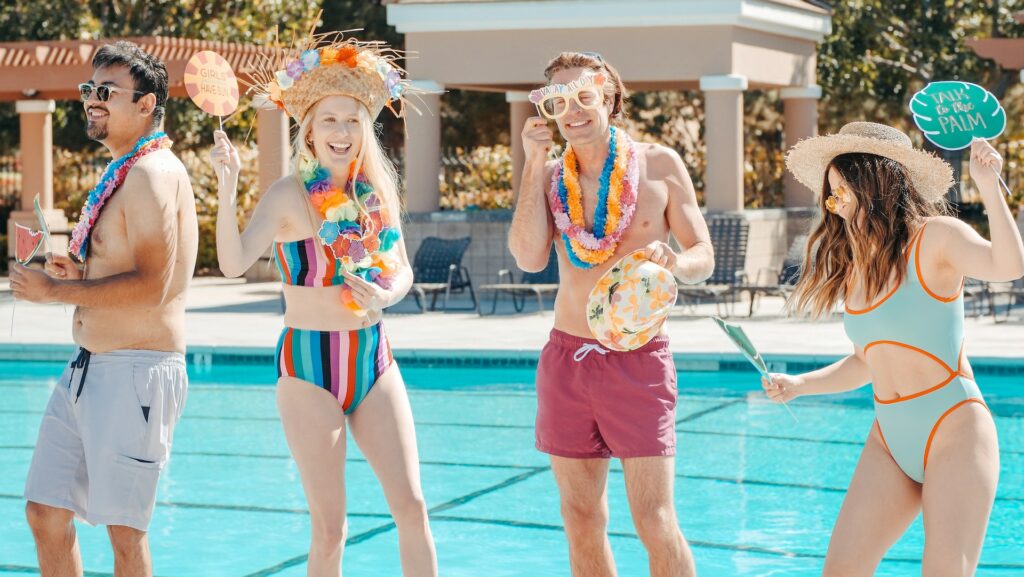 There's nothing like a visit to an island paradise to relax and unwind. But if budget restricts you from traveling, why not throw a tropical-themed college party on campus instead? ⛱️
Play limbo rock or Hawaiian music to keep your guests entertained. You can also have your friends compete for the most hula hoops or the best hula group dance. Bonus points, too, if you can have the party by the pool or the beach! 🌊  
27. Ugly Sweater 🧣
Cozy up and enjoy some eggnog at your Ugly Sweater college party — even before Christmas.
Invite your friends to dig into their closets for their wackiest sweaters, and get snug. Who knew that those ugly and overdone sweaters our parents wore in the 1980s would come in handy decades later?   
Stage a quick parade of these ugly costumes. Think of fun categories and pick fun sweater awards such as most fabulous, smelliest-looking, or just plain ugly! 🤭 
---
Keep this list handy and you'll never run out of party ideas at any time of the year. 
Pick the college party theme that best suits your crowd, time, and budget, and you'll be a pro at hosting ragers in no time. 🗒️
Now what are you waiting for? You've got a party to plan! 🎉