Do you want an early entry to your top-choice college? There's only one way to do that: early action.
Early action means you will hear from colleges way before regular applicants. In fact, while others are putting pen to paper, you will be adding the finishing touches to your application. ✨
With the applications under your belt, you can even enjoy a stress-free winter break. Sounds pretty good, right?
Here's what you need to know about early action (and schools where you can apply!) before taking the plunge.
What Is Early Action?
Early action (EA) is the process of applying to schools before regular admissions begin.
Unlike early decision, if you're accepted under early action you can still back out if you change your mind about the school. Ideal!
👉 Read More: Early Action vs. Early Decision: What's the Difference?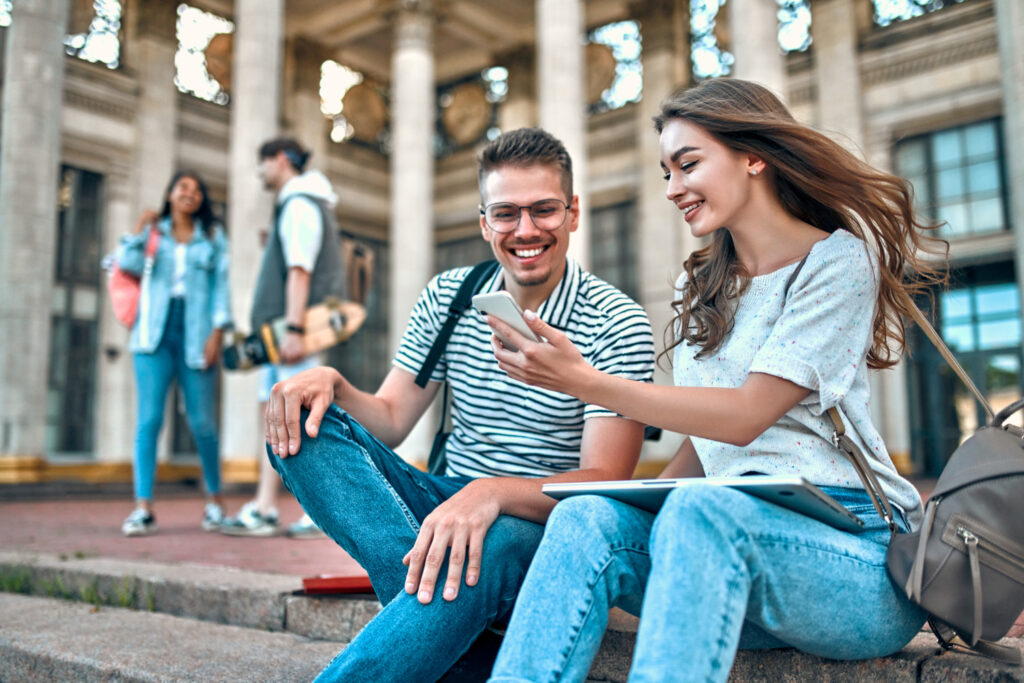 Early action also means schools announce their decisions early — typically around January or February. 
If you're accepted into an EA school, you can still wait until May 1 (National College Decision Day) to accept the offer.
This means that even if you have second thoughts or want to compare financial aid packages, you have plenty of time to explore other schools during the regular admissions window. 
Warning: Some Ivy League institutions, such as Harvard, Yale, and Princeton, offer Restrictive Early Action, which means students can apply only to one private school in the early rounds.
When to Apply for Early Action
If you're eyeing the early action route, start planning way ahead. You'll typically need to submit your applications by November or December, though actual deadlines vary from school to school.
Because of a large volume of applicants, some schools also offer a second round of early action.
While EA I has a November deadline, EA II carries a January deadline which means an extra few weeks to prep your applications.
You can find out whether your priority schools are offering EA II in our complete list of EA schools below.
👉 Read More: Everything You Need to Know About College Application Deadlines
What Are the Advantages of Early Action?
The biggest advantage of early action is that it is non-binding.
This means if you're applying early to your priority schools, you can still apply to other schools afterward. You just need to make your final decision before May 1. 
Also, the sooner you apply, the sooner you will hear back, which cuts down on stress and allows you more time to prepare for college.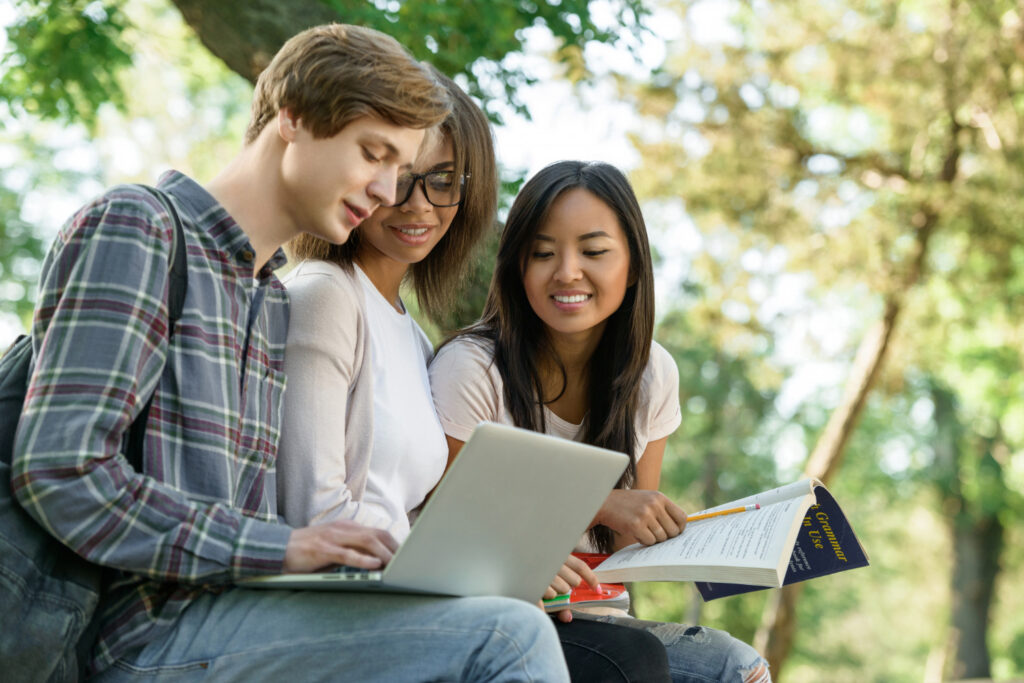 If you are accepted to early action, you also don't have to bother applying elsewhere. You can save precious time and money by not applying to multiple colleges.
In fact, while other students are frantically sorting out their applications or waiting for responses, you can get a head start on looking for accommodation, and checking out scholarship and grant options. 
And, of course, if you're not accepted to an early action school, you can still keep working on your applications until you find that acceptance email in your inbox. 
What Are the Downsides to Early Action?
While applying to schools early has many benefits, the process also has a few potential downsides that you need to weigh up before taking the plunge.
If you think applying to early action means you'll be competing with a smaller pool of applicants, you're probably right!
However, a smaller group does not mean less competition. These students will be putting their best foot forward, with killer recommendation letters, essays, and grades. 
If you have a weaker application, it might be worth skipping early action and using your final semester to build up your grades and extracurriculars.
You can't use these if you apply for early action, but you can pump these up for regular application instead!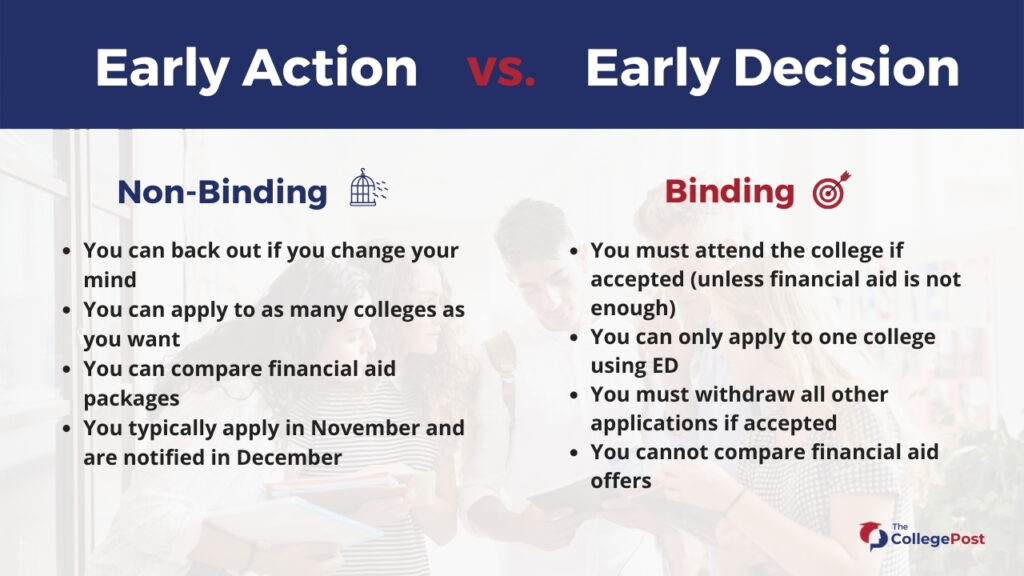 Getting accepted early sometimes makes students feel that their goal is accomplished and they no longer need to work hard.
However, colleges can revoke admissions offers if a student's senior-year grades drop.
Finally, it can be a challenge to juggle applying for early action, writing essays, and planning for SATs alongside your current high school commitments.
Of course, it can be well worth it — and you need to do it at some point either way. 
Is Early Action for You?
Now that you know the pros and cons of early action, it's time to consider when you should apply in the early rounds — and when you should hold off. 
At the risk of stating the obvious, applying early is only suitable for prepared students. Early action is, therefore, perfect if you are: 
well-researched about colleges,
confident about your grades and test scores,
certain that you have a stellar academic record over time.
In other cases, it's better to wait unless you can be absolutely sure that your application will floor admissions committees.
The Complete List of Early Action Colleges
Nearly 450 US colleges offer students the choice to apply early (whether through early action or early decision).
Here's the complete list of early action colleges (and their deadlines) by state so you know when to start applying.
There are currently no schools in Alaska, Arizona, Montana, Nebraska, North Dakota, South Dakota, or Wyoming with EA admissions.
---
If you know what college you want to go to, there's no point waiting around — early action can result in you getting your admission letter sooner, so you've still got time left to enjoy senior year!
---
Frequently Asked Questions About Early Action
📑 How do I apply for early action?
To apply for early action, you must complete every step that you would for regular admission — only faster. 
Take your standardized tests by the end of your junior year and, if possible, visit colleges during spring break. By October, you should fill out your FAFSA, download college applications, and collect recommendations so that you're ready to submit your materials by the deadline in November.
⏰ When are early action application deadlines?
Schools set their own early action deadlines individually, but the most common dates are November 1 and November 15 each year.
🤔 What's the difference between early action and early decision?
Early action is non-binding, which means you can apply to one or more schools and not be obligated to attend the college if you are accepted. Early decision, on the other hand, is a binding agreement where you can apply to only one school and must attend the college if accepted.
🔓 Is early action binding?
Early action is not binding. However, some premier schools such as Harvard, Princeton, Yale, and the University of Notre Dame offer restrictive early action. So check your school's admissions offices before applying.