Higher education institutions continue to see a decline in the enrollment of international students for the third consecutive year due to such factors as the political climate in the United States.
According to the 2018 Open Doors Report on International Educational Exchange, the percentage of new international student enrollment began to tumble in 2015, with a 1.5 percent drop recorded in 2018.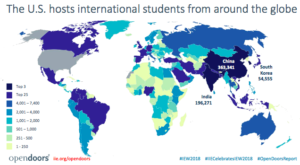 Out of 540 institutions surveyed for the report, 49 percent reported the decline in the new international enrollment, 44 percent recorded an increase, while enrollment at 7 percent of institutions saw a stable pattern.
"Overall, responding institutions report a 1.5 percent decrease in the number of international students enrolling for the first time at a U.S. institution, which indicates a third consecutive year of falling new enrollment. The drop is not as steep as the new enrollment decline in Fall 2017," the report noted.
Different institutions have cited different reasons for the decline, with 83 percent of them attributing it to the delays and denials of visas, 60 percent – to the present political and social climate in the country, while 59 percent ascribe it to the changed preferences of international students who want to study in some other country.
"International students studying alongside Americans are a tremendous asset to the United States," said Marie Royce, Assistant Secretary of State for Educational and Cultural Affairs. "We need to develop leaders in all fields who can take on our toughest challenges. We need people who can find solutions that keep us secure and make us more prosperous. We want to send a message that international education makes us stronger as a country."
The report has further noted that many institutions are using different methods like "outreach efforts and robust recruitment" to encourage international students to study in the U.S.
5 More US Universities to Start Hosting International Students for Short Courses