Even the smartest students can fall for student loan scams.
After all, there's no doubt about it: proper college education in the US is expensive. Students are often left with no choice but to be saddled with massive student loans, that quickly become inescapable financial issues. 
Then, sly and immoral companies add salt to the wound by crafting scams that target desperate students. And if you think you can't be fooled — think again. These companies can be very convincing in their tactics!
It's essential to be able to separate scam companies from legitimate enterprises so your money can be far better spent on opportunities like studying abroad.
To protect yourself, check out the common student loan scams below and some tips on how to avoid them.
Common Student Loan Scams
Scammers deploy the below tactics to prey on students whose desperation to ease their student debt can cause them to make regrettable decisions. 
Here are some of the most common student loan scams that you may encounter.
Upfront Fee Scam
In this scam, a debt relief company will lure you in by offering to negotiate better interest rates or repayment terms on your student loans for you. They may even propose consolidating all your loans so you can make a single repayment each month. Sounds nice, right? There's only one catch: you need to pay an upfront fee. 
While the company may deliver on its promise, it can also take the cash and run. That's why it's illegal in the US for a debt relief company to collect a fee over the phone before delivering the service.
What you can do instead
Anything a debt relief company can do for a fee, you can do for free. If you have a federal loan you can apply for an income-driven repayment plan, check out loan forgiveness schemes, or consolidate your federal loans at studentaid.gov. For a private loan, contact your provider to find out about alternative repayment plans.
Legal Hero Consolidation Scam
This scheme is run by fraudulent law firms that promise to help you save thousands of dollars by negotiating with your lender to settle your student debt for thousands less than you would otherwise pay. What a bargain!
Their lawyers will promise that they will negotiate better interest rates and terms with your loan servicers. In the meantime, you'll need to transfer the student loan repayments directly to the firm.
However, despite you transferring your repayments to the law firm, they'll refuse to pass the repayment on to your lender. The firm will claim that you can't make the monthly payments and use this to try to negotiate a settlement with the loan issuer.
The key word here is "try" — this process can take years with no guarantee of a resolution. Meanwhile, without steady and consistent payments, you'll default on your student loans. This will not only waste your money but also damage your credit score. 
What you can do instead
There's no magic wand for this one. You can reach out to reputable law firms to find information on settling your debt, but you should proceed with caution.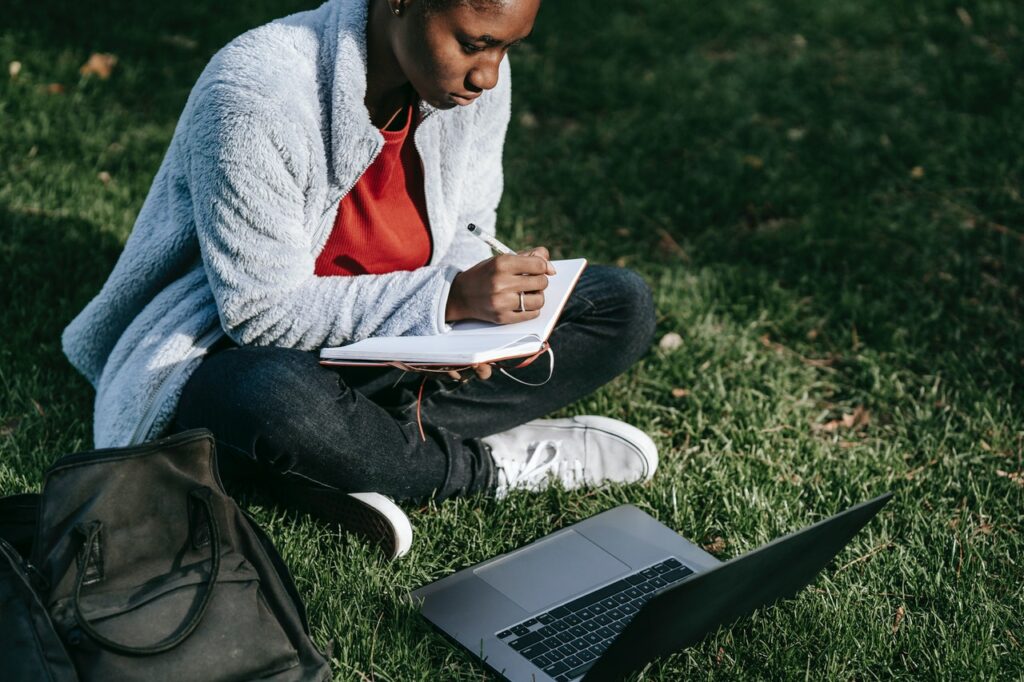 Disappearing Student Loan Scam
In this con, a private company will capitalize on your desire to save money by promising total cancellation or reduction of your student loan debt. The only thing you need to do is pay an upfront fee.
So, how is this a scam? Student loans are incredibly difficult to discharge — even if you declare bankruptcy. Beware of any financial aid company that tries to convince you otherwise.
What you can do instead
The only way to eliminate or lessen is through government loan forgiveness programs that require qualifying reasons like death, permanent disability, identity theft, or school closure. Check if you are eligible for any of the programs and if so, you can apply.
How to Avoid Student Loan Scams
Nobody is immune to fraud. When dire circumstances are mixed with high emotions, even the best can be fooled. But being well-informed can greatly lessen your risk. Here are various red flags to look for to avoid becoming a victim of a student aid scam. 
Never Pay an Upfront Fee
You never have to pay anyone to receive student loan debt relief assistance. All the services provided by debt relief companies are things you can do on your own. If you do need help, remember that reputable companies should not ask for an upfront payment. 
For those who are interested in saving money on your student loans, you can discuss important matters such as payment collection, loan-related inquiries, and possible repayment plans with your official loan servicer. 
Protect Sensitive Personal Information
When unwanted people have your details, the chances of identity theft increase. Always be alert and vigilant when relaying information over the phone or the internet. Know the people with access to your data and ensure the credibility of your sources before handing over your social security number or credit card information.
If you plan to apply for federal student aid assistance through official government websites, you can further protect yourself by manually clearing your browsing data and cookies once you're done filling out the forms.
Identity theft can happen at any time, so after submitting your application for student financial aid make sure to remain hands-on with the status of your loan and financial aid offers. Regularly review and keep track of them to immediately identify questionable activity.
Beware of False Legal Claims by Companies
Some scams take advantage of the trust that you instinctively give corporate professionals. But allowing law firms or debt relief companies to negotiate on your behalf cannot guarantee reduced student loans.
Exercise extreme caution because these schemes often use convincing emails with legal jargon to try and persuade you to give them your money.
If you are serious about reducing your loan, check if you are eligible for loan forgiveness. It's also better to consult your lender and trusted affiliates of the US Department of Education (below) for news and other services.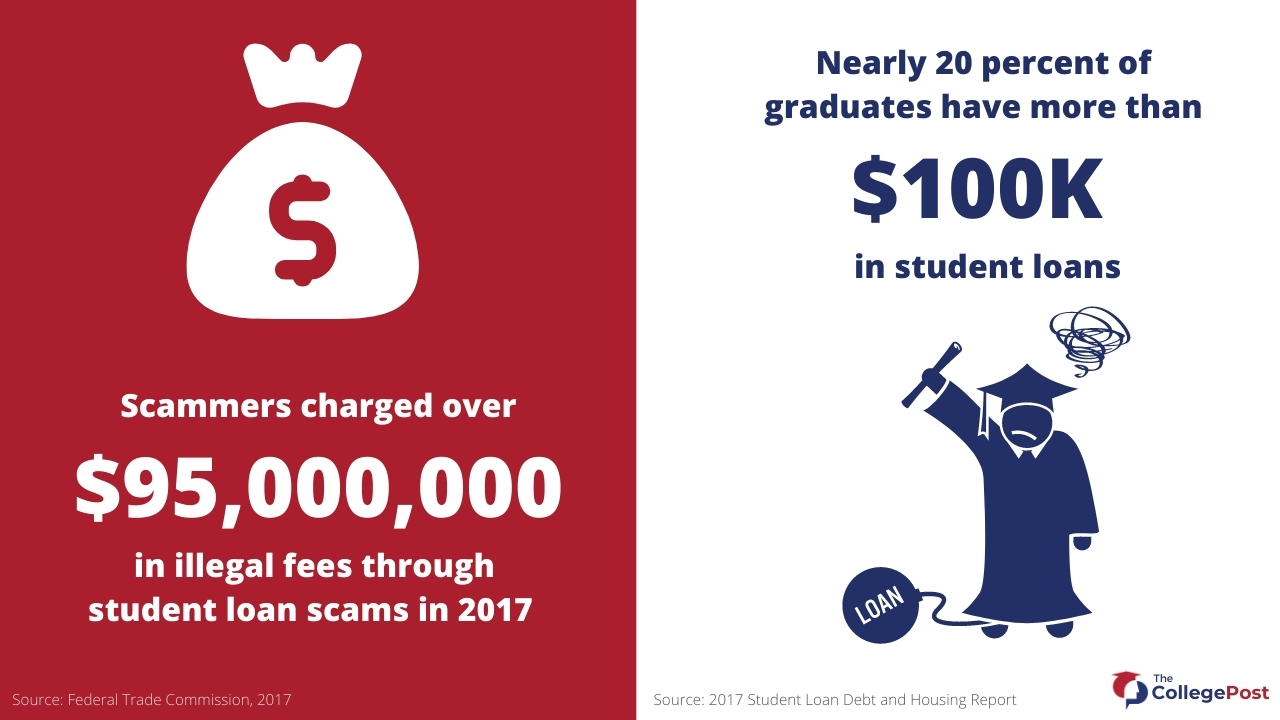 Other Student Loan Scam Red Flags
Claims of Lowering Your Payments — for a Fee
Total or partial loan cancellation is impossible unless you qualify for a government loan forgiveness program. Companies who say that they can negotiate better offers for a price are only adding to your expense with unnecessary fees.
Aggressive Advertising Techniques
Legitimate debt relief companies don't employ aggressive advertising techniques like spam or junk emails, cold calls, and competitive social media marketing. Don't feel pressured by claims of a "limited offer" or impatient sales representatives. You have the right to make well-informed decisions involving your debt and to seek help and other opinions. 
Requests for Your Federal Student Aid ID
Legitimate sources of debt relief assistance do not ask for your Federal Student Aid (FSA) username or password because your FSA ID can be used to sign legally binding documents and has the same legal status as a written signature. Never give your Federal Student Aid username or password to anyone. If you share this information or sign a power of attorney agreement, you're allowing the company to act and decide on your behalf — even without your knowledge.
Only Some Companies Can Help You With Student Loans
Loan holders often fall for scams from illegitimate companies because the company claims that they are associated with the government. For further protection, remember that only selected companies are recognized as official partners of the US Department of Education (ED) when it comes to debt relief. 
Companies That Work With the US Department of Education
These are legitimate lenders, servicers, and private collection agencies that work on behalf of ED. Check the government lists below to find an authorized and reputable company: 
Companies Banned From Debt Relief
Dishonest third-party debt relief companies often wrongfully claim affiliation with ED and some even include the official government seal on their websites. The Federal Trade Commission (FTC) has listed the companies and individuals banned from debt relief.
READ NEXT: 11 Things to Know About Student Loans Before Going Into Debt
How to Report Fraudulent Student Loan Debt Relief Companies
If you believe that you've already been scammed, first change your FSA ID password straight away. After this step, you should contact your loan servicer and advise them of the scam, and revoke any power of attorney or other authorization agreements on your file. Review your loans and ensure that no suspicious activities have been undertaken. 
Next, call your bank or credit card company to stop payments directed towards the scamming company. You should also file a complaint with the FTC or the Consumer Financial Protection Bureau as these agencies can observe these dangerous groups and may even be able to get your money back.
---
Student loan scammers can make any borrower's loan repayment journey difficult. You never know what offers will make your financial burden even more exhausting. While there's no easy way out, with a great amount of hard work and a good degree of caution, you can be among those who successfully paid off their student debt.