"Say her name!" a Black student chanted into a megaphone.
"Breonna Taylor!" a crowd of about 200 University of Maryland (UMD) students shouted back, as they gathered around the main administration building near the center of campus, remembering a Black woman who was killed by police in Louisville, Kentucky, on March 13. 
The students had marched across campus as part of a protest on June 25 planned by a new coalition of students called Black Terps Matter, a reference to the university's mascot, a diamondback terrapin turtle, or Terp. The demonstration was organized in response to other protests around the country opposing police brutality and violence against Black people.
But for the Black Terps Matter organizers, three Black seniors at UMD, the protest was also about campus-specific issues. On Instagram and in an interview, they also cited the discrimination, over-policing, and lack of administrative support for Black students that they feel has not been adequately addressed at UMD.
"People in positions of power [at the university] are not using their power to advocate for vulnerable students," Saba Tshibaka, one of the Black Terps Matter organizers, told The College Post.
She cited issues like the Office of Civil Rights and Sexual Misconduct not responding to complaints of sexual misconduct in a timely fashion, the Office of Diversity and Inclusion still lacking an Assistant Vice President of Diversity and Inclusion — a position that was promised to students in December — and Black student groups on campus not receiving adequate funding to host events and build a platform.
Originally, Black Terps Matter came together just to hold the June protest, but when more than 200 people showed up in the middle of a pandemic, the group couldn't help but continue to advocate for Black students on campus, Tshibaka said.
Historical Lack of Administrative Support for Black Students 
On July 1, six days after the Black Terps Matter protest, Dr. Darryll Pines began his tenure as president of the university. On his first day, he sent an email to the campus community with 12 initiatives and programs he plans to implement to improve the student experience, create a more inclusive environment on campus, and advance the university. 
Some of those initiatives included enhancing community policing, improving diversity and inclusion in the curriculum for UMD classes, raising enrollment numbers for Black students, and creating the TerrapinSTRONG onboarding program to, in part, train new students and staff in anti-racist and anti-biased behaviors.
For many in the campus community, the email reflected a new beginning and a proactive response to student concerns. But for others, like Tshibaka, the start of Pines' tenure was just a continuation of empty gestures from former university president Wallace Loh's administration.
"[Pines] saying that he's going to do this thing is just him saying it," Tshibaka said. 
She specifically referenced Pines' promise to raise enrollment numbers of Black students at the university.
"This is not the first time, or the second, that a UMD official has publicly stated that there's an issue in enrollment with diversity," Tshibaka said.
In October of 2018, UMD released a report stating that the enrollment of Black freshmen at the university was at its lowest levels since 1992. In response, then-university President Loh announced that he would form an Enrollment Action Council "to ensure that all eligible Maryland students can access the extraordinary educational resources available to them at their flagship university."
However, the university's black enrollment continued to trend downwards in Fall 2019, despite seeing an increase in its overall freshman enrollment. 
"[Loh] also stated that minority student enrollment is a huge issue. And he said that he was going to be enacting an entire team of people called the Enrollment Action Council … very similar to what Pines said in his statement last week," Tshibaka said. "In the two years that [Loh was president after that], he never acted on that promise. And so now, Pines is saying that he's going to do the same thing that Loh was going to do." 
Recent Racial Strife
In May 2017, a Black student from Bowie State University, 2nd Lt. Richard Collins, was killed on UMD's campus. His attacker, former Maryland student Sean Urbanski, was found guilty of first-degree murder nearly two years later.
Former university president Wallace Loh announced plans to create a memorial for Collins in April 2018. As of July 2020, the physical memorial has not been built.
In June 2018, another Black student, football player Jordan McNair, died two weeks after he collapsed during an outdoor football workout. He died of heatstroke after coaches and trainers failed to cool him down with an ice bath. An ESPN investigation discovered a "toxic culture" of violence and "derogatory and demeaning" name-calling in the football program.
"We would be naïve to think that the tragic incidents of the last two years on our campus have not contributed to our African-American student enrollment decline this year," Senior Vice President and Provost Mary Ann Rankin added in an October 2018 press release. "We must address the concerns about campus climate and hate-bias incidents that UMD and many of our peers are facing."
In the years since Loh's announcement, Tshibaka says she doesn't feel like anything has changed and she doesn't see a reason to believe that anything will change with Pines' announcement.
Taylor Green, a senior family science major and member of the university's National Council of Negro Women, also noticed that diversity initiatives announced by the university often lose momentum shortly after they're announced, some failing to go into effect entirely.
"The biggest diversity issues that the University of Maryland faces is the way that they show they don't actually care," Green told The College Post. "You see a lot of diversity offices, always struggling to make a lot of diversity initiatives. They're only given attention when something happens. And that's something that needs to change. I kind of want to see more."
The call for more "community policing" in the email Pines sent to students disappointed Green, as she said the police already had a fragile relationship with students.
Issues with University Police
In May 2016, the use of pepper spray to break up a graduation party of predominantly Black students received criticism from students, who saw it as yet another use of excessive force by university police on the Black community. 
"He had a line in there about enhancing policing. And so I was like, what does that mean," Green said. "Especially with the time that we're living in currently, more people are talking about defunding and abolishing the police. What does enhancing policing mean?"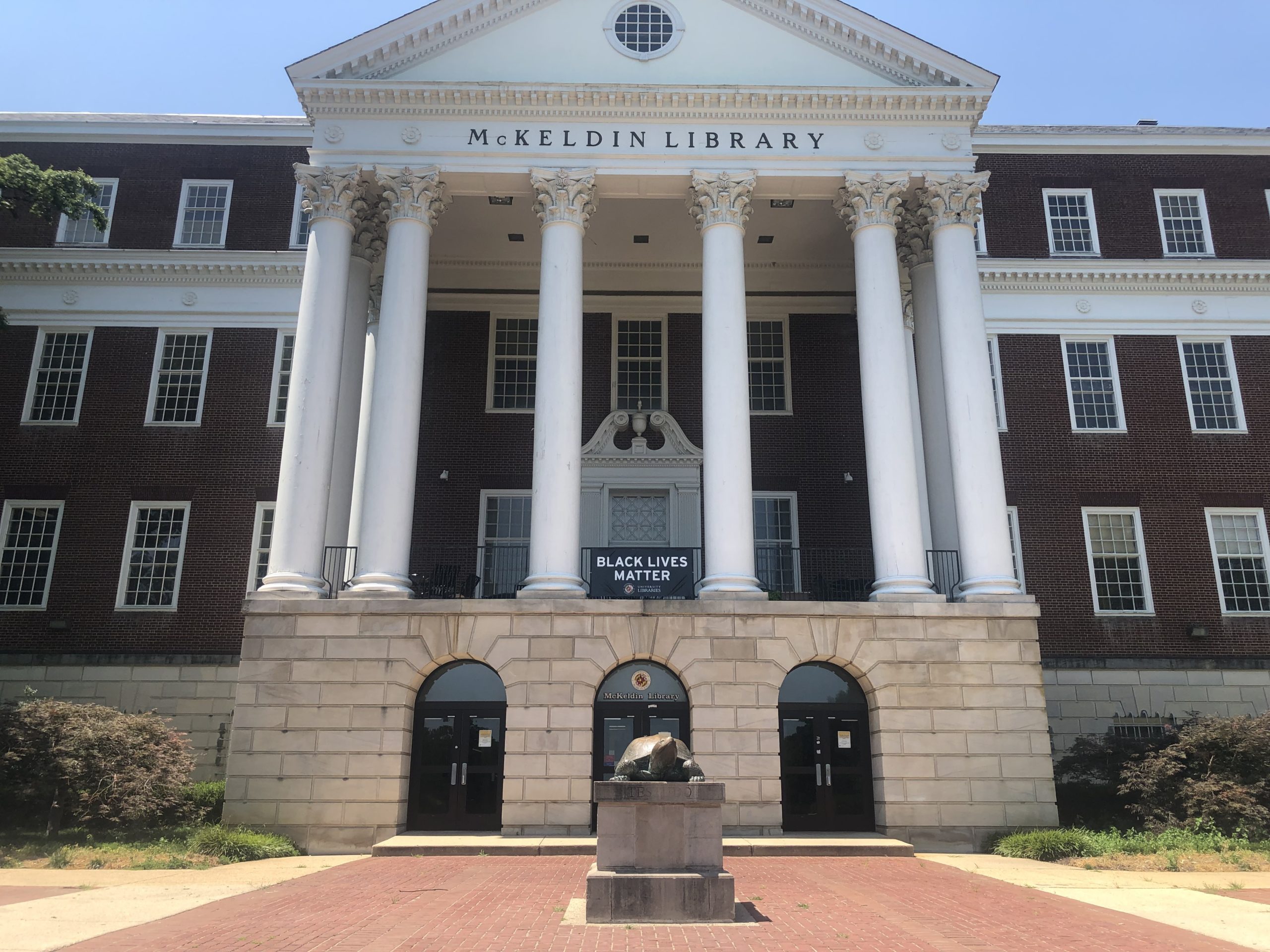 On June 25, Black Terps Matter released a list of demands addressing police brutality and racial disparities on campus. A part of these demands was a call to demilitarize the University of Maryland Police Department (UMPD) and divest from Prince George's County Police Department. 
In his July 1 email, Pines promised to facilitate the demilitarization of UMPD.
A New Administration
The press release announcing the Enrollment Action Council in October 2018 mentioned other initiatives the university was undertaking to strengthen diversity on campus and make Black students and other minorities feel welcomed and included on campus, like hiring a Vice President for Diversity and Inclusion.
Dr. Georgina Dodge started in her role as UMD's Vice President for Diversity and Inclusion in June 2019. She was selected, "to advance diversity, equity, inclusion, and respect as core institutional values," according to an April 2019 press release from the university. A key part of her role would be to, "work closely with senior leaders, faculty, staff, students, and external constituencies."
Now, over a year into her role, students say that she hasn't worked closely with them and that she reflects the same administrative issues that inhibit Black students' comfort and success at the university.
At a town hall at the Nyumburu Cultural Center at UMD in December 2019 about rumored budget cuts to the center, one student told her, "No offense, I don't know you."
Another student, Monique Small, told The Diamondback, "We just want to see her face more. We want to be present and considered in the visions she has for Nyumburu."
Dodge defended her presence at Nyumburu, saying she was not always aware of all of the events at the cultural center, but she had attended more than students alleged. 
"There was also an issue with things getting from Nyumburu to my calendar through my assistant," Dodge told The College Post. I have someone who keeps my calendar; that's her responsibility and she had not been informed of some of the events."
Tshibaka requested to meet with Dodge in June to discuss Black Terps Matter and other campus issues, including increasing Black student enrollment, and, as of July 7, had not been able to schedule a meeting with her.
https://twitter.com/celestialsaba/status/1278016229295390721
When asked about meeting with students, Dodge told The College Post, "I feel there's been some misrepresentation. If students want to meet with me, I meet with students. I do think there needs to be an understanding that my calendar isn't always clear."
"It's a falsehood to say I don't meet with students because I meet with them regularly," she added. "What I try to do is to connect students to resources that they need, because it's not always me."
For Tshibaka, sometimes the resource she needs is a meeting with Dodge to make her aware of issues Black students face on campus, not just a connection to another campus department.
"Her job is to survey the students and recommend what the students want to the [university] president or to the rest of the VPs, so that they can all recommend it to the president," Tshibaka said of Dodge. "If she's not serving the students and she doesn't know what the students want, there's absolutely no way that she can act on our behalf with the president."
In addition, Tshibaka claimed that she emailed university president Pines in June to set a meeting with him. After emailing three times, she claims, she received no response from him or his team.
After the June 25 protest, Pines took photos with students at the protest and spoke to the crowd about his commitment to their cause.
"He did not support this protest in any way, I don't want it to be confused. [Another organizer] spent a long time, with no support from the administration, to put this protest together, and he put pictures of himself at the protest in his intro video that he sends out to the community," Tshibaka said. "This is administration taking advantage of students. That's what I see happening because Pines still hasn't met with me."
Pines declined to comment for this story.
Stalled Initiatives
At the Nyumburu town halls in December, Dodge announced that her office was hiring an assistant vice president to oversee Nyumburu and the university's LGBT Equity Center. 
As of early July, the position has not yet been filled. Part of the reason for the delay is a hiring freeze instituted by the university in April to mitigate losses from the COVID-19 pandemic.
"I'm hoping that we will be able to undertake that search again at some point," Dodge said.
For Tshibaka, the halting of the search is frustrating because there's always a period of time where new hires adjust to the campus and the community, and issues of diversity and inclusion at UMD are urgent.
"The only actionable thing that we could actually hold her accountable for coming out of the town hall meeting on the sixth and the 10th [of December] was that she was going to be hiring someone to be in charge of Nyumburu," Tshibaka said. "Now we have to wait for them to hopefully come in at the beginning of the school year, so they can take a year to get used to the position." 
According to Dodge, some diversity and inclusion programs her office planned to roll out this fall, including an anti-racism certification course for faculty and staff, will also be postponed due to COVID-19. 
"We had hoped to [roll them out this fall]. That was the original plan but COVID sort of knocked things off of their timeline quite a bit," Dodge said. 
For Tshibaka, delays in diversity and inclusion programming are nothing new.
"It's seeming like Maryland hired a VP of Diversity and Inclusion, that they put up all these freaking banners talking about diversity and inclusion, but no serious efforts have been made to help Black students … feel more comfortable," she said.
---
Lillian Andemicael contributed reporting to this article.