Writing a college essay can be an uphill struggle. A good essay will cost you several trips to the library, hours of taking notes, and sleepless nights pouring over online databases.
While the internet has a huge pool of information, remember writing academic essays requires academic content. So, the big question is: how can you find the right academic sources for your college essay?
Here's how to find essay sources guaranteed to impress your professor and get you that well-deserved A.
Start With Wikipedia
Stay with us on this one — we all know Wikipedia is frowned upon by academic researchers. But it can be a great springboard to get an overview of your topic. That's because although Wikipedia is not a credible academic source, it's a fantastic jumping-off point for your research.
Not only will you get some easy to understand background information, at the bottom of each article is a long list of sources and citations. By reviewing this list, you can find valuable academic sources that you'll be able to use in your essay later.
Get the Most Out of the Library
Students have a tendency to gravitate toward online research but the library is still a treasure-trove of information. In fact, in 2019, US adults between 18 and 29 visited the library much more than older age groups.
Library databases allow you to efficiently search for published information such as magazines, journals, and newspaper articles. They also contain scholarly and peer-reviewed articles written by well-known authors, journalists, and researchers. Even better, your college gives you access to a huge amount of these resources just for being a student. Facing a journal or newspaper paywall? Check if your library has a subscription!
But the best thing about libraries is the staff. Librarians study library science, which encompasses research methods, using information systems, statistics, and management. That means they're the experts at finding the information you need, and they're more than happy to help. Just ask your university librarian for help finding information on your topic!
Scholarly Sources vs. Peer-Reviewed Sources
Scholarly sources are written by experts for other experts, researchers, or students. Peer-reviewed sources do the same thing but go a step further. These sources are reviewed by the author's peers who are experts in the same subject area. That means a peer-reviewed source is often more credible than a scholarly source. 
Use Academic Search Engines
Let's get this straight: it's hard to write a research paper without consulting the internet. Most of us start our search with Google, but unfortunately, Google doesn't always churn out credible results. That's why it's important to try your hand at other search engines that are more suited to academic research.
Here are a few for you to consider:
BASE

: The Bielefeld Academic Search Engine (BASE) contains 4,000 sources and provides search results from over 100 million documents. It also offers an advanced search option that allows users to narrow their research.


Refseek

: Refseek is a web search tool for students and researchers. You can access over a billion documents, books, newspapers, and journals without getting distracted by ads or sponsored links.


Google Scholar

: Google Scholar connects you with hundreds of relevant scholarly journals. What's more, it provides formatted citations in MLA, AP, or APA that you can export to RefWorks or BibTex.
Don't Forget About Primary Sources
Primary sources are the building blocks of any research. They must serve as the foundation of your research, whereas secondary sources should inform and supplement the primary sources.
Primary sources are often unedited contents that offer a close, personal overview on a topic. They encourage students to read between the lines and examine them critically. You will need to ask yourself, "who is the intended audience?" or "what does the source tell me about the period?" Considering these questions will help you interpret your primary sources and bolster your research.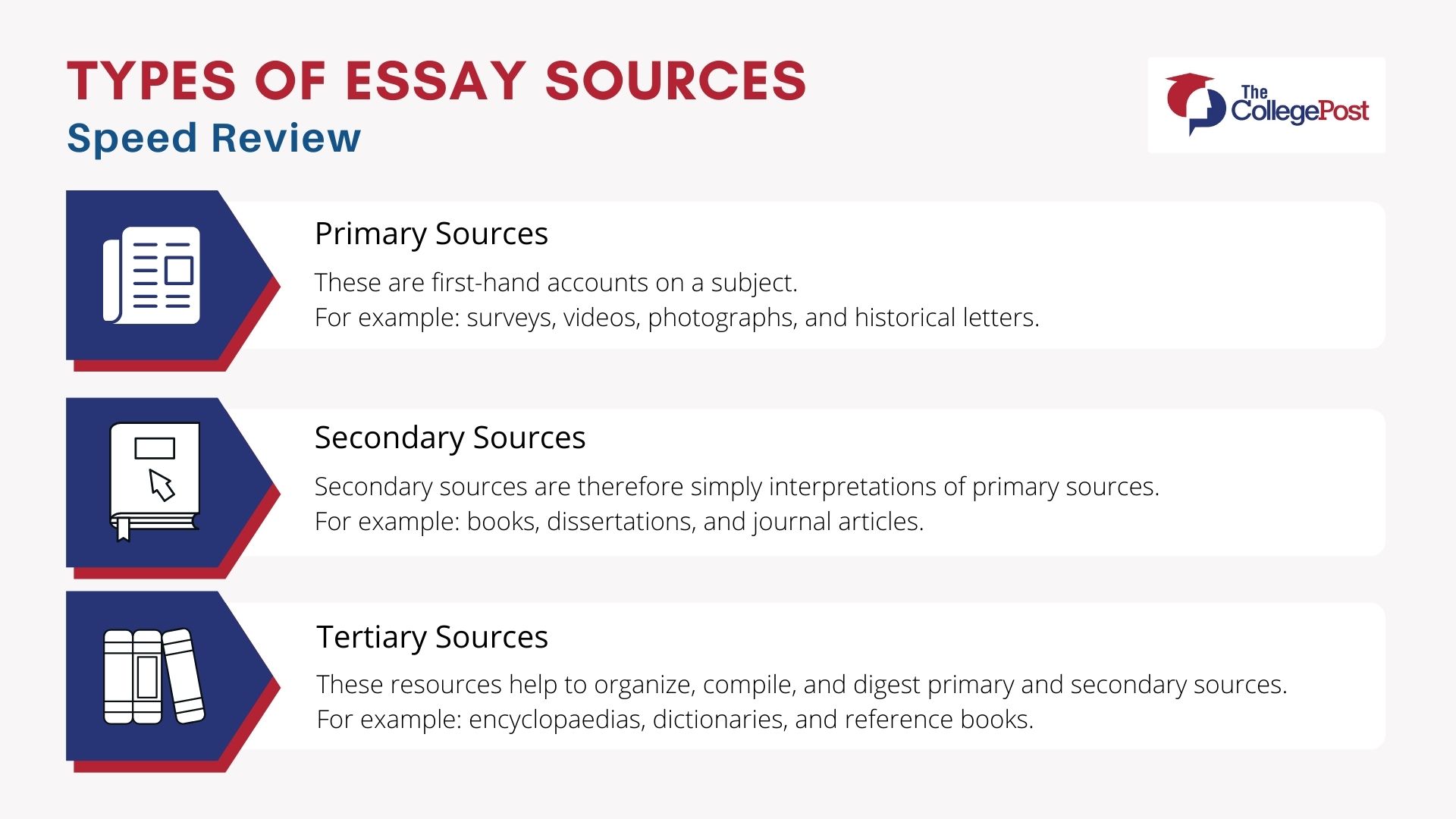 Opt for Digital Libraries and Databases
Digital libraries have specialized collections in all fields of study. They are easy to access and contain millions of books, audio-books, journals, and videos that can help you to further your research.
Compared to regular libraries where you have to wait to loan a book if someone else has issued it, digital libraries allow you to read and download content anytime using your computer or phone. And while traditional libraries have limited storage space, digital libraries have the potential to store way more information. 
Of course, there may be some occasions where you'll find your university doesn't have access to a particular online database. If you've found the perfect journal article but can't get access, try emailing the professor and asking for a PDF — some professors will be quite happy to email access to you instead.
Check the Bibliography of Your Sources
Once you start your research, it's likely that you'll find the same sources pop up over and over again. Try to make a list of these. You can also consult Google Scholar to see articles in a publication that were cited the most and by who.
After you have this list of credible sources, take a closer look at their citations. Follow this trail of citations to seek out the primary sources they have used for research. This will give you an impressive list of sources to work with for your own essay.
Look Beyond Journals and Books
Don't limit yourself to books and journals. Writing an essay is a great way to explore other sources. While researching for your essay, you are likely to come up with a variety of resources such as audio/video recordings, interviews, and newspaper records.
Try to incorporate as many kinds of credible resources as possible to make your essay an interesting read. This also demonstrates to your professor that you've worked hard.
Learn to Quickly Evaluate a Source
Essays and research papers come with deadlines. In an ideal world, you would meticulously look through each potential source, but that could take months if not years.
You can use a two-pronged strategy to evaluate each source: read the abstract/introduction to make an informed decision about whether you can use the source and then check out the citations and references at the end to discover more sources. This saves you a great deal of time.
---
Putting together a top-notch essay is a Herculean task — but if you can collect the right resources from the start you're halfway there!