Looking for a college to spoil you with generous financial assistance, cutting-edge educational resources, and top-tier faculty? 
When choosing a school, it's worth considering how much wealth an institution has to its name. 💸
Not sure where to begin? Check out our list of the 25 richest colleges in the country to find out which schools you should include on your college shopping list. 
1. Harvard University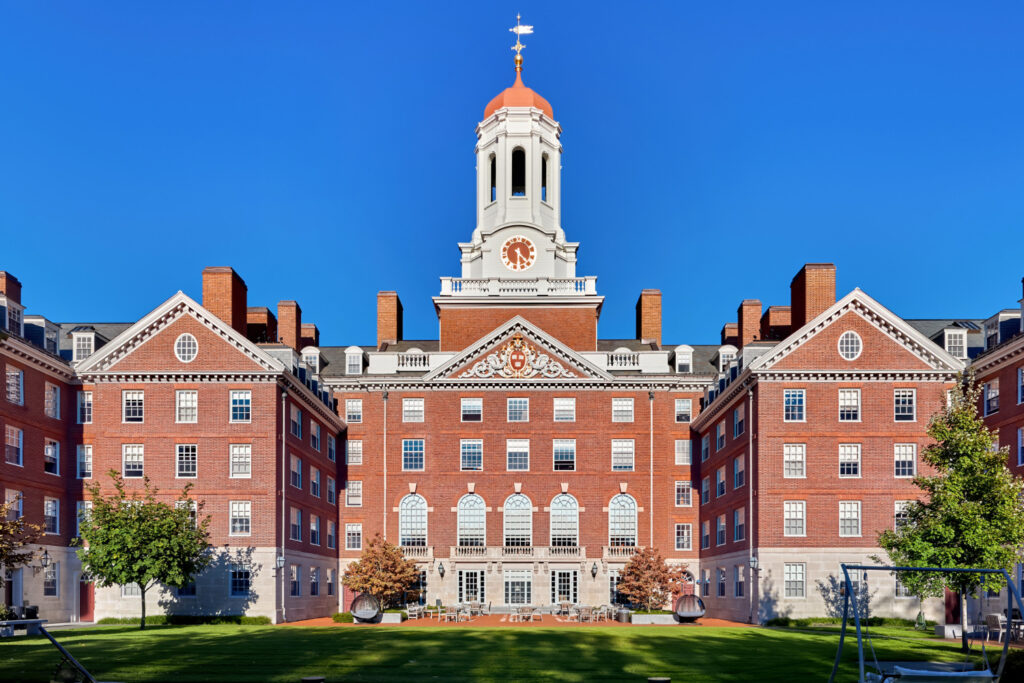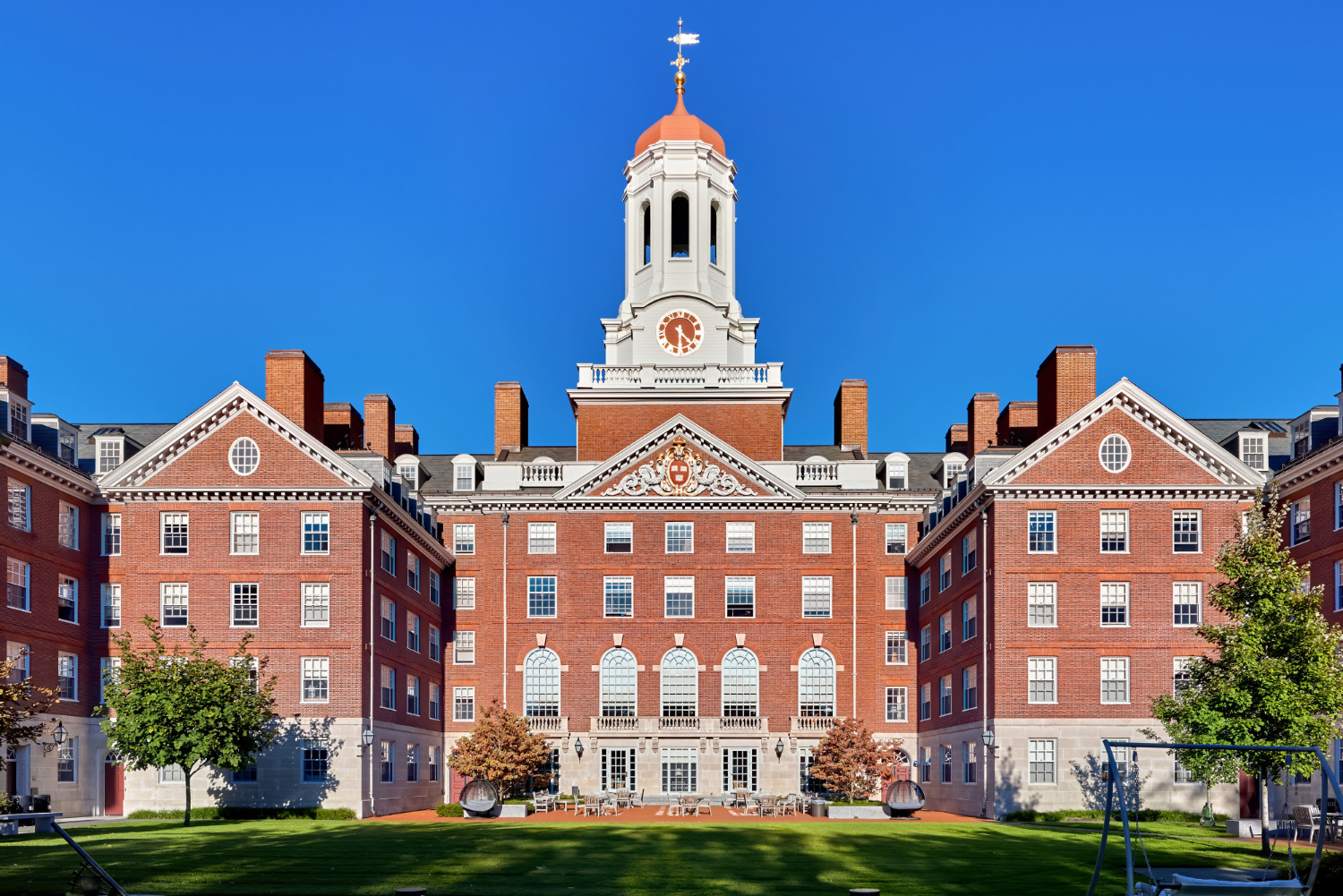 Harvard is not only the wealthiest college in the US, but it is also one of the oldest universities in the country (founded before the Taj Mahal was built!).
The institution started with less than a dozen scholars but now has more than 30,000 students and thousands of high-achieving alumni whose donations have made the school's endowment richer than about half the world's economies.
Federal funding is another significant source of income, with the university receiving over $800 million from the government for innovation and research in 2019 alone.
Want to be part of the Harvard heritage? The Ivy League school accepts less than 4 percent of applicants (so it won't exactly be a cakewalk). 😅
2. Yale University
This elite Ivy League school was founded back in 1701 when philanthropist Elihu Yale donated 562 pound (worth about $145,000 today) to establish the school's endowment fund.
Since then, the school has come a long way, reporting millions of dollars in donations and earning high returns from investing those sizable sums.
Whereas most prestigious institutions have fields of specialization — be it Columbia's focus on humanities or Caltech's and MIT's focus on science — Yale is equally successful across STEM, social sciences, and business. 
3. Stanford University
California Senator Leland Stanford founded this college in 1885 in memory of his teenage son, who tragically died from typhoid fever. 
It's tough to believe that the same university that struggled financially after the death of its founder now generates millions of dollars every year from tuition, sponsored research, health care services, and more! 
So what has worked in this school's favor? First, college trustee and US President Herbert Hoover professionalized university operations in the 1920s, putting Stanford on sound financial footing. 
Next, as the originator of Silicon Valley, Stanford has added millions of dollars to its endowment through its strong network of wealthy tech alumni.
4. Princeton University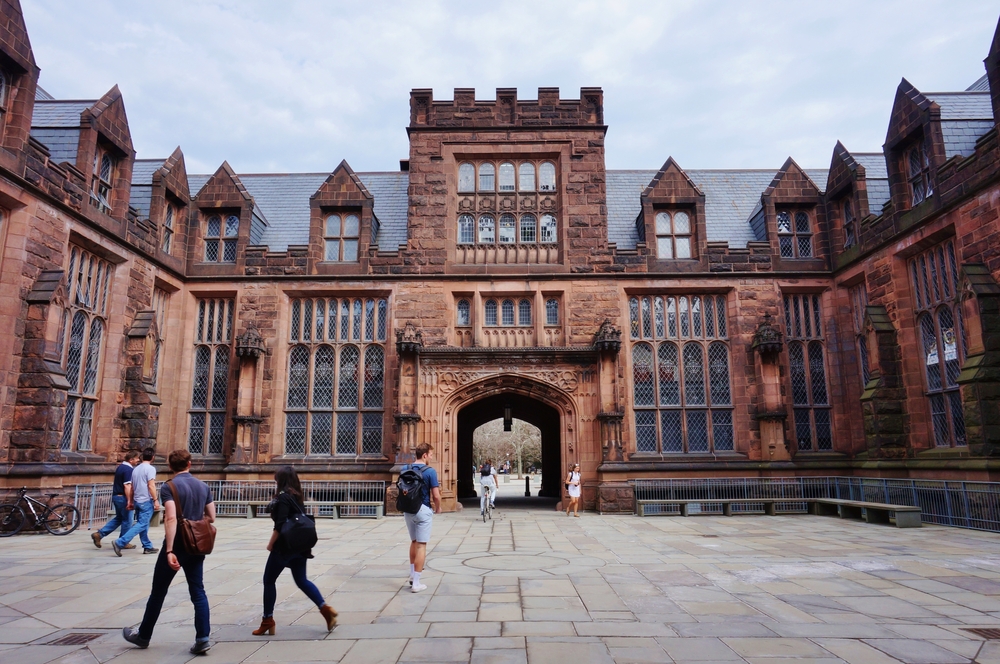 Princeton University is one of the oldest higher education institutions in the United States, chartered before the American Revolution (1775).
Funded by graduate donations, federal agencies, foundations, and private entities, Princeton's endowment fund has grown by nearly 50 percent since 2021. 😮
After all, almost 75 percent of Princeton's students come from the top 20 percent of the richest families in the country!
Princeton's multi-billion-dollar wealth is also tied up in its gallery, boasting artworks by famed artists including Pablo Picasso, Vincent van Gogh, and Andy Warhol.
5. University of Texas
Located in the country's largest oil-producing state, this university sits on top of billions of dollars worth of oil and gas reserves. No wonder the UT system is richer than more than 100 countries! 🤑
Tuition is another major source of revenue for the school, which admitted its largest-ever cohort of first-year students in 2021.
The university puts all this money to good use within its eight schools and multiple research centers, libraries, and museums. 
That said, students and activists have repeatedly criticized UT for refusing to cut ties with the oil and gas industry, a sector responsible for millions of tons of methane and carbon dioxide emissions.
6. Massachusetts Institute of Technology
Did you know the first digital computer was invented at MIT? So was GPS. Even the world wide web was conceived at this world-renowned science research institution.
But MIT is not just for science-lovers — the 160-year-old university is equally focused on the arts and utilizes its billions of dollars in donations from federal agencies, private foundations, and corporations to support both social sciences and technology research. 
The school also has one of the most competitive business programs out there, where graduates can haul in $200,000 starting pay packages.
7. University of Pennsylvania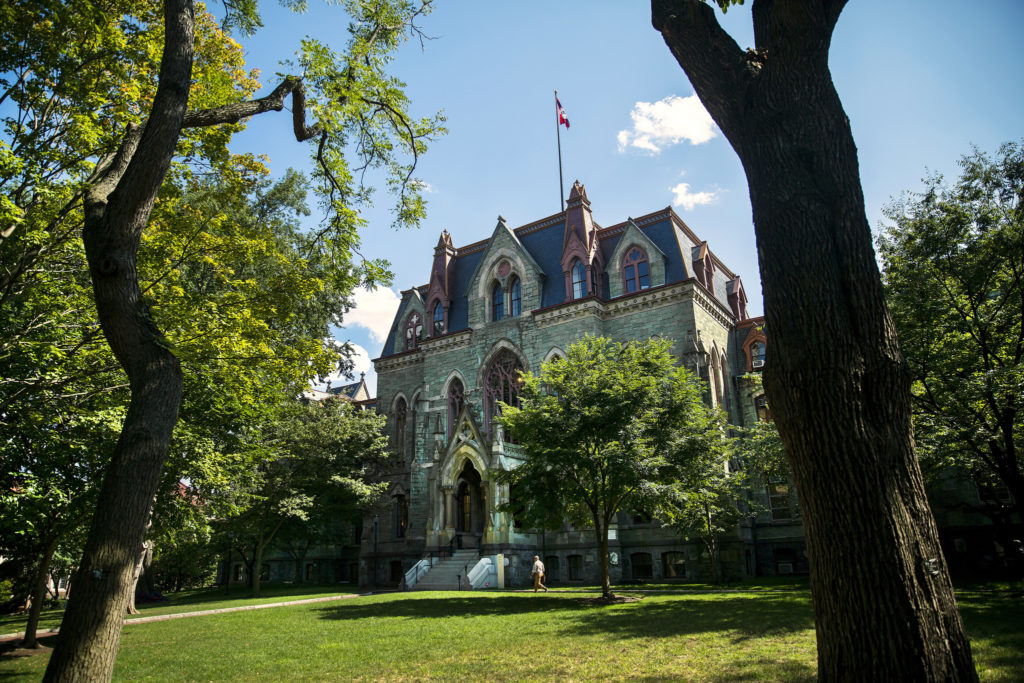 While all universities on our list are making big bucks, only one can claim to have its founder as the literal face of all that cash. 😉 Confused? We're referring to American polymath Benjamin Franklin, who appears on our $100 bills! He also founded the University of Pennsylvania in 1740. 
What started as an affordable school to educate Pennsylvanian youth has grown into an Ivy League institution with top-rated business, engineering, and law programs.
UPenn receives millions of dollars every year through tuition, state appropriation, and funding from the federal government. 
Private donations — another significant component of the school's wealth — also led to a $600 million increase in the school's fund in 2019.
8. University of Notre Dame
If you want to find out how wealthy the University of Notre Dame is, you don't need to go beyond its main building! 
This building has a Golden Dome (covered in 23.9 karat gold) that was built after a fire burnt down large parts of the university. Students have even found gold shavings on the grass after the dome is re-gilded! 🤩
Federal funding is a major source of revenue for the university, which receives millions of dollars for its top-tier programs in business, economics, anthropology, and Irish literature. 
The university also boasts a plethora of prosperous alumni, many of whom have donated sizable amounts to the school's endowment.
9. University of California
Did you know an impressive one in every 10 workers in California graduated from UC? 
This university contributes more than $45 billion per year to the state's economy since more than half its alumni stay in the Sunshine State due to a surplus of jobs in technology, healthcare, and agriculture.
While most schools on this list generate their wealth through alumni gifts, UC also secures exorbitant amounts of non-alumni funding. 
This includes hundreds of millions in donations from business people like former Citigroup chairman Sanford Weill and film studio executive David Geffen.
10. University of Michigan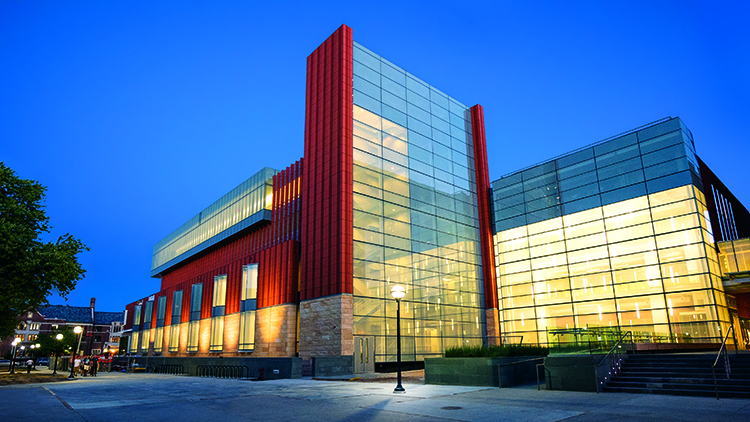 The University of Michigan provides elite academic and sports programs through four primary sources of funding: student tuition, state support, sponsored research, and auxiliary funds (such as student housing and publications).
Philanthropic gifts – for instance, the 2022 donation of $10 million to Michigan Medicine by Dr. Max Weil — also add to the school's endowment pool.
As one of the earliest American research universities, Michigan uses its wealth to lead innovation and research and has been a top producer of Fulbright Scholars and MacArthur Fellows. 
Michigan is also known as a "Public Ivy" — a term coined by author Richard Moll — since it uses its wealth to provide students an academic experience similar to Ivy League schools at a public university price tag.
11. Washington University 
Established more than 150 years ago as a night school, Washington University was named after America's first president, George Washington. 
Today, the institution has grown to include seven schools that are funded by non-profit foundations and governmental agencies such as the Department of Defense, the National Science Foundation, and NASA.  
Having played a significant role in medical research, including making key findings in the Human Genome Project, Washington University is also one of the top recipients of National Institutes of Health grants. 🧬
12. Northwestern University
Northwestern is the third-largest university in the United States (after Harvard and UMichigan) and a founding member of the Big Ten Conference —  the country's oldest college athletics conference.
Known as "The Ivy of the Midwest," the school is funded by both federal and private entities. 
Last year, it received $480 million from billionaire couple Patrick and Shirley Ryan which is the most significant single gift in the college's history.
The university also hosts fundraisers to boost its finances. The "We Will" campaign, for instance, exceeded the $6 billion mark and received support from almost 175,000 patrons in 2021.
13. University of Virginia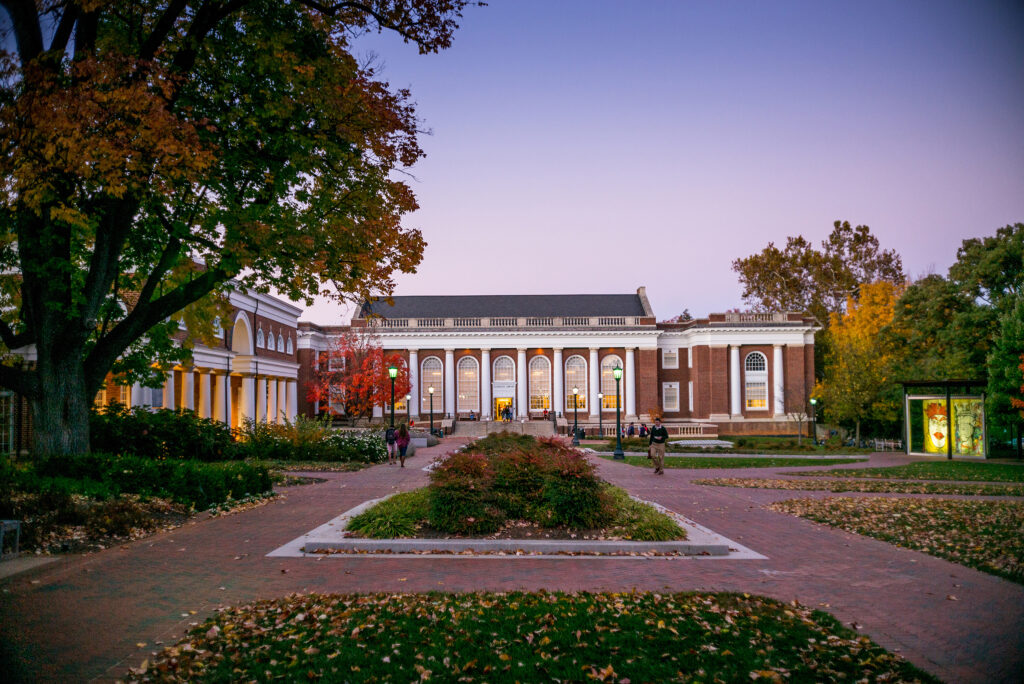 The University of Virginia was founded by US President Thomas Jefferson in 1819 so that students from different states could "drink from the cup of knowledge." 
Labeled as Jefferson's "most ambitious project," UVA is funded by tuition and fees, sponsored programs such as federal research grants, state appropriations, and gifts.
UVA has also graduated many successful entrepreneurs (including the founders of CNET and Reddit), some of whom have made generous donations to the university.
14. Columbia University
Home of the Pulitzer Prize, Columbia was the first school in the country to grant the M.D. degree and second in the list of US colleges with the most Nobel Prize winners. 
Columbia scientists have played an instrumental role in scientific breakthroughs, including the FM radio, uranium atom, and even initial research for the Manhattan Project during World War II. 🔬
So how does the school fund all this innovation and research? Columbia's three largest revenue streams are patient care, tuition, and government grants. 
Private donations are yet another major source of funds, with the Ivy League garnering more than $27 million through fundraisers in 2021.
15. Duke University
Duke is named after the father of the tobacco industry, James B. Duke, who donated $40 million (more than $1.5 billion today) to create what is now The Duke Endowment.
This endowment has grown over time, with federal agencies (such as the National Institutes of Health) and private donors contributing millions of dollars annually. 
In fact, just last year, the university added in excess of $500 million to its fund thanks to donations by former students to support research, faculty, and financial aid. 😮
16. University of Chicago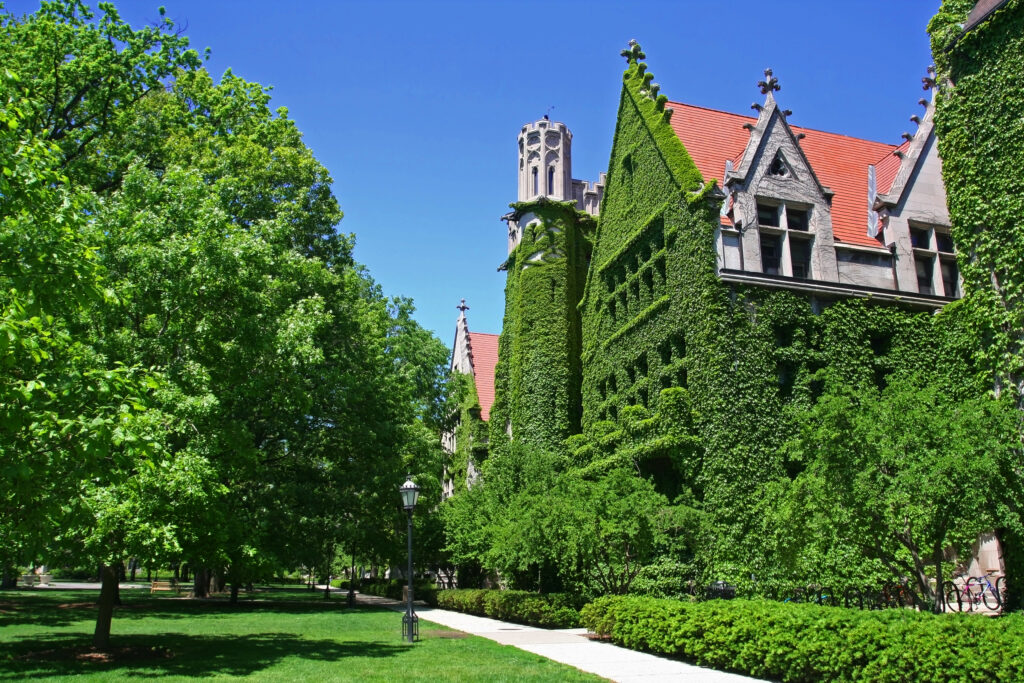 The University of Chicago owes its foundation to the generosity of rich Chicagoans. Oil magnate John D. Rockefeller, who donated $35 million (worth more than a billion dollars today) to the cause, later described it as "the best investment [he] ever made." 💰
UChicago has a strong academic reputation for its professional schools. The university's "Met Lab" played a crucial role in investigating the effects of nuclear radiation during the Manhattan Project. 
But sources of the school's riches have sparked controversies. From the mid-2000s, the university started investing in Israeli defense companies (such as Elbit Systems), which attracted mixed student responses due to the company's alleged human rights violations in Palestine.
17. Cornell University
Cornell was founded by philanthropist and businessman Ezra Cornell, who wanted to provide students with a wide range of educational options. Today, the school is comprised of seven graduate and seven undergraduate divisions. 
Like the other Ivy League schools on this list, Cornell is funded by private donations and alumni gifts. For instance, in 2011, The Atlantic Philanthropies, a charitable foundation by businessman Chuck Feeney, gifted a mammoth $350 million to the school.
Over the years, the university's massive earnings have supported nearly 60 Nobel Prize winners, 55 Olympic medalists, 14 billionaires, and countless other eminent alumni, including late Supreme Court Justice Ruth Bader Ginsburg and Bill Nye "the Science Guy."
18. Johns Hopkins University
This university was founded in 1876 by its namesake, philanthropist Johns Hopkins, who set aside $7 million (more than $180 million today) to build a hospital and affiliated training colleges, an orphanage, and a university.
In 1900, Johns Hopkins became a founding member of the American Association of Universities and has since led all US universities in annual research expenditures.
The university maintains its nine schools through a mix of federal funding, state and local government grants, nonprofits' support, and business donations. The Gates Foundation, for instance, donated $20 million to the university in 2018.
19. Dartmouth College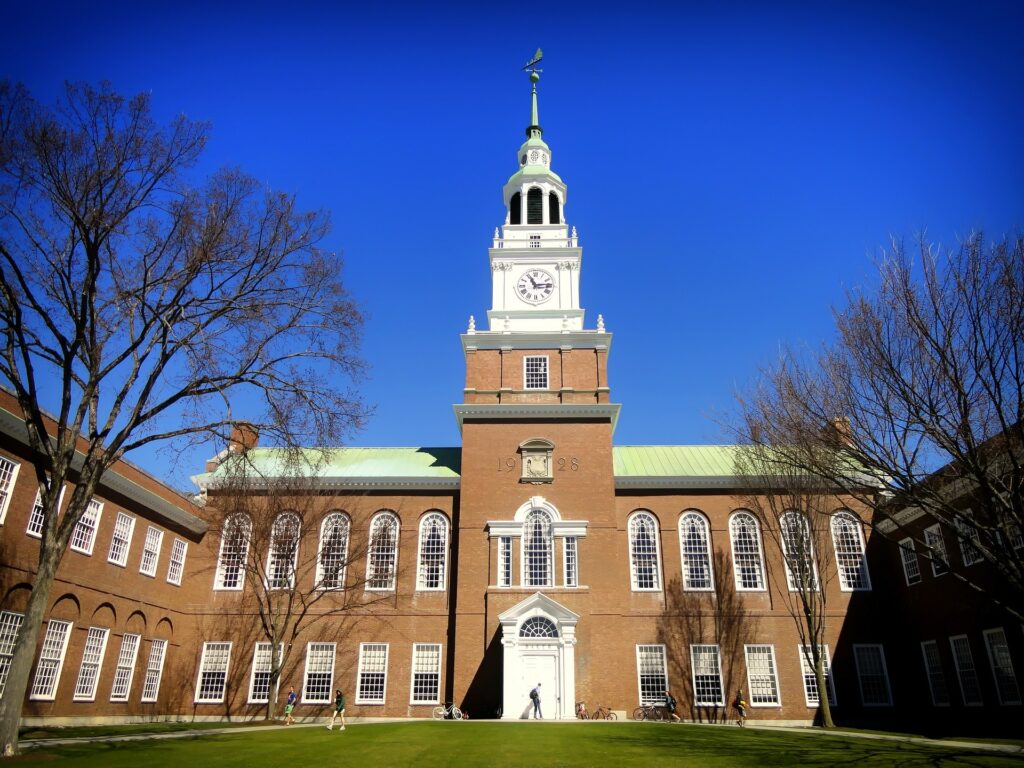 Dartmouth was founded by educator John Phillips, who donated $31,000 (about $950,000 today) to educate Native Americans in the "English way of life."
Today the school boasts a multi-billion-dollar endowment generated from donations and investments that is used in part to finance the school's 40 academic departments and support more than 6,500 students.
Like other Ivy League schools, Dartmouth has several notable alumni, including US senators, Nobel Prize winners, and Supreme Court justices. Even beloved children's author Dr. Seuss (Theodor Seuss Geisel) graduated from Dartmouth in the 1920s.
20. University of Southern California
This university was founded in 1880 when lawyer Robert M. Widney donated $100,000 (more than $2.5 million today) to the cause. 
Starting with just 53 students and 10 faculty, the college now boasts roughly 20,000 undergraduate students across 150 different programs and majors. 
As a research powerhouse and one of California's oldest private universities, USC attracts generous gifts from private donors and wealthy alumni that have shaped its academic programs and extracurriculars.
In addition to academics, the university's location in the heart of downtown Los Angeles has fostered its strong connection to the entertainment industry. Every year since the Academy Awards started, a USC alumnus has been nominated for an Oscar! 🤩
21. Rice University
Rice is a private institution with an undergraduate focus. Known for its small student body and impressive research levels, Rice spends in excess of $150 million annually on research.
The university also has close ties with NASA and has graduated many successful astronauts and space scientists. A dozen Rhodes Scholars, several CEOs, and even two Nobel Prize winners also feature on its roster of notable alumni.
Rice's academic successes are made possible by its wealthy alumni and other philanthropists who have donated millions of dollars toward the school's endowment, including two $100 million donations in 2020 and 2021.
22. Emory University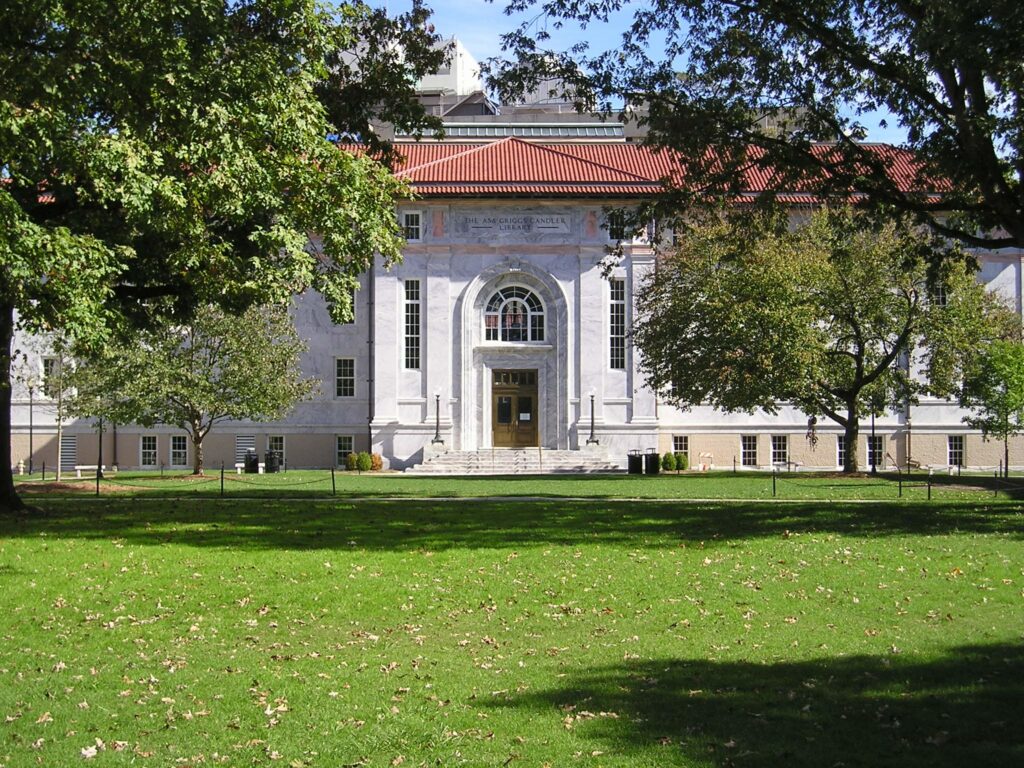 With more than $900 million available for research, Emory operates nine academic divisions, including Emory Healthcare — the largest healthcare system in the state of Georgia. 🧑‍⚕️🏥
This college is funded mainly by federal agencies, including the National Institutes of Health, which awarded the university more than $500 million for research in 2021. The school also receives generous gifts from private foundations and alumni.
Emory is home to a string of notable faculty and graduates. Former President Jimmy Carter, Bishop Desmond Tutu, and Booker Prize winner Salman Rushdie have all taught at the university.
23. Ohio State University
Did you know that Ohio State receives millions of dollars from Coca-Cola every year? The beverage company has a 20-year relationship with the school and funds various initiatives, including scholarships, internships, and student discovery projects. 
OSU uses the money from its Coca-Cola partnership and student activity fees to maintain its two dozen schools and colleges that cover disciplines such as food, agriculture, medicine, and dentistry.
The university also boasts one of the country's largest student populations, with more than 66,000 students. Many graduates have gone on to become US Representatives, senators, Olympic medalists, and even Nobel Prize laureates. 
24. Vanderbilt University
Founded by the Vanderbilts — one of the wealthiest and most prominent families in the United States — this institution was built in the hope that it would "heal the wounds" inflicted by the Civil War.
Since then, Vanderbilt has accumulated colossal wealth through federal agencies, private donations, and fundraising. 
With more than 145,000 alumni, the university has produced many well-known former students, including former Vice President Al Gore, who famously dropped out of Vanderbilt not once but twice! 😅
25. Texas A&M University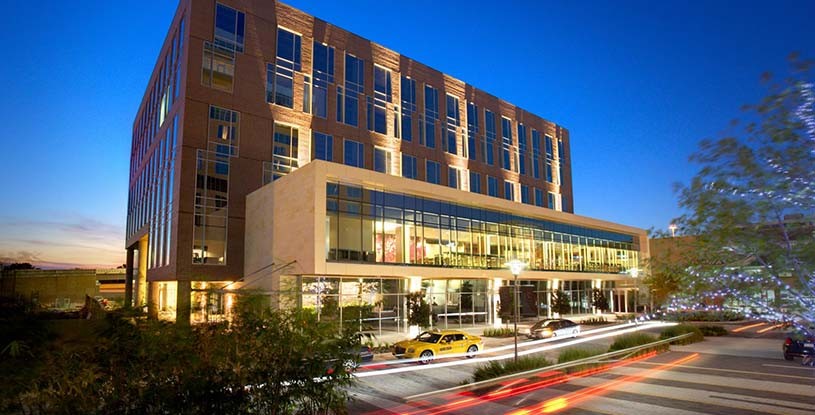 Did you know that Texas A&M has almost 75,000 students? That's more than the population of Liechtenstein!
A&M is Texas' oldest higher education institution with top-notch business, agriculture, and engineering programs. 
The university maintains its sprawling 5,500-acre campus by leasing its resource-rich lands to oil and gas companies. Tuition and leases on grazing land and wind farms also contribute to A&M's endowment.
---
Wealthy colleges have far more resources than others to cater to student requirements. 💸 
Whether you are looking for a full ride or to learn from top educators, these affluent institutions can provide you with the necessary support to fulfill your dreams after college.