The first thing Julianna Rossi did when she turned 18 was registering to vote. She has "always been really passionate about voting," a sentence not muttered often among her age constituency.
Rossi, now a junior at the University of Chicago, remains committed to empowering more youth to the polls. When she is not on every social media platform reminding her personal circles to register and vote, she acts as the chair of the student-led voting initiative UChiVotes, reminding her entire campus to do so.
When the University of Chicago sent its students home in March, UChiVotes had to adapt quickly.
Rossi said that the initiative has fundamentally changed its operations to focus on relational organizing, such as text banking and social media, the COVID equivalent of tabling. The organization also reached out to over 600 faculty members, every resident dean, over 200 resident student organizations, every athletic team and research center, and grad school.
"That's really become a cornerstone of our strategy because we can't do the in-person things anymore," Rossi told The College Post. "So we're basically going in through Zoom and having the professors make announcements." 
UChiVotes also actively posts information on Facebook and Instagram, which is peppered with a modicum of memes and Gen Z humor.
View this post on Instagram
"We were always trying to keep social media big, but I think when the pandemic hit, we knew that it was going to be a totally different shift in what we could promote," said UChiVotes' communications director Bridget Patterson, who spoke to The College Post right after a lecture and right before an office hour appointment.
The Youth Vote
Even with a pandemic in full swing and many universities going remote, student groups like UChiVotes are working hard at mobilizing their peers for what may be the most important election of their lives.
Historically speaking, voters aged 18 to 24 have the lowest turnout rates in the US, with only a meager 48.3 percent showing up at the 2016 presidential election, as reported in the National Study of Learning, Voting, and Engagement conducted by Tuft University's Institute for Democracy & Higher Education (IDHE). 
According to Nancy Thomas, director of the IDHE, the main reason students don't vote is "unnecessary and ridiculous barriers to voting in terms of voting mechanics."
For instance, a student's dorm address versus their home address can become a major logistical kerfuffle, especially in states that require an updated proof of residency to vote. "Every time a student transfers or moves, they have to learn a whole new system," Thomas explained to The College Post.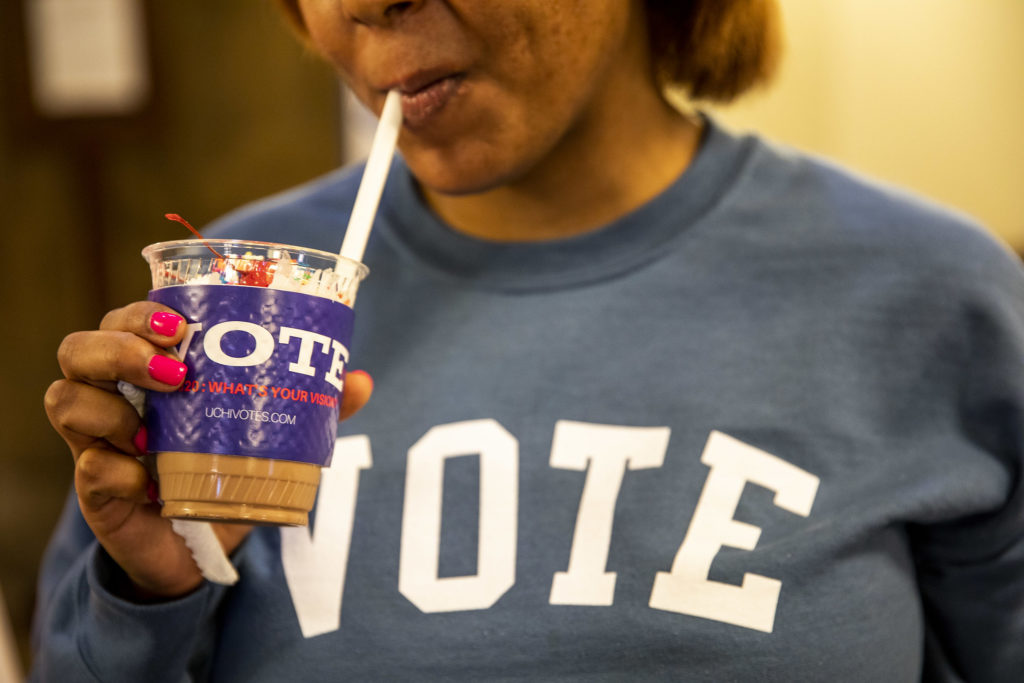 The Opposite of Apathy
Patrick Mehler, a sophomore at Cornell University and president of Cornell Votes, expressed similar sentiments.
"It's not apathy. It's just confusing and there are barriers in place that we're trying to help alleviate."
Like UChiVotes, Cornell Votes is a student-led and nonpartisan group to civically engage its campus, which is located in Ithaca, New York. The initiative originally started as a fellowship position with the Cornell Public Service Center, but after the university dismissed its fellowships due to the coronavirus, Mehler and his friends have been working all summer to revamp Cornell Votes as a student-run organization.
When The College Post interviewed Mehler, the group had just turned 100 days old. In that time, Cornell Votes has hosted virtual ballot workshops, built an active presence on social media, and most impressively, emailed every single one of Cornell's 24,000 students at least five times.
"A lot of our work has actually been amplified by everything being online," said Mehler. While it's been "daunting" to reply to the behemothic amount of voting inquiries, Cornell Votes' vice president of finances Tori Healey is excited about her team's progress.
"I really do feel like there's a huge energy around this election that I hope continues for every election down the line," she told The College Post.
Across the country on the West Coast, University of California, Los Angeles' (UCLA) Bruins Vote has witnessed a similar ardor. Aside from its website and social media accounts, Bruins Vote is also hosting three voting centers on campus, where voters can register and vote in-person on the same day.
Although the university is currently remote, deputy director of campus life Karen Hedges is still receiving volunteers and interests to work at the voting center.
"The fact that we're closed but yet I have students and staff asking me, 'can I come and help?'… All those gives me really big hope," said Hedges to The College Post, with a UCLA campus Zoom background.
View this post on Instagram
Down south in Georgia, the Emory Votes Initiative (EVI) at Emory University is encouraging able students to become much-needed poll workers in Georgia and funding free weekend shuttles to the polls, in addition to the organization's online outreach efforts.
"From everything we have seen, student engagement is sky-high," wrote EVI's Assistant Coordinator Sarah Zaslaw in a newsletter.
A Potential for Change
During the 2018 midterms, the youth turnout rate was 39.1 percent, a 20 point increase from the 2014 midterms. The same statistic for the 2016 election was three points higher than its 2012 counterpart. Although it is still lower than the national average, the student vote is steadily surging.
And now, with only a couple days to go until November 3, 71 percent of young people plan to cast their ballot. The finish line is near, but the marathon is not over.
Wherever they are, America's youth still have to complete the final task: show up and vote.
"Your generation is now bigger than mine," said Nancy Thomas from the IDHE. 
"It's time you step up and start driving policy and you can do it. You can do it in this election. You can start right now. So I don't want to hear it anymore — you know, 'the system doesn't work for me' — because guess what? You are the system now."