Target announced Wednesday that it is offering a debt-free education assistance program to its 340,000 US-based frontline workers. 
The Minneapolis-based retail discounter will invest $200 million over the next four years to offer higher education assistance to part-time and full-time employees.
Beginning this fall, frontline staff at Target will be eligible for debt-free undergraduate degrees, certificates, textbooks, and more at no additional expense. 
Chief human resources officer Melissa Kremer explained that many part-time employees working at Target want to pursue additional education opportunities. "We don't want the cost to be a barrier for anyone, and that's where Target can step in to make education accessible for everyone," she said.
Free Education Programs
Target is partnering with Denver-based startup Guild Education — which negotiates deals between companies and colleges — to offer employees educational opportunities.
Target employees can now choose from 40 educational institutions, including the University of Arizona, Oregon State University, the University of Denver, and eCornell along with HBCUs Morehouse College and Paul Quinn College. There are over 250 programs, including computer science, design, and business.
Employees pursuing business-oriented programs within the Guild network of schools will be reimbursed up to $5,250 for non-master's degrees and up to $10,000 for master's degrees each year.
The organization will also ensure that employees incur no further expenses, such as textbooks or course fees. Target will cover any out-of-pocket costs.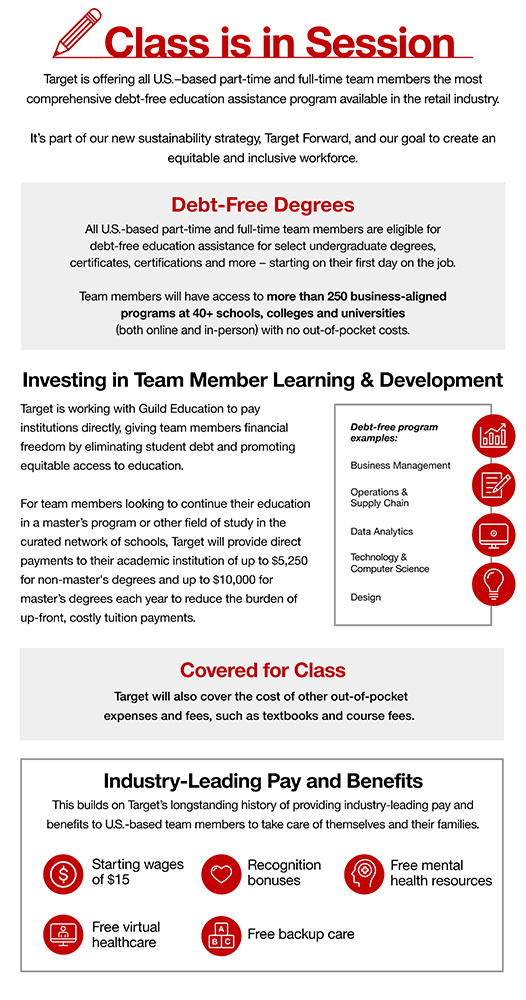 "Our team members are the heart of Target's strategy and success, and we have a long history of investing in industry-leading pay, extensive benefits and career opportunities to help our team thrive and have rewarding careers at Target," Kremer said.
The move comes as the retail and restaurant industries are struggling to find and retain employees. Many businesses have begun offering higher wages and better benefits as a result. 
Last month, Target rival Walmart announced it would pay full tuition and textbook costs for eligible employees, effective August 16.