Current and former University of Texas (UT) students were major players in a drug ring that used apps and social media to sell counterfeit Adderall and Xanax to UT students, the Department of Justice announced Friday.
The drugs were often laced with fentanyl, and authorities believe that more than $1 million in drugs were distributed.
Justice officials stated that 13 people have been charged with trafficking LSD, fentanyl, and methamphetamine pills.
US Attorney Gregg Sofer said that what made this case disturbing was how it revolved around "extremely well-educated and talented people who had many opportunities to choose from," but instead chose to "focus their business acumen and education in dealing illegal, dangerous, and counterfeit drugs."
He also warned that the pills are not manufactured and tested safely, and that when "unsuspecting college kids and other drug seekers put these pills in their mouths, they are playing Russian roulette."
Confiscated Drugs
Defendants were taken into custody last week when searches just a few blocks from the campus in Austin led to the seizure of large quantities of fentanyl, LSD, marijuana, Adderall, Xanax, and psilocybin, a hallucinogenic substance in magic mushrooms.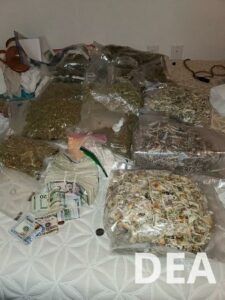 Agents also confiscated guns, bulletproof vests, and around $100,000 in cash.
Last December, thousands of fake Adderall pills and manufacturing equipment were allegedly found in a Northwest Side apartment in San Antonio. The counterfeit pills were marketed to University of Texas at San Antonio students and others through a consumer app "similar to DoorDash."
Investigators identified two main sources for the supply. One was a farm for hallucinogenic mushrooms located in Dripping Springs outside Austin and another, a marijuana field, was found in Portland, Oregon.
Persons of Interest
The ringleader was identified as 23-year-old Austin resident Varun Prasad. Investigators said that he accepted payments through cash and mobile applications, such as Venmo and Paypal.
Special agent in charge of the Drug Enforcement Administration's Houston field division Steven Whipple remarked to the Austin American-Statesman how the charged group included many educated young adults.
"These kids are all well-educated. We saw mathematics majors, chemistry majors, a psychology major, business majors. They decided to turn their talents into this illicit operation. They were pretty sophisticated in how they did it," he said.
Notable persons of interest in the case include a 68-year-old Austin real estate developer named Benny Daneshjou and former University of Texas at San Antonio professor Rose Rodriguez-Rabin, who was arrested in December 2019.
Officials say Daneshjou worked with Prasad to launder the money. Daneshjou purchased properties that were used as farms and safehouses for the entire operation. The real estate developer previously made headlines in 2004 when actress Sandra Bullock successfully sued him for $7 million, claiming that he performed poor work on her Lake Austin home.  
December 2019 Drug Bust
Meanwhile, former professor Rodriguez-Rabin stands accused of supplying Prasad with counterfeit drugs laced with methamphetamine "on numerous occasions" and is also the owner of the Northwest Side apartment where the fake Adderall pills and manufacturing equipment were found.
Rodriguez-Rabin and Brandon Sims, whom she identified as her roommate in the apartment, are currently awaiting trial.
There were two other suspects in the investigation; however, both overdosed and died before authorities could investigate them further.
If convicted, the defendants could face 10 years to life in prison for drug trafficking and up to 20 years in prison for money laundering.