There's no doubt about it, college clubs are a must for your resume. Why? Because these activities show potential employers that you're practicing the skills you boast about in your resume and job interviews.
If you want to gain an edge over your competition, all you have to do is choose the right college clubs to join. That's why we've listed the best college clubs that will give your resume a huge boost! 🚀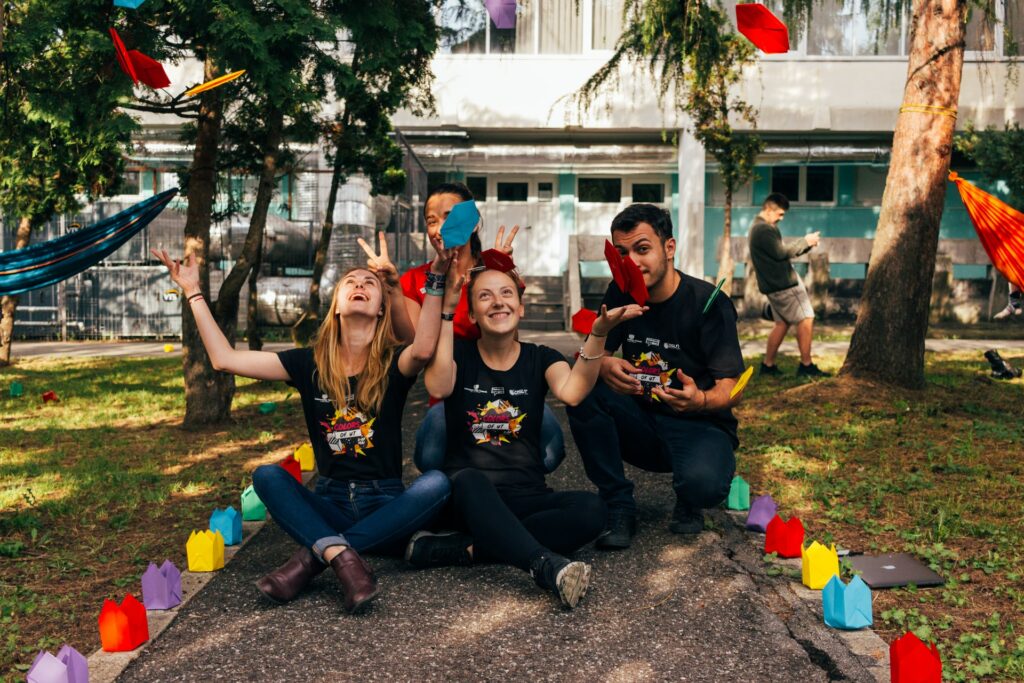 1. Social Justice Clubs
Ever dreamed of sparking change in society? Think about attending a social justice club in college. It provides a platform for students to learn about social injustice cases around the world, letting you explore problems of disadvantaged communities and finding possible solutions.
For example, the University of San Francisco has clubs committed to fighting food and healthcare insecurity within the community. Purdue University Northwest also has a social justice club that aims to "make the world a more humane place." 
Apart from the practical skills you will gain from this experience, empathy, compassion, and good moral standing are great qualities employers look for in future talent. 
🗂 Category: Community Service
🔨 Resume Skills: Leadership and governance, critical thinking, communication, project management, budgeting, emotional intelligence, initiative, and active citizenship
2. Student Government and Political Clubs
No matter how controversial politics can be, joining a political club or running for student council in college can help you appear more attractive to recruiters. You're exposed to healthy debates and are given opportunities to hone your communication and analytical skills, as well as your leadership tendencies.
Plus, the learnings that come with organizing voter registration efforts, debate parties, and forums could be considered work experience, especially if you're opting for a public office position. Some student groups under this category are the College Republican National Committee and the College Democrats of America. 
🗂 Category: Political and Student Government 
🔨 Resume Skills: Leadership and governance, strong work ethic, event planning, decision-making, critical thinking, time management, business acumen, problem-solving, active listening, teamwork, and interpersonal skills
3. Debate Clubs
You get more than just the ability to argue when you become part of a debate club. This activity is a rewarding pursuit that trains you to research and fact-check information, form a supported argument, organize your thoughts under pressure, and learn more about the world you live in ​​— all of which are valuable assets.
Some champion debate teams you can aspire to join are the Harvard College Debating Union, Emory's Barkley Forum for Debate, Deliberation, and Dialogue, Boston College's Fulton Debating Society, Wake Forest's Wake Debate, and Baylor's Glenn R. Capp Debate Forum.
🗂 Category: Academic 
🔨 Resume Skills: Oral and written communication skills, public speaking, research, crisis management, reasoning, and organizational skills
4. Academic Major Association
Another good go-to option is academic clubs focused on your major. Not only do you expand your network with like-minded peers and professionals in the industry, but you gain unique opportunities to put your degree to work. 
Whether it's getting you hard-to-reach internships or premium mentorship opportunities, these clubs come with valuable work experience that'll impress your future employers. Make sure you also have the grades to back this experience up!
🗂 Category: Academic 
🔨 Resume Skills: Teamwork and collaboration, subject expertise, strong work ethic, event planning, and time management
5. Honor Societies 
Being part of an honor society convinces employers that you're a consistent achiever — an attractive quality most companies want in recruits. But unlike other college clubs, you have to be invited into an honor society, and you can expect the selection process to be rigorous. 
You must meet GPA requirements, show leadership qualities, and shine in your interview to make the cut. But once you're in, you're provided with a broad network that can be useful for networking and character references!
🗂 Category: Academic 
🔨 Resume Skills: Leadership, learning and adaptability skills, strong work ethic, time management, and initiative
6. Foreign Language Clubs
Often, the applicant who gets the job isn't the one with the highest GPA. When a role specifically asks for a person fluent in Spanish, French, or Japanese, the time you invested in learning that language could very well be the thing that makes you the perfect candidate for that position. 
Test out your college's foreign language clubs and be exposed to cultural activities that connect you to native speakers or fellow learners who can help you achieve your linguistic goals. Remember, speaking another language fluently can put you in a position to receive better pay, and it opens more doors for career pursuits abroad.
🗂 Category: Academic and Cultural
🔨 Resume Skills: Oral communication skills, time management, focus, personal drive, cultural awareness, and interest in self-development
7. Resident Hall Associations
You may be wondering, how can being a college resident assistant possibly look good on your resume? It turns out that day-to-day responsibilities of enforcing dorm rules and policies, conducting floor meetings, mediating conflicts, and working with school administrators make fresh graduate RAs more appealing to companies. 
Plus, having your housing costs lowered (or even free of charge) is a perk that no student can resist! 
🗂 Category: Student Government 
🔨 Resume Skills: Leadership, communication, emotional intelligence, problem-solving, and crisis management
8. Community Service Clubs
No matter what industry you're going into after graduating, spending time with clubs that give back to the community can help you impress potential bosses. Whether you focus on teaching children or building houses for the homeless, your selflessness and desire to create a difference have the added bonus of boosting your resume.
Peer tutoring is also a good choice as it shows HR teams that you have substantial knowledge about a particular subject and are willing to spend resources, such as time and effort, to help others improve.
🗂 Category: Community Service 
🔨 Resume Skills: Interpersonal skills, creative thinking skills, flexibility, subject expertise, and communication skills
9. Media and Publication Clubs
Many businesses are realizing the need for digitally literate teams, and this is where joining media and publications clubs can pay off. You can be tasked with publishing the student newspaper, running the school's website, or producing other forms of content, such as photographs and news releases.
You'll become familiar with working under pressure and meeting urgent deadlines, which are skills many companies seek in their employees. This experience will also teach you to be driven, committed, and collaborative. 
🗂 Category: Arts and Academic 
🔨 Resume Skills: Teamwork and collaboration, communication skills, copy or content writing, research, creative thinking, and time management
Involving yourself in relevant college clubs can be the extra kick that sets your resume apart from other applicants. Don't be afraid to really sell your experience. This will let future employers know that you're more than just your promises, you act on them too!