Let's be honest: studying to get those As may be important, but it isn't always the most fun thing to do. So, what's the solution? 
Turn to the best productivity apps for gamification for a little help! 🤩 
What sets these apps apart is the use of motivating video game elements — such as meaningful purpose, accomplishments, and progress trackers — to get things done.
Play any of these 10 gamification productivity apps to stay on top of your game and crush your tasks! 💪
READ MORE: 17 Study Apps Every College Student Needs to Have
1. Habitica: Best in Class for Gamified Productivity Apps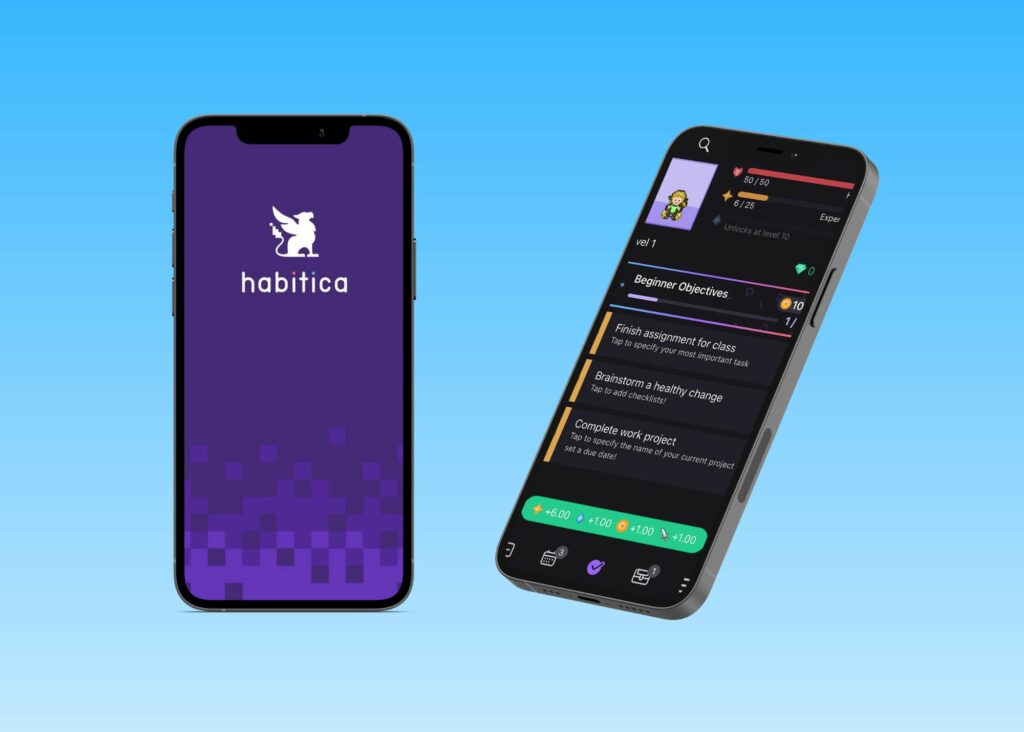 If you're the kind of student who wants to be organized to the tee but needs a little more push, Habitica is a productivity app right up your alley!
Earn gold coins you can trade for rewards whenever you complete tasks you usually procrastinate on, like reading one chapter a day for an upcoming exam, exercising for 30 minutes, or making a dent in a huge coding project. ✨ 
Rewards come in two ways: you use gold coins to buy virtual items or create your own real-life incentive — say, spending 10 coins to watch two episodes of your favorite Netflix series.
But if you forget or neglect a task, your avatar loses health. ☹️ You can easily regain this back with a health potion in exchange for coins or by completing other tasks to level up.
This wonder app has role-playing and multiple customization features to help you manage tasks and build good habits. It comes with settings for notes, difficulty level, reset streaks, dates, and tags for organizing them according to your set categories. 
Want to amp up your progress? Play with friends by joining guilds (interest groups) or form parties with your groupmates where you gain points each time someone finishes their assigned task.
✅ What we loved: 
Earn rewards for accepted contributions to the app (such as code or artwork)
Features social accountability through guilds, quests, and competitions with other users
Free, but a subscription unlocks exclusive game items
❌ What could be improved: 
Confusing user interface 
Can't be used offline
No in-app progress overview of your stats
2. Do It Now: Straightforward and Easy to Use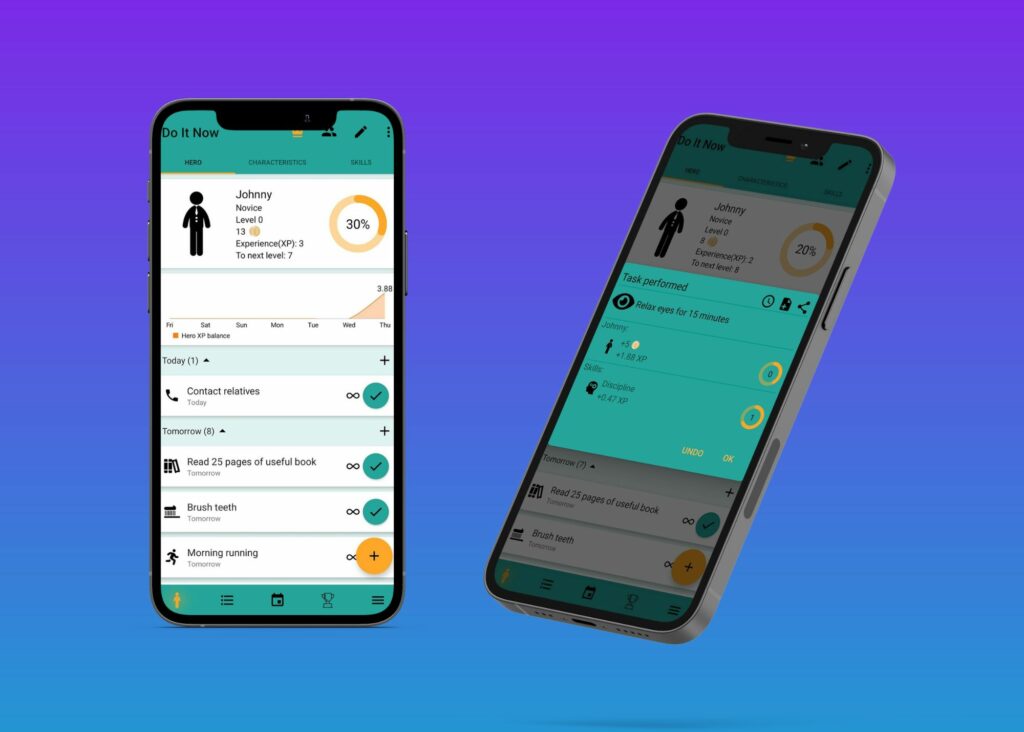 Want to gain the satisfaction of ticking the last item off your to-do list as if you were playing a game? Then you should download Do It Now. 😉 
Unlike other apps that use gaming elements with lots of color and activities, Do It Now is a productivity app with gamification that focuses on providing a more straightforward approach. 
The app offers a minimalist visual tracker of your progress. Simply set your goals and tasks with assigned skills, tick them once done, and watch your experience level increase! Video game elements are integrated but with no frills and fuss.
The sky's the limit since you can customize your own skill, difficulty level, and value per task. If you're studying Biology and set focus as a related skill you want to develop, accomplishing that task increases your experience and skill level. If you want to grow that particular skill faster, attach it to related tasks like meditation or playing a puzzle game! 🧩
While the premium version chases away ads and offers more features, the free version has everything you need to be productive. 
✅ What we loved: 
Home screen shows all daily and weekly tasks 
Customizable color scheme 
Easy and simple to use
❌ What could be improved: 
Can't mass delete items
Not socially interactive
Only available on Android
3. SuperBetter: Become a Better You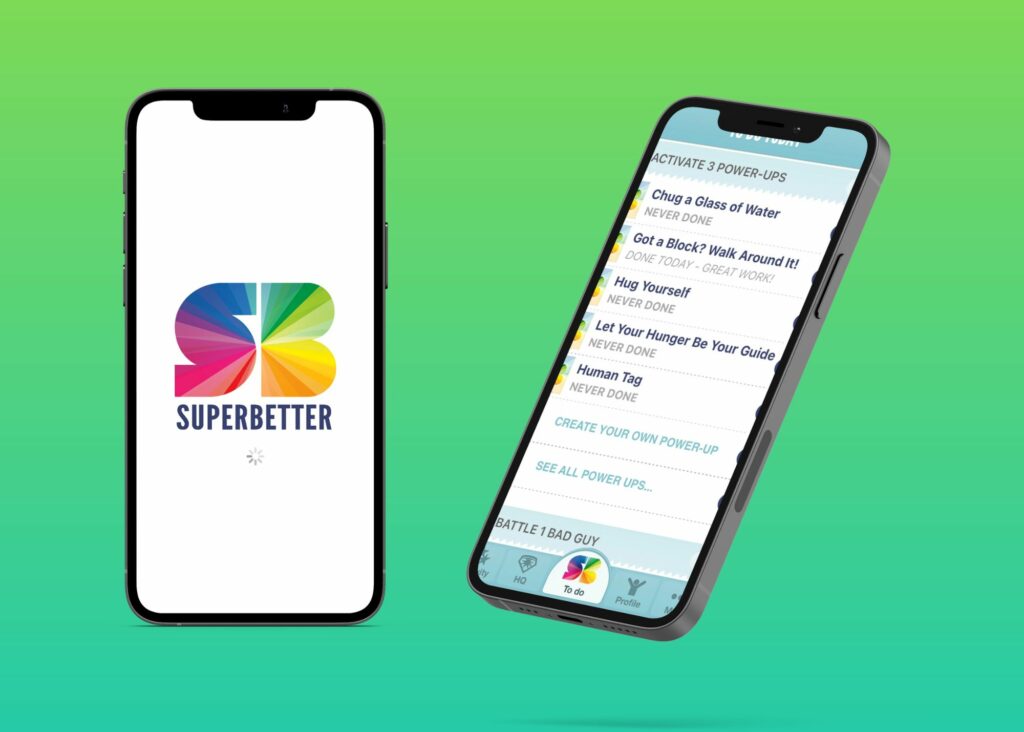 Break down overwhelming goals into smaller, doable tasks or use the SuperBetter app. The app has a list of goals to choose from, like sleeping better, eating healthier, and more.
You can pick and complete Quests to take committed actions to get you closer to your goal. Bad habits like being distracted on social media or binging on junk food (which the app refers to as Bad Guys) can also be tracked and managed. 😄
What's great about SuperBetter is that its recommended quests — say, for reducing anxiety — are validated by scientific research that found positive outcomes for app users.
This gamified productivity app is great for students who need some easy physical movement to break the monotony of studying or those who need a pick-me-up (such as breathing exercises or stretching reminders) before powering through another round of exams. 
✅ What we loved: 
Free and compatible with iOS and Android
Features scientific-based activities 
Can choose pre-made activities or customize your own
❌ What could be improved: 
No rewards system 
Not available offline
Can only set one goal at a time
4. Productivity Challenge Timer: Sharp-Witted to Make You Think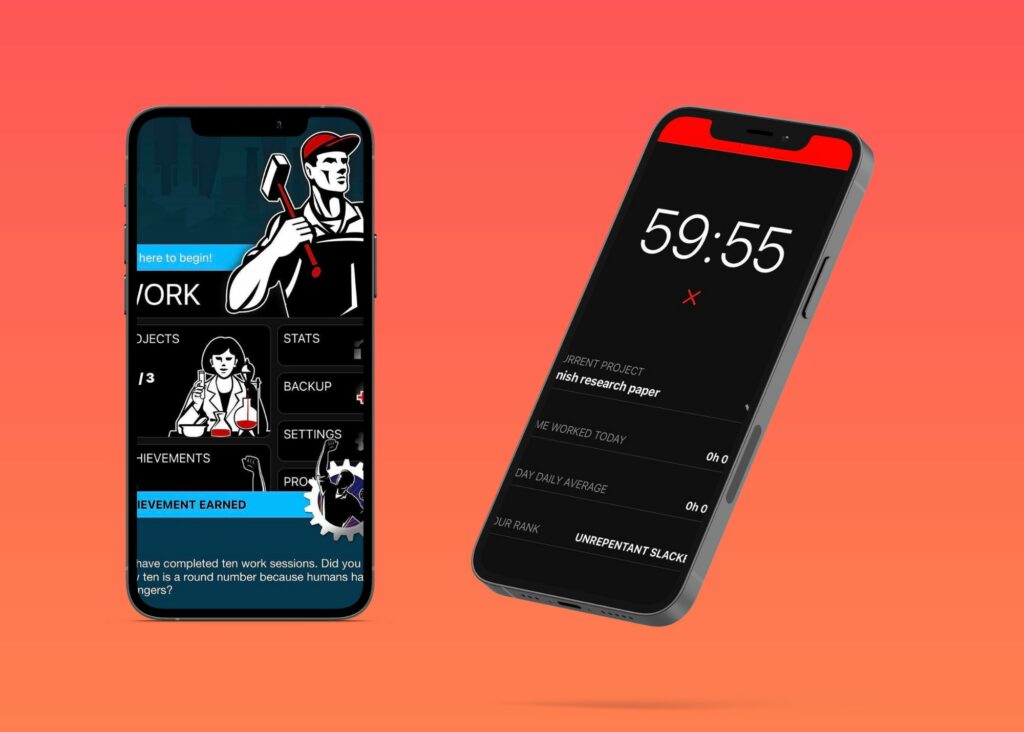 The strictness or snarkiness of a few professors can be a real source of motivation for some. If you're the kind of student who thrives in challenging environments, the Productivity Challenge Timer pushes you to get right to work (for your own good). 
Unlike other productivity timers, this app follows a "tough-guy" approach with sharp and sarcastic (but funny) language instead of an upbeat and cheerful tone. ⛏️ For example, if you don't start a work session while the app is open, you get messages like, "DO YOU FEEL GOOD PUTTING OFF WORK?" Yikes! 
This productivity app tracks how long you've worked on a goal and ranks you based on your performance. This is great for students who need some hard-line discipline and thrive on seeing detailed records of their productive times. ⏱️
While the paid version lets you work on unlimited projects, the free version only allows three — which is still good because you can narrow it down to your three most important tasks.
Your focus progress is recorded in various timeframes and summarizes your average time of work sessions in the stats bar. If you don't get to work consistently, you get demoted for poor performance. 😓
✅ What we loved: 
Shows stats for total and average time worked 
Reminds you of working time needed to level up in rank
❌ What could be improved: 
Doesn't block other distracting apps while focusing
Cannot add subtasks to your project
5. EpicWin: Achieve Your Goals in a Flash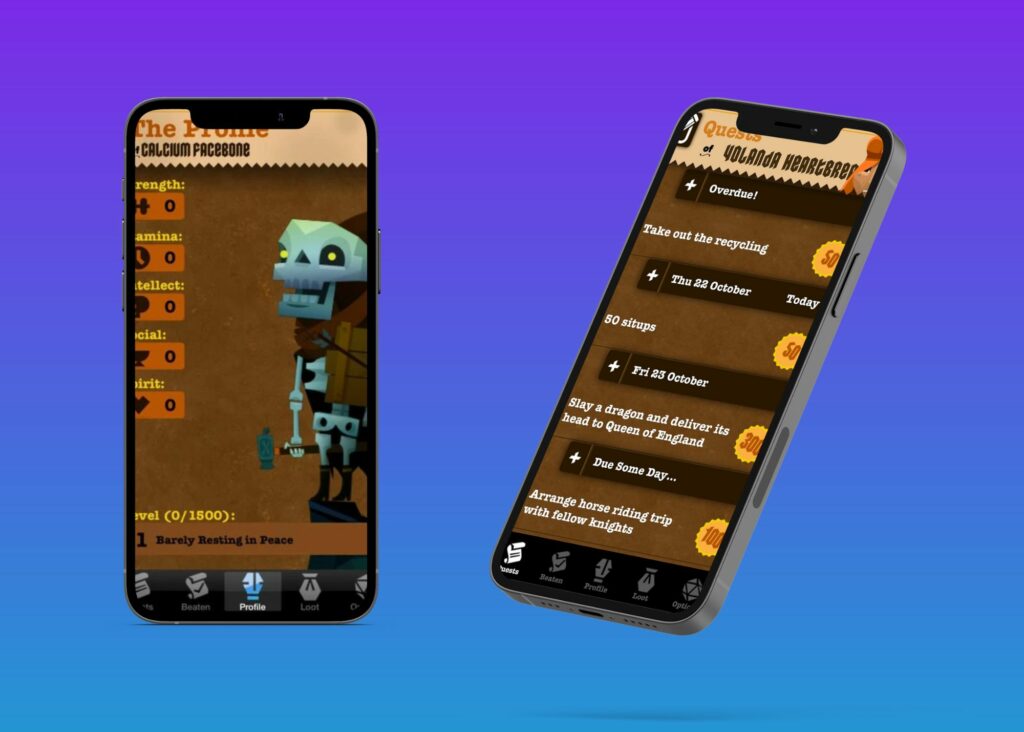 Turn mundane tasks into an EpicWin with this app! This can be your friend on days when going through another routine of reviews or errands sounds impossible. 😵‍
Instead of simply crossing off daily tasks and calling it a day, why not get coins for loot and other rewards? Choose an avatar and set your goal, then sync it into your phone calendar.
As a student, you'll most likely do in-game feats related to intellect, but don't forget to enjoy social- and strength-related tasks too, like hanging out with friends and exercising. 💯
This gamified productivity app uses a medieval theme, adding that extra oomph to pump you up for all your weekly and daily activities. 🤩 
With these features, finishing real-life tasks (like cleaning your dorm room or capping off a three-hour study session) will seem like an exciting journey toward a meaningful goal rather than a boring, time-consuming activity. 
✅ What we loved: 
Easy and intuitive to use
Compatible with iOS and Android
❌ What could be improved: 
Need to do a long press instead of a quick tap for task completion
Can only choose one feat per task
6. Forest: A Natural Vibe to Get Things Done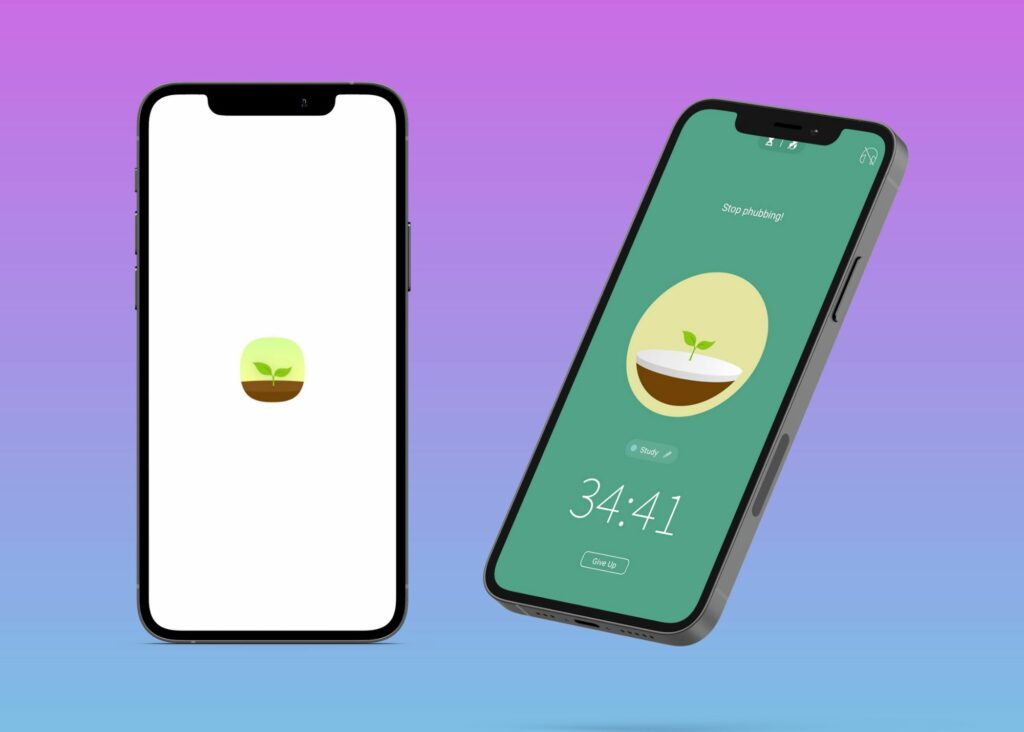 This one-of-a-kind productivity app for students lets you in on a win-win situation: finishing your work while planting real trees! 
Here's a simple walkthrough: start a new work session in the app, and you'll be given a newborn tree. To keep the virtual plant alive, you have to stay focused on your task by using your phone less. 
This app keeps you from switching from your sociology essay to social media after your timer starts. If you do, a countdown starts indicating that your tree is about to die. 
The more focused sessions you complete, the more virtual trees and coins you'll collect. You can even use some to plant a real tree through Trees for the Future, Forest's official partner. 🌳
Paying $2 for a subscription allows you to choose some apps you can open even if you started a session (which could be useful for research). Plus, it's also possible to focus with your group mates in real time. However, the free version has everything you need to stay focused while caring for the environment. 🌱
✅ What we loved: 
Can be used online and offline
Clean aesthetic with pretty plants you'd be motivated to grow or buy
Getting to plant real trees to help the environment
❌ What could be improved: 
Free on Android (but could be upgraded to a paid version), and paid on iOS 
Takes a long time to earn coins after purchasing virtual items
7. Study Bunny: Cute and Encouraging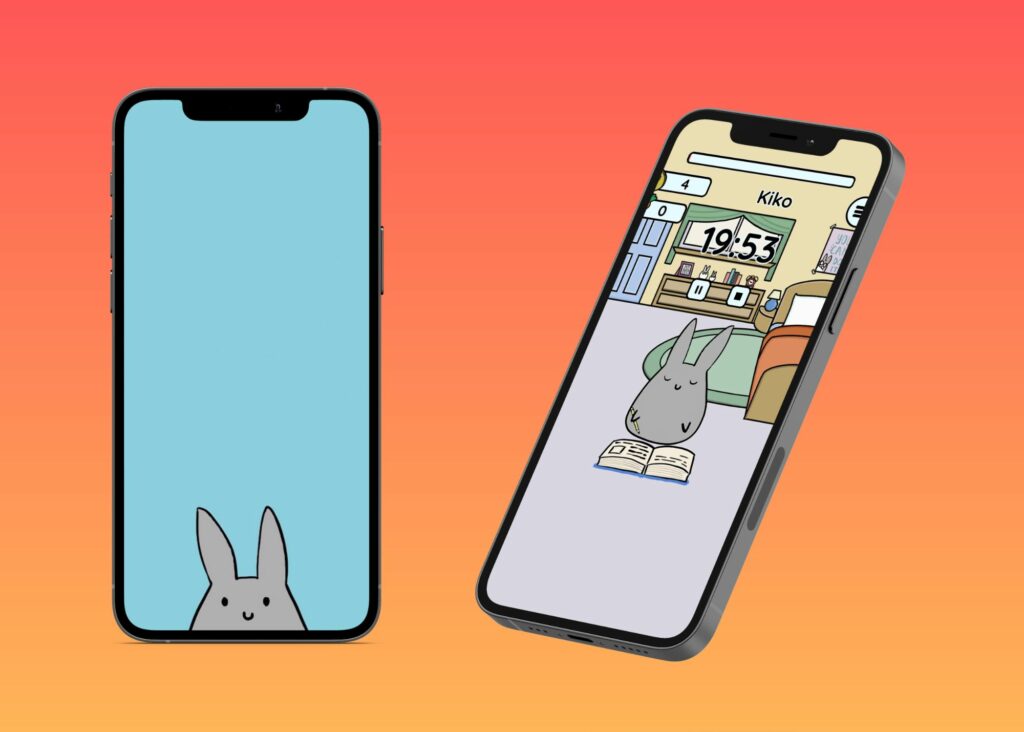 Sneak in some feel-good study sessions by using Study Bunny! 
More than just a timer for study sessions, this cute app also lets you review your notes through its flashcard system (with a scoring feature), write your to-do lists, and cheers you on with motivational quotes every time you hit pause. 🥳
You can set colorful tags for up to 15 subjects and view your uber-detailed progress in the stats window, letting you know how many hours you spent working in various timeframes. 
Filling up the bunny's happiness meter can get you coins for virtual purchases, but this depends on how much work you get done on the clock. 
Alternatively, pausing for more than seven minutes or taking a break from the app for days makes the bunny unhappy — losing rewards in the process.
This app's adorable and calming theme may just be the perfect push to help you ace your tests. Now, hop to it! 🐰
✅ What we loved: 
Honesty Mode acts as an accountability feature 
Tons of items (such as bunny accessories, background, ambient music) to buy in the store
Other methods to earn coins (free daily coins, bonus coins after study sessions, watching ads, or getting extra rewards if the happiness meter is full)
❌ What could be improved: 
Can only be used online
Can't check the accuracy of the items you place on the flashcard system
Free ambient music is on YouTube that takes you away from the app (but the timer still runs)
8. To-Do Adventure: A Wild Ride of Productivity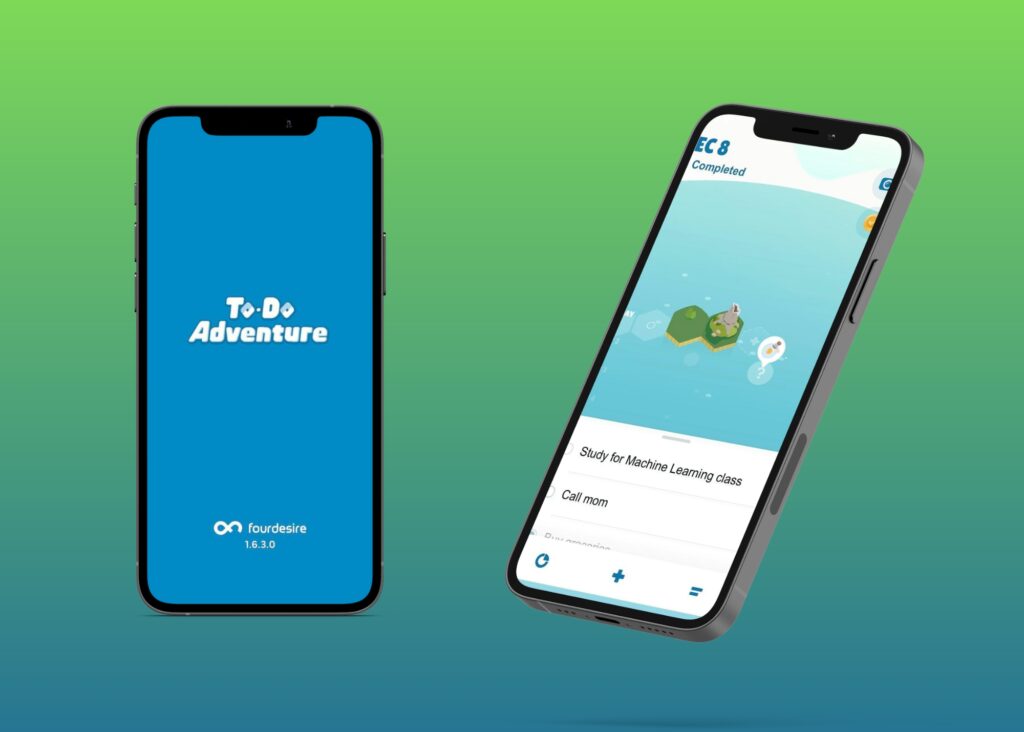 Want to spice up your tedious to-do list? Inject a sense of adventure where you "discover" new lands with each crossed-off task in the To-Do Adventure Habit Tracker! 😉
View a summary of daily tasks through the timeline or your island, where incomplete tasks are symbolized by something unfinished, like a broken bridge. 
This is an engaging way to see an overview and progress of your multiple tasks, especially on crazily busy days — where you need to work on a group project, complete a club commitment, clean your dorm room, and do a grocery run. 🏃 (Whew! That's a lot.)
READ NEXT: How to Get That A in College
To go on an adventure, simply add your tasks and complete them to gain coins and cool items. Each task represents an island block that either grows once done or becomes a barren block if you cancel it. With this app, you get to stay on track, be productive in real life, and see the beautiful island you've made as a result. 😊
This productivity app is best for students juggling different tasks aside from coursework and who prefer a little bit of a game element driven by curiosity.
✅ What we loved: 
Clean and pleasant graphics and app sounds
Many ways to earn coins 
Incomplete tasks show as a broken piece of infrastructure on the island — attracting your attention and desire to resolve it ASAP
❌ What could be improved: 
Frequency options could add a countdown of days instead of a specific weekday (e.g. "once every 2 days" which could be useful for checking a science experiment's progress or taking medicine)
Need to organize tasks according to importance level manually 
No option to create sub-tasks
9. Habit Hunter: An RPG That Doesn't Waste Time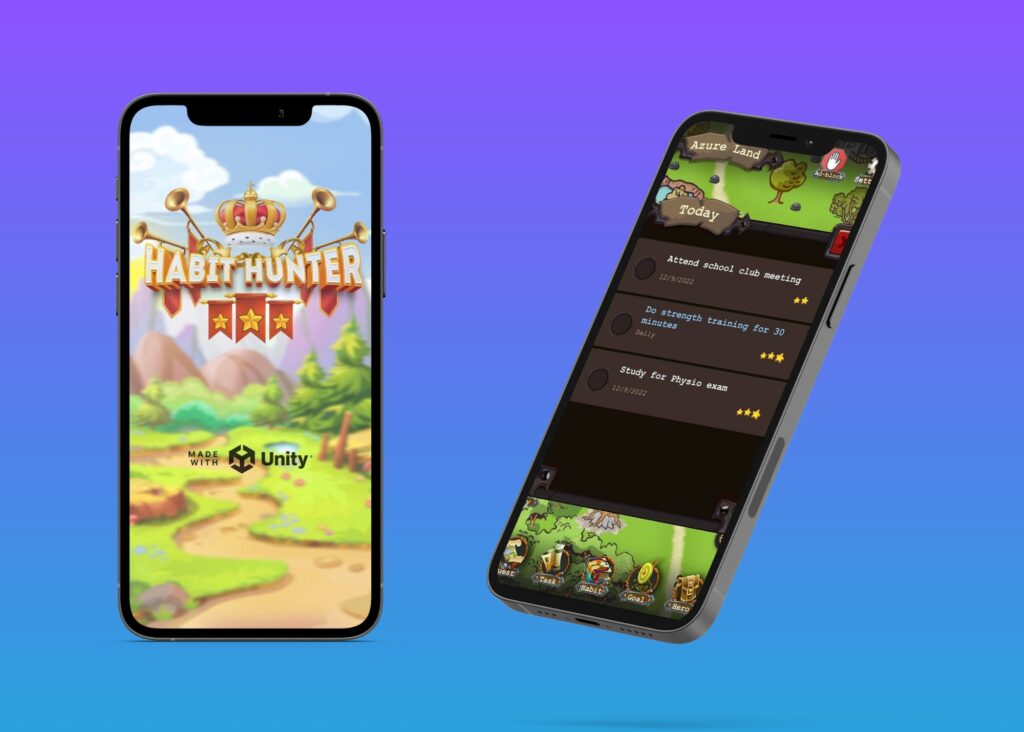 Crush your tasks with a sense of adventure with Habit Hunter. ⚔️ Just like an RPG, you have a character to upgrade, leveling up unlocks quests, monsters to battle, and a wider map to explore. 
These are fun features to keep you engaged while conquering a heavy study session and running personal errands. 
If you've got a major project due at the end of three months, allot an hour or two per day to work on it. You can set daily reminders to work on your major goal using this app, so while you're making progress in real life, you're also racking up rewards in the game! 
You can then use what you've virtually earned to buy loot, fight in-game monsters, and chat with other users to keep yourself accountable — which can be motivating factors to help push you during difficult days. 
✅ What we loved: 
Captures RPG elements through its music, design, and battling monsters
Huge goals can be broken down into smaller tasks
Compatible with iOS and Android
❌ What could be improved: 
Need for diverse options for character customization
Need for more interaction with other players aside from chatting
10. Focus Dog: A Productivity Pet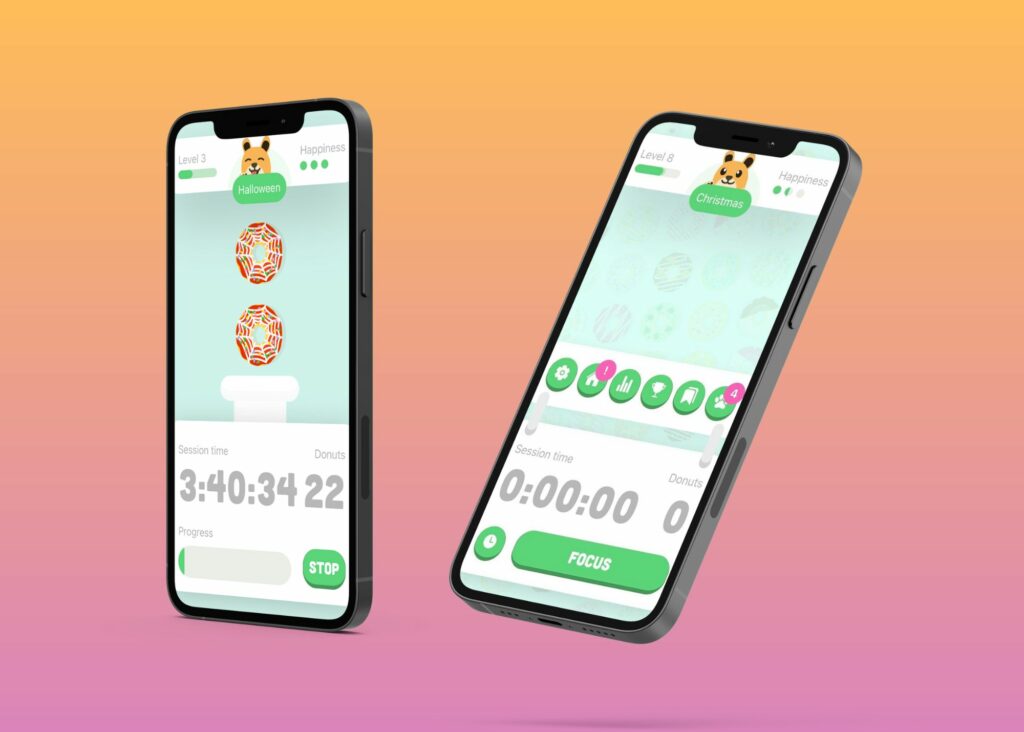 They say that a dog is a man's best friend, but did you know they make effective study companions, too? Now, you might be asking, "How is that paw-sible?" 🤔
The Focus Dog app keeps you focused for a specific period of time while churning out sweet rewards to keep your virtual pet happy. Not using your phone to focus on your work earns you experience points and donuts for leveling up. The higher your level, the better donut recipes you can bake for Focus the dog. 🍩
In this productivity app, you can break huge, time-consuming goals into short deep work sessions (say, 5 to 15 minutes). Once you've gotten into the groove of focusing, you can use your earned gems to buy meals for real dogs in shelters! 
Feeling competitive? Check out the best donut-maker (or the person who gets the most things done) on the leaderboards. With this timer, you can stay productive despite having a ruff day at school. Yeah, fur real. 🐶
✅ What we loved: 
Has different timer challenges for different rewards
Forward-counting timer (so you'll know exactly how much time has passed)
Cute sounds and graphics
❌ What could be improved: 
Dog breed options are limited
Doesn't block other distracting apps while focusing
No option to resume your session if you accidentally clicked the "stop" button
---
And there you have the best productivity apps for students! Dip your toes in one or two of these gamified productivity apps to get distractions out of the way and finish your course requirements with the best results… all while having fun. 📝💯
Remember, the most important thing is being honest about what you did or failed to do so you'll see an accurate picture of your work behavior and make tweaks from there. 
Now, get set, ready, and play for productivity! 💪