The best study abroad programs act as incredible gateways to new experiences and cultures. More than the advantage of a stellar resume, ultimately satisfying your wanderlust can make the trouble worth it. 🗺️
But, not all programs are created equal — some require stricter qualifications, prerequisite courses, or higher tuition fees. It will be an epic phase in your college life, so plan ahead of time. 📋 
Check out these top-rated colleges bridging you to life-changing study programs beyond the US! Are you ready to achieve your goals? 
1. Agnes Scott College  
Whether learning Mandarin in Shanghai or Islamic architecture in Morocco, around 46 percent of Agnes Scott students (Scotties) spend at least a year enrolled in an overseas program that matches their passion.🧳   
This is because Scotties can choose from multiple study abroad programs, such as the Global Journeys, a one-of-a-kind program that allows students to visit four to five countries in a single semester.
To help their students, Agnes Scott has awards and scholarships that support underrepresented college students like the Advantage Award Program and the Maude Jackson Padgett Travel Grant.
2. Arcadia University
Want to study fashion in the heart of the fashion capital? How about diving into the minds of literary greats at Trinity, Dublin, where Oscar Wilde, Bram Stoker, and Samuel Beckett used to go? 📖
A STEM Summer Research program that can place you in top institutions across the globe rounds ot the endless opportunities that the best study abroad programs in Arcadia offer you.
The university's Global Public Health program provides those who want to pursue public health with fieldwork and internships in South Africa, Peru, and Scotland.  🩺
Money will be less of an issue at Arcadia since 70 percent of students receive funding through financial aid like the Gilman-McCain Scholarship. 
3. Boston University 
Picture studying Japanese history in Kyoto or learning acting at the London Academy of Music and Dramatic Arts — Boston U is all about finding a program that matches your goals. ✈️
The Shanghai Chinese Language & Culture Program offers rigorous language training, cultural events, and excursions for those looking to know more about the Chinese language and culture. 🗣️
Boston U can also get you on the other side of the world. Its Brussels Internship Program offers the chance to work as an intern in Brussels while also completing courses on the European Union.
4. College of Charleston
Break out of your campus bubble and get ready to explore the world through the study abroad programs at the College of Charleston. 
Whether it's exploring tropical ecology, delving into archeology, or studying art history, CofC has you covered. But what about funds? CofC offers a range of scholarships for qualified study abroad applicants. 
For example, LGBTQ+ students can take advantage of the Jan Kieling Rainbow Scholarship, while African-American undergraduates can explore the NAFSA Tamara H. Bryant Memorial Scholarship. 🤩
And it's not just academics —  CofC also offers overseas internship programs in countries like Germany, the Dominican Republic, and Chile, where you can develop skills and expand your network. 🤝
5. Elon University
Buckle up and get ready for a global adventure because Elon University is about to take you places with its outstanding study abroad options. 🛬
With the International Business Dual Degree, you can get two degrees for the price of one: one from Elon and another from a partner university overseas. 🎓
If business courses aren't your cup of tea, there are about 140 programs spread over 40 countries available to you. Enroll in peace and conflict studies in the Balkan Peninsula at the School for International Training. Or, take development studies in Vietnam and discover its culture. 
And get this, you can even design your own study abroad experience with options for independent fieldwork or apprenticeships.  🌍
6. Middlebury College 
Maximize the benefits of your study abroad program with Middlebury's Language Pledge and commit to communicating, listening, reading, and writing primarily in the language of your host country. 🗣️
You will also engage in captivating community interactions like learning the fascinating science behind Chilean cuisine or uncovering the vibrant culture of Uganda. 
Middlebury's study abroad programs extend beyond language and culture to encompass sustainability and environmental concerns. 
As a Middlebury student, you have the opportunity to address global issues, examine environmental policies in China, or study sustainable development in Costa Rica. 🔍
7. New York University 
Hey there, adventurer! Kick-start your study abroad experience with New York University, which offers students the chance to explore the world and earn academic credit at the same time. 
The school's First Year Away Programs lets you skip awkward roommate introductions and dive right into the cultural scene in places like Florence, London, or Madrid. 🎒
NYU also has overseas programs for students at all levels. The graduate study abroad programs are perfect for continuing your education while exploring new cultures. 
What are you waiting for? Check out student testimonials on NYU's Global Notebook and start planning your adventure today! 🌎
8. University of San Diego 
Get ready to add some stamps to your passport because the University of San Diego has over 135 of the best study abroad programs. 🛂
For example, in Helsinki, Finland, students can explore undergraduate programs in disciplines like Ethics and Law, Finance, Information Technology Management, and more. In Entebbe, Uganda, the university provides a unique summer program with undergraduate options in Chemistry.
It's no wonder why the University of San Diego ranks second in the country for study abroad opportunities. 🥈
The cost of studying abroad can be discouraging but USD is teeming with scholarships and financial aid to Get you where you're headed. 
For instance, The Adelyn Dougherty Leander Need-Based Urban Issues Scholarship offers up to $3,000 to students enrolled in IES Abroad programs at member or associate member schools of the IES Abroad Consortium. 
9. West Virginia University   
Who says you have to leave your dorm room to study abroad? West Virginia University's virtual study abroad programs only require a computer screen for you to earn academic credit while exploring the world. 💻
But if you're more traditional. WVU also has 50 short-term programs in amazing destinations like Rome and Ireland. 🌍
The WVU has a Music Industry Studies program in the UK where you get behind the scenes of the music industry, attend live concerts, and rub shoulders with industry professionals. 🎶
The Eco-Adventure Tourism program in New Zealand Lets you explore breathtaking landscapes as you learn sustainable tourism and conservation efforts. 🌿
10. Georgetown University 
Study abroad with Georgetown University and immerse yourself in the bustling business hub of Hong Kong, the rich culture of Japan, or the vibrant streets of Madrid with its 200+ study abroad programs. 🌎
Georgetown's study abroad programs go beyond the typical classroom experience. Students have the chance to petition to enroll in a study abroad course at another institution, expanding their academic options even further.
Are you qualified but short on cash? Get the help you need and apply for scholarships, such as the Overseas Ambassador Program for students with disabilities and the Benjamin A. Gilman International Scholarship for underrepresented students. 🎓
11. Colorado College 
Travel to and learn in the rural Himalayas, the Ecuadorian rain forest, or the plains of Castile through Colorado College's Summer Block Away. 🌊
The welcoming waters of a foreign country makes it easy to join the ranks of the 70 percent of Colorado College graduates who have participated in a study abroad program during their college years.
Don't miss out on grants and scholarships offered by the college to help make your study abroad experience possible! 
You could be eligible for the IFSA-Butler Program, designed specifically for first-generation college students, or the Humanity in Action fund for those interested in studying human rights. 💸
12. Emerson College 
Imagine yourself studying at a majestic 14th-century castle in the Netherlands, or honing your filmmaking skills in the heart of Hollywood. With Emerson College's Global Pathways Program, you can make these dreams a reality.
With unique campuses in Los Angeles and the Netherlands (we're talking about a 14th-century castle!), studying in an industry-specific setting will truly prepare you for success. 🏰
Emerson connects you to prestigious institutions, like the Paris College of Art and the University of the Arts London, that have top-notch resources and facilities. 
Plus, with scholarships like the Gilman Study Abroad Scholarship, you'll have the freedom to choose the study abroad program that best fits you. 🥰
13. Goucher College 
This groundbreaking liberal arts college means business since it was the first institution in the US to make studying abroad a graduation requirement. 🎓
Combine travel and research through Goucher's semester and yearlong international internships, such as a fellowship at the Arava Institute in the Middle East that focuses on environmental studies, research, and volunteering.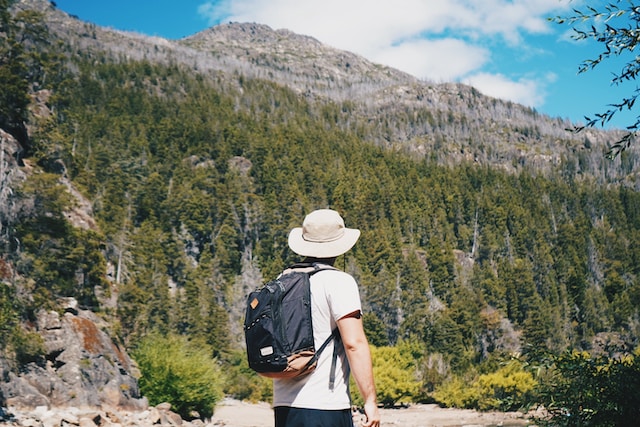 In terms of finances, Goucher understands that it can be a cause for concern. That's why they offer affordable study abroad programs and scholarships to help cover tuition and other expenses. 🌟
14. St. Olaf College
Did you know: St. Olaf secured 26 partner countries to host study-abroad students between 2021 and 2022 despite global restrictions due to the pandemic? 😯
St. Olaf offers a chance to expand your horizons with new cultures, languages, and environments found in Asia, Central or South America, Europe, or the Middle East (check out the fascinating and entertaining student blogs chronicling their adventures). 🤳
The university goes above and beyond in prioritizing the safety and well-being of its students through pre-departure orientations, on-site support, and re-entry programming. 
With this level of care, students can focus on soaking up the benefits of a global education without any added stress. 🧘
15. Texas A&M University 
With over 5,000 students exploring over 100 countries between 2018 to 2019 alone, Texas A&M students (Aggies) clearly have a passion for seeing the world. 🌎
But it's not just about sightseeing; from studying marine biology on the Great Barrier Reef to interning with a fashion designer in Paris, the possibilities are endless for Aggies overseas. 🎒
Honing in on experiential learning, study abroad students can engage with local communities through service-learning programs. 
Integrate into the local scene while studying endangered species foray the Monteverde and Alto del Roble cloud forests, taking environmental justice field studies in Costa Rica, or exploring political science at the university studies abroad consortium in Chile. 🛫
16. Trinity College 
The roster of study abroad programs at Trinity can take you to South America, Asia, or Europe to explore a new culture or language.
Swap the freezing cold for warm beach walks with single-destination programs such as environmental studies in Argentina, Singapore, and other tropical countries. ⛱️
If you're a student interested in pursuing your academic passions abroad, Trinity's partnerships with top universities like Oxford and Cambridge offer unparalleled opportunities for academic enrichment. 🚶
17. University of Arkansas
Elevate your college experience and embark on a global adventure with the University of Arkansas' study abroad programs. From exploring the captivating landscapes of Australia to immersing yourself in the vibrant culture of Botswana, UA offers a diverse range of programs to ignite your passions. 🆙
Don't just take our word for it — read testimonials from fellow Razorbacks who have embarked on unforgettable journeys around the world. ✈️
And if you're looking for something a little closer to home (like, say, your dorm room), why not try UA's international virtual program? You'll get to experience new cultures without ever leaving your cozy abode. And let's be real, who doesn't love a good armchair adventure? 💻
18. University of Delaware
Did you know that the University of Delaware was the first American school to send students overseas for study abroad programs? 
From stargazing in New Zealand to learning gender studies in Copenhagen, there's no shortage of fun options awaiting students at this amazing campus. 🌠
The University of Delaware is all about making international education accessible to everyone. That's the reason why it offers financial aid awards covering up to 75 percent of the program fee! Also, the Delaware Diplomats Scholarship Program hooks you up with $1,500 to go toward your chosen program. 🤑
19. The University of Texas at Austin 
UT students have the opportunity to see the world and gain international experience that will set them up for success. But studying abroad isn't just about going to a different country to study.
The school takes study abroad programs to the next level with meaningful international internships and interdisciplinary team projects under its President's Award for Global Learning program. 
Not only will you expand your academic knowledge, but you're also gaining valuable and one-of-a-kind professional experience that will look great on your resume. 💼
For those of you who can't commit to a full semester abroad, UT has short-term programs, too. How about learning nanotechnology in Japan or engineering communication in Denmark? 🌸
20. Kalamazoo College
Indulge in your wanderlust and soak up new cultures through Kalamazoo's impressive collection of over 50 study abroad programs. You'll be able to explore different work cultures and add a unique edge to your resume while traveling. 🌏 
Imagine studying fine arts in Greece or sipping espresso while attending humanities classes in Italy. ☕ You can even intern overseas while studying in countries like Thailand, Japan, and New Zealand.
There's no reason to hold back on the best study abroad programs because resources to stay on top of your finances are available, such as the online program cost estimator and funding assistance programs like the FEA Rainbow Scholarship, which gives eligible students up to $5,000 for the entire academic year. 🌈
21. Syracuse University 
Jumpstart your first semester with Syracuse University's Discovery Program. Students in the fields of liberal arts, engineering, or computer science, are eligible to study abroad as soon as they enter college. 
This is where you can discover the lush ecosystems of Madagascar, the volcanoes and fjords in Iceland, or take part in community-based peacebuilding activities in Colombia. 🌴
If you didn't make it into one of the best study abroad programs the US has to offer, there are still plenty of options in your sophomore or junior year.
Can't decide what program to take? Syracuse's program selector tool makes it easy to filter the programs that fit your goals, academic level, and duration. 🗒️
---
Exploring academic programs abroad can be the single most memorable experience of your entire college journey. Whichever program you choose, it will undoubtedly improve your life in ways that can't be taught inside the classroom. 
So, go after your dreams, meet new friends, and create life-long memories! 🧑‍🎓
Top-Rated Colleges With the Best Study Abroad Programs: Frequently Asked Questions