Bachelor's degrees, associate's degrees, master's degrees, and more — whew! What's with all these different types of college degrees?!
Deciding what type of degree to pursue can be stressful, even with the help of federal student aid. Aside from choosing between college or trade school, the university lingo thrown around can be really confusing. But with many jobs requiring a degree, it's important to know just what you're getting into.
From certifications to degrees, this easy-to-read guide will help you learn everything you need to know about the types of college degrees on offer.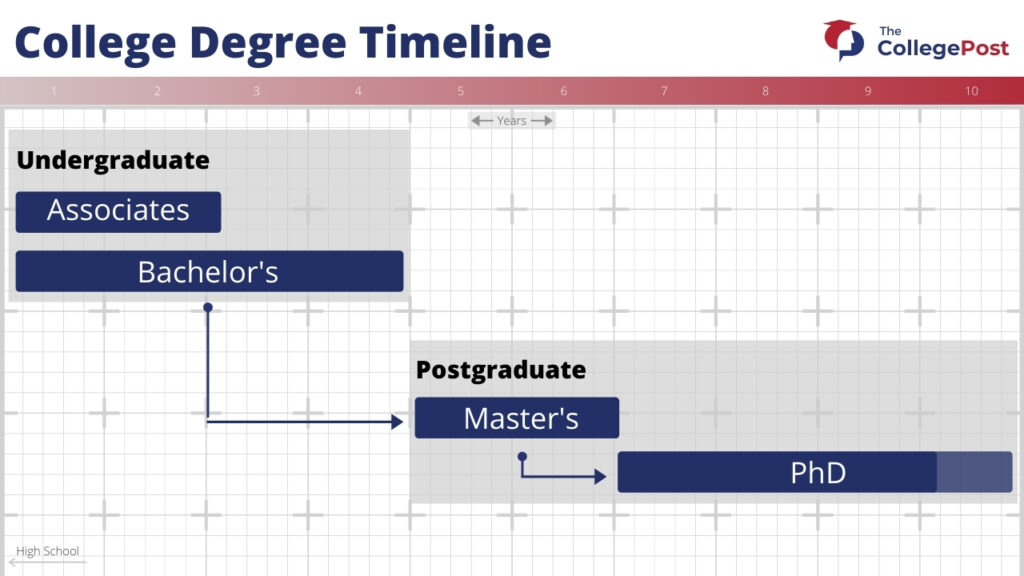 Undergraduate Degrees
Undergraduate degrees are usually the first thing to come to mind when considering a college degree because they're the first degree most people take. You're an "undergraduate" right up until you've graduated. Simple, right? 
There are two main types of undergraduate degrees: an associates degree and a bachelor's degree. Here are the main differences.
Associates Degree
Associates degrees generally only take two years, or 60 course credits, to complete. These are very accessible, and you can even receive one without the pain of student loans by going to a free community college. Some public and private universities also include it in their course offerings.
Because of how quickly associates degrees can be completed, they're often popular with people who want to enter the workforce fast. Other associate's degree students choose to later put their credits toward completing a bachelor's degree.
Either way, there's a clear benefit to earning an associate's degree. Data from the Bureau of Labor Statistics shows that associate degree holders earn significantly more than people who only had a high school diploma — and were more likely to be employed overall.
📏  Abbreviation: AA
📆  Years of study: two
📎  Required course credits: 60
Bachelor's Degree
A bachelor's degree is the most common type of college degree. Students undertaking a bachelor's generally complete four to five years of study, graduating with a Bachelor of Arts (BA) or a Bachelor of Science (BS) degree depending on their chosen major. Many universities offer students the chance to complete an internship as part of their education.
READ NEXT: These Are the Cheapest Colleges in the US
People who earn a bachelor's degree are equipped with important skills that are needed to enter the workforce. Many companies and job opportunities require a potential hire to hold a bachelor's degree.
📏  Abbreviation: BS, BA
📆  Years of study: four
📎  Required course credits: 120
Graduate Degrees
Graduate degrees allow students to learn more specialized skills after their undergraduate education. These types of degrees generally take between four and eight years to finish, depending on your field of study. But, like with undergraduate degrees, there's more than one type of graduate degree.
Master's Degree
A master's degree is one of the most common graduate degrees students pursue after finishing their bachelor's. Although the material is more intensive, this graduate degree typically takes less time to complete than a bachelor's degree — around two years total. 
A master's degree focuses on a specialized area of study or discipline, which means you won't be taking up any minor classes during your master's education.
📏  Abbreviation: MS, MA
📆  Years of study: two
📎  Required course credits: 30-40
Doctorate Degree
If a master's degree isn't enough, students can opt to pursue a doctorate degree as well. This is the highest level of formal education anyone can achieve.
While most PhD programs are between two and six years, the average student takes a lengthy 5.8 years to graduate. To add salt to the wound, a master's degree is a prerequisite to most doctorate degrees, extending study time by a further two years. 
Doctorate degrees generally revolve around academic research and discovery, but some programs provide focus on mastering and innovating the skills learned within their chosen fields.
📏  Abbreviation: PhD
📆  Years of study: two to six
📎  Required course credits: 90-120
Professional Degrees
Want to become a lawyer or a doctor? Pursuing a professional degree is the way to go. Professional degrees, in the above cases achieved by going to either law or medical school, provide you with certifications that prove you have the skills to work in these highly sought-after professions.
READ NEXT: The 13 Top Jobs for College Graduates (and How to Get Hired!)
Doctors and lawyers aren't the only careers that need to attain professional degrees, though. If you want to enter nursing, dentistry, veterinary medicine, teaching, or similar, you'll also need to have a professional degree before you can begin practicing the profession.
📏  Abbreviation: dependent on specialization
📆  Years of study: one to five
📎  Required course credits: dependent on specialization
Other Types of College Degrees
Joint Degrees
Students also have the option to earn a combined bachelor's and a graduate degree. By pursuing a joint degree, students can cut the time spent on education by increasing their academic load and beginning their graduate degree education in their fourth year of study.
Double/Dual Degrees
Double or dual degrees are two degrees earned either from a single university or at two different universities. For the latter, the two universities enter into an agreement that allows a student to study in both institutions. 
Double/Dual degrees generally take four to seven years to complete, and students graduate with diplomas from both universities. 
Teacher Certification
This is the best option for those who want to become teachers and professors in the future. Some colleges and universities allow students to earn a teacher certification by combining their undergraduate program load with teaching certification courses. While the specific certification load varies per state, it typically features professional education courses and requirements.
---
What type of degree you will pursue is always a difficult decision in college — but armed with this knowledge you'll be ready to jump in feet first. Good luck!