It's no secret that going to college in the United States is expensive. In fact, the cost of higher education in the US is among the highest in the developed world.
Nevertheless, the prestige and quality of American college degrees continue to attract students from across the country and the globe.
But how much does college really cost in the US?
To start, there are a lot of variables that affect the price you pay. For example, do you know whether you want to go to a state or a private school? Do you want to study for a two-year or four-year degree?
Whether you already live in the US or are coming from abroad, here's how much you can expect to pay for a US college education.
Average Cost of College Tuition in the US in 2020-2021
We'll begin by talking about the "sticker price" of higher education; that is, the advertised cost published by colleges and universities before financial aid such as grants, loans, and tuition discounts.
Average Cost of State College Tuition
In-State Tuition
If you're considering going to college in your home state during the 2020-2021 academic year, you can expect to spend an average of $10,560 on tuition and fees at a public four-year college.
That cost can be as low as $5,790 in Wyoming but as high as $17,510 if your home state is Vermont, the place with the most expensive in-state tuition in the nation.
Average Cost of In-State Tuition Per Academic Year
| | | |
| --- | --- | --- |
| Academic Year | 2020-2021 | 2019-2020 |
| Cost of Tuition and Fees  | $10,560 | $10,440 |
Out-of-State Tuition
Going to college in another state is generally much more expensive. On average, you can expect to pay $27,020 on tuition and fees at out-of-state public four-year colleges. That is over two-and-a-half times more than if you attend an in-state college.
The price of out-of-state tuition in the US for the 2020-2021 academic year ranges from $12,620 in South Dakota to $41,610 in Vermont.
Average Cost of Out-of-State Tuition Per Academic Year
| | | |
| --- | --- | --- |
| Academic Year | 2020-2021 | 2019-2020 |
| Cost of Tuition and Fees | $27,020 | $26,770 |
Average Cost of Private College
The average published cost for tuition and fees in the academic year 2020-2021 at a private four-year college in the US is $37,650, ranging from a low of $4,208 at Brigham Young University-Idaho to a high of $64,380 at Columbia University in New York, according to College Board.
Average Cost of Private College Tuition Per Academic Year
| | | |
| --- | --- | --- |
| Academic Year | 2020-2021 | 2019-2020 |
| Cost of Tuition and Fees | $37,650 | $36,880 |
Average Cost of Community College in the US
The average published tuition and fees at a public two-year or community college in-district (the county or community in which the college is located) is $3,770, ranging from $1,430 in California to $8,600 in Vermont in 2020-2021, according to College Board.
Average Cost of Community College Tuition Per Academic Year
| | | |
| --- | --- | --- |
| Academic Year | 2020-2021 | 2019-2020 |
| Cost of Tuition and Fees | $3,770 | $3,700 |
Average Cost of US College Tuition for International Students
International students pay out-of-state tuition rates at state universities and the same price as everyone else at private colleges and universities.
From a hefty bill of some $60,000 per year to a "full-ride" scholarship that will give you free education, there is a wide range of how much university in the US can cost. The good news is that there are a great many grants and scholarships available to help meet the costs of your education.
While many of these "gift awards" are available only to US students, a number of institutions offer incentives geared specifically toward international students. Your home country may also have scholarship opportunities available.
Additionally, many universities offer so-called "need-blind" admissions policies, meaning that admission is offered regardless of ability to pay. Ask universities you're thinking of applying to what kind of financing help they offer international students.
Cheapest Colleges in the US
If some of the average tuition costs you've read about so far have you questioning your desired academic path, don't worry; there are quite a few options for those looking for the most economical way to pursue higher education.
Cheapest Public and Private Colleges
At the top of the list of the cheapest colleges in the US is Indian River State College in Fort Pierce, Florida. It comes out to a net price of just $588 per year. Quite a bargain, eh?
In fact, the state of Florida is quite well-represented in the list, with eight of the top 15 cheapest public colleges in the nation.
Top spot on the list of the cheapest private colleges goes to Berea College in Berea, Kentucky, which offers a year's tuition from an astoundingly low $1,196. For a private college, that's an absolute steal.
READ MORE: Public vs. Private College: Which One Is Right for You?
Flagship Universities
Whether you have your heart set on that main public school in a certain state because your mom or dad went there, your favorite sports team calls it home, or someone you admire is an alumnus, maybe you've decided to attend one of the US' flagship universities, the main campus of a state university system.
Attending one of the country's 50 flagship colleges can come with a wide range of price tags. Among flagship universities, the University of Wyoming came out as the cheapest for in-state tuition at $5,220 while the University of South Dakota had the nation's lowest out-of-state tuition at $12,480.
This flagship cost rises all the way to the most expensive state for both in-state ($17,510) and out-of-state ($41,610) tuition, Vermont.
Religious and Military Schools
A number of schools also offer free tuition, room, and board in exchange for service, such as Christian and military colleges. If one of these schools offers the kind of program you're looking for — and you meet the sometimes highly selective admissions criteria — you can graduate debt-free with solid preparation for your future career.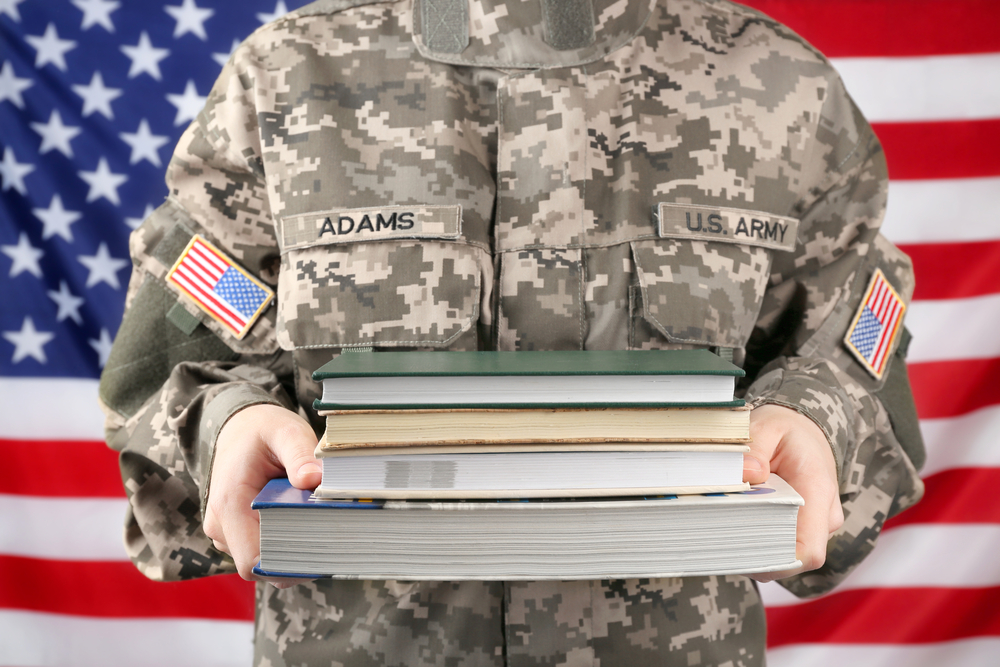 Community Colleges
If your primary consideration is not being saddled with debt after you graduate, many community colleges also offer free tuition. Community college is also a good option for those who are not ready or interested in committing to a four-year degree.
Community colleges are generally far less expensive than four-year schools. Numerous of these two-year schools offer programs in which you can earn an associate's degree and apply or automatically transfer to a four-year college. Transferring these two years of much cheaper credits can save you a stack of cash on your university education.
The aforementioned cost of these two-year schools around the country runs from the cheapest, $1,430 per year in California, to the most expensive, $8,600, in… you guessed it! Vermont.
READ MORE: College vs. Trade School: Which Choice Is Right for You?
Most Expensive Colleges in the US
While the least expensive four-year colleges are typically state schools, the most expensive are nearly all private institutions. The highest-priced college in the US is Columbia University with tuition and fees totaling $64,380 for the 2020-2021 academic year.
The list of the country's 10 most expensive schools draws heavily from elite universities such as Brown, Amherst College, Tufts, and Duke. Most of these schools are located in the northeast; the most expensive region in the country for higher education, including the 10th most expensive college on the list: Boston College at $60,202 per year.
However, don't immediately succumb to "sticker shock" when considering applying to schools such as these. A university's published price for tuition and fees can often be significantly reduced through offers of need-based grants and scholarships, which makes the actual price you pay a great deal less than advertised. This brings us to the next important consideration when determining your higher education costs.
College Sticker Price vs. Net Price
The costs at some of the country's most expensive colleges can come as a huge surprise, making it seem as though only the richest students could possibly attend. However, there is frequently a vast difference between a college's sticker price and net price; that is, the difference between an institution's stated costs and how much you will actually end up paying after financial aid.
At private colleges, the average sticker price of $54,880 for 2020-2021 was reduced by an average of $21,660 after the application of need-based and other grants, resulting in a much more manageable average net price of $33,200, according to College Board.
The average sticker price of $26,820 at public colleges was reduced by an average of $7,330 after grants and scholarships, resulting in a more modestly-priced net average of $19,490.
Any amounts that remain after need-based aid has been applied can be covered by loans made available through your school and your state and federal governments.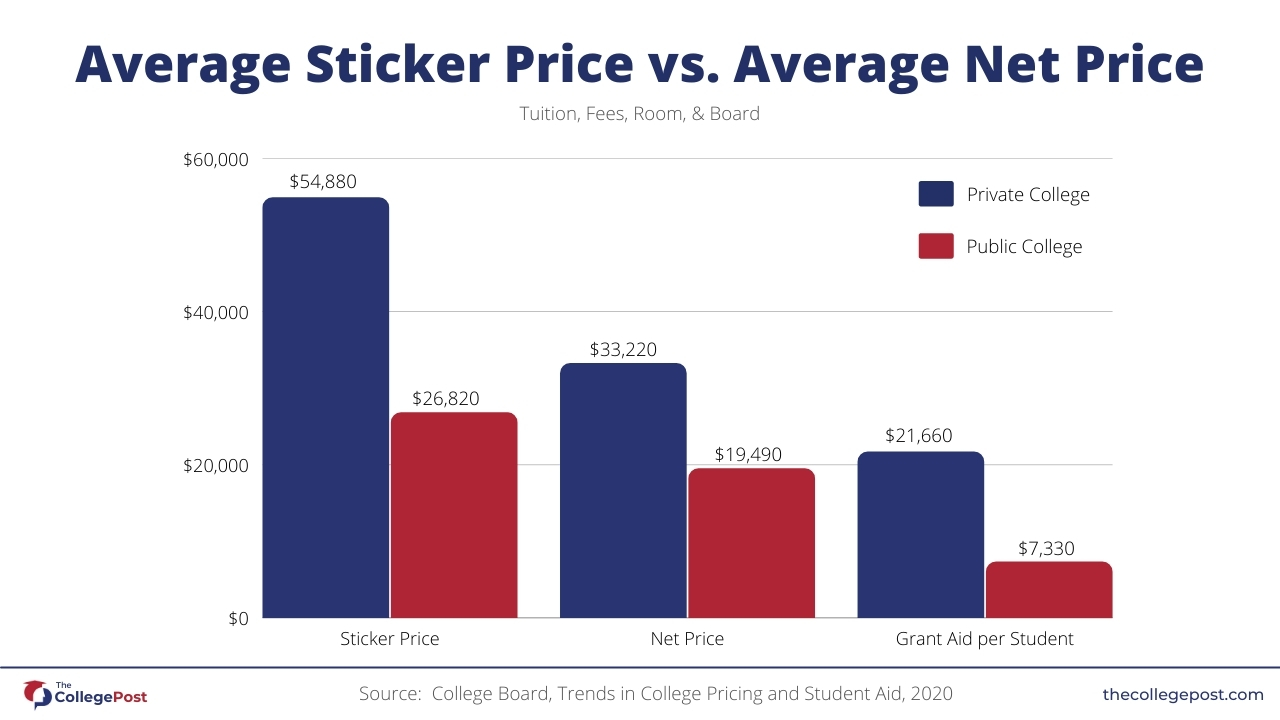 Breakdown: Tuition, Fees, and Other College Expenses
As many people contemplate the price of higher education, they often think no further than the cost of tuition and fees. However, the total cost of college includes a variety of other expenses such as books, school supplies, transportation, and housing — which adds significantly to the financial burden.
In 2020, College Board estimated a student's total average budget per year to be:
$54,880 at private colleges
$43,280 at four-year public colleges out-of-state
$26,820 at four-year colleges in-state
Bear in mind, a student's total college budget costs are calculated before any financial aid is factored in.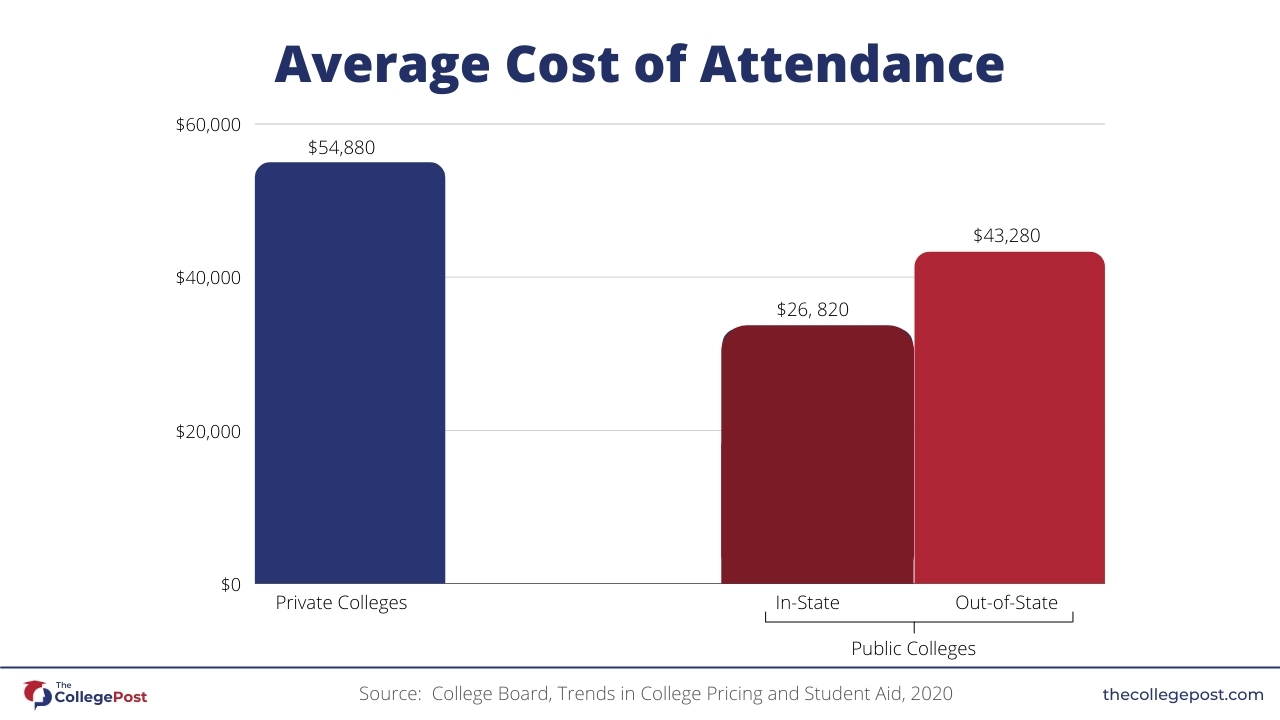 READ MORE: How Can Students Minimize Their College Expenses?
Tuition and Fees
College fees can go to a variety of services that the school provides and can vary widely among institutions. There are fees for campus athletics, student government, library, transportation, technology, student health insurance, and a variety of others.
Some of these fees can seem sensible and necessary; others may be somewhat mysterious or even ridiculous, and students often question why they should pay them. Nevertheless, they come with the territory.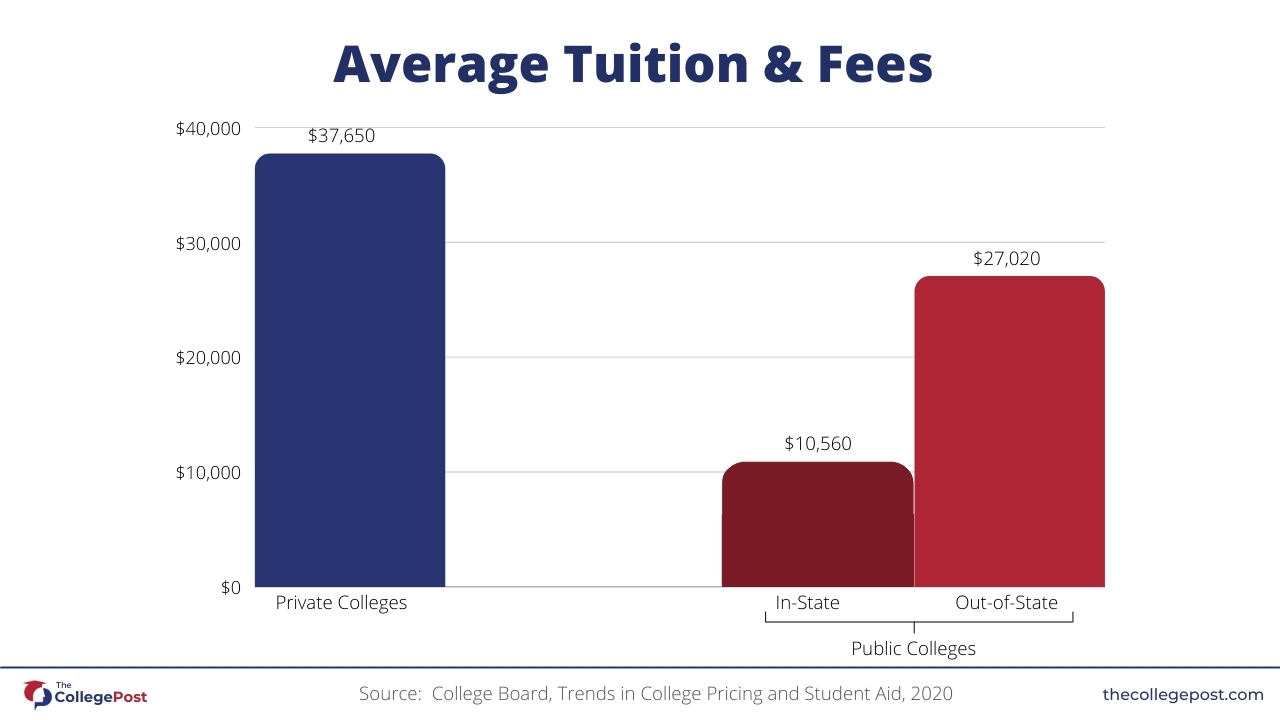 Room and Board
Room and board are the costs you will incur for housing and food during your studies. If you decide to stay at home with your family to attend an in-state college you'll face much lower costs. However, for those who decide to live on campus, the average cost for room and board during the 2020-2021 academic year is:
$13,120 at private colleges
$11,620 at public colleges
Many universities will give you an estimate of how much room and board will cost.
Cost of Books and School Supplies
Whether you're a student at a private or public college does not largely impact your costs for books and school supplies. However, your choice of major can have a major impact.
STEM subjects, for example, may require a large number of expensive textbooks, which will seriously affect your budget. All majors considered, the price of these "tools of the trade" for college students averaged $1,240 during the 2020-2021 academic year.
The cost of textbooks is a significant outlay that students often don't consider when assessing the cost of their education. It is an expenditure that has risen steeply, with the price of textbooks rising by more than 800 percent since 1978, according to Follett.
READ MORE: How to Find Cheap College Textbooks: The Ultimate Guide
The cost of textbooks is a major source of financial strain for students. However, many have found a number of workarounds to help reduce some of the expense. These include buying used textbooks, borrowing from the library, sharing textbooks with fellow students, and finding PDF versions of commonly available texts they may need for their classes. 
Other Expenses
The last of your budget considerations is everything else you'll have to pay for during your college year, such as entertainment, clothing, transportation, and other personal effects you may need. Of course, the actual cost of these expenses will depend on your lifestyle and how budget-conscious you are. Another factor to consider is whether or not you choose to study abroad and how much extra that may cost.
Some institutions offer estimates of these other expenses you will incur in the course of your academic career. Based on these estimates, College Board provides a ballpark for the "average" student in 2020-2021 of $2,870 at private colleges and $3,400 at public universities.
---
Pondering all the factors can be daunting. There are many aspects to covering the cost of college in the US. However, as the proverb states, "well-informed is well-armed." By knowing the costs of your university education, you'll be ready for your academic journey.
Frequently Asked Questions About College Costs