If you're dreading completing your FAFSA and have a phobia of FOF (Filling Out Forms), we get it! We know the FAFSA can appear a little intimidating at first, but the opportunity to score loans, grants, and scholarships is too good to pass up. 
To calm your fears and give you the energy to face the forms ahead, we've broken down exactly what you need to do to fill out your FAFSA. Let's take a look!
FAFSA Requirement: Your FSA Account
Your FSA ID — an account that allows you to access the FAFSA form and other important services — is the first thing you need to fill out your FAFSA.
This crucial first step only involves a quick visit to the FSA ID webpage to create an account. Since you might need to wait a couple of days for your FSA ID to be active and ready to use, it's a solid idea to complete this step as soon as possible to avoid any potential delays.
For dependent students (those who financially rely on their parents or legal guardians), one of your parents also needs to create an FSA ID, as their information will also be required to fill out the FAFSA.
Good to know: Either way, you have to set up your personal FSA account (your parents can't create your FSA ID for you).
What You'll Need to Fill Out the FAFSA
The questions you'll find on the FAFSA application are all about you and your family's financial situation. You'll cover everything from your date of birth (easy) to your parents' assets and investments (a little more difficult). 
While certain situations, such as citizenship, can affect what you have to submit, the items listed below are standard details you need to provide to fill out the FAFSA:
Your Social Security Number (SSN)
This nine-digit number acts as the official identification number for every US citizen or permanent resident. Your SSN is used to track your income and tax, and to apply for loans.
Bust out your Social Security card to find your Social Security number, and make sure what you type matches exactly what's on the card. If you're a dependent student, you'll need to include your parents' SSN too!
Your Driver's License Number
If you have a driver's license, you'll need to provide the number found on your license. If you don't have a driver's license, no stress — just skip this part.
Your Alien Registration Number (If You're Not a US Citizen)
Non-US citizens applying for federal student aid will need to provide their alien registration number. Similar to an SSN, it's the identification number assigned to noncitizens by the government.
Your Federal Tax Records
Next, the FAFSA form requires your federal tax information or income tax returns, so if you've earned any taxable income, you'll need to have the relevant documents on hand. If you're considered a dependent or are married, you must submit your parents' or your spouse's information too. These forms may include:
IRS W-2 (your wage and tax statement)

IRS 1040 (your individual income tax report)

Foreign tax return, IRS 1040NR, or IRS 1040NR-EZ (various versions of an income tax report for non-resident foreign citizens in the US)

Tax return for Puerto Rico, Guam, American Samoa, the US Virgin Islands, the Marshall Islands, the Federated States of Micronesia, or Palau (your tax report if you have income from US territories)

Additional financial information, such as taxable work-study arrangements, combat pay, fellowships, grants, and scholarships, reported to the IRS
Don't stress, you probably won't have to include all of these forms — only those that are applicable.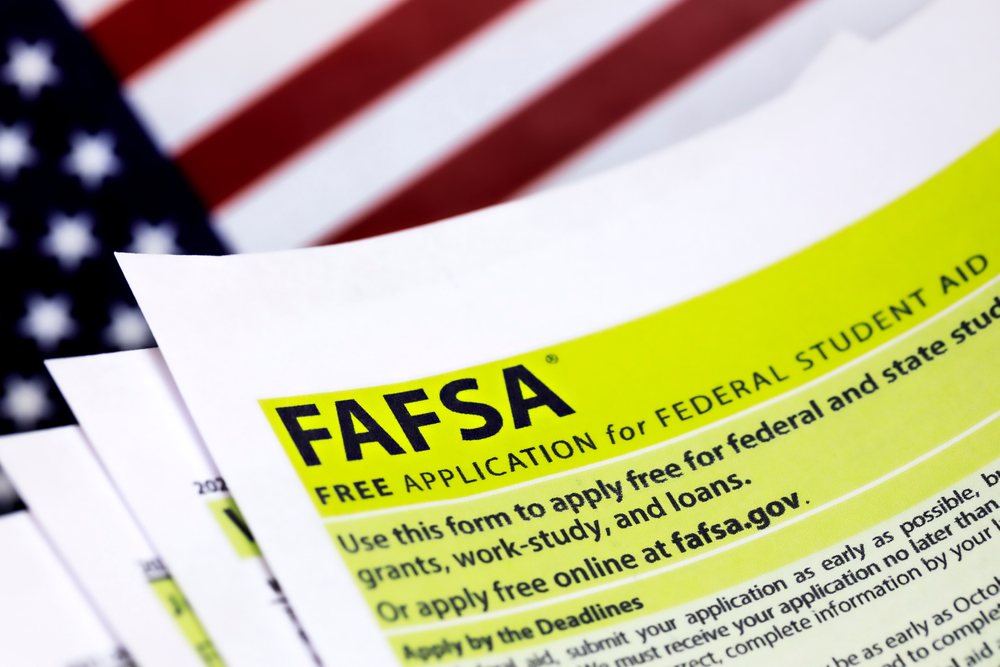 Records of Any Untaxed Income
Some money you can earn isn't normally reported to the IRS, meaning this income isn't subjected to tax deductions nor does it appear in income tax reports. The FAFSA asks you to share this information to get a better view of your financial situation.
Check below to see if any payments you might have received fall into this category:
Disability insurance payments

Employer-provided insurance

Health Savings Accounts

Child support

Principal residence sale

Interest income 

Veterans' non-education benefits

Financial gifts (if you are the recipient)

Inheritance (with exemptions)
Do any of these forms of income look familiar to you or your parents? Then you'll need to have them on hand when filling out the FAFSA.
A List of Your Assets/Investments
The last thing you need to fill out your FAFSA is an up-to-date list of your family's assets and investments. These usually mean cash, savings, and checking account balances.
Other investments include:
Real estate (other than your primary residence)

Stocks, stock options, and bonds

Money market and mutual funds

Certificates of deposit

Commodities (such as gold)

Installment and land sale contracts

Qualified educational savings 

Uniform Gifts to Minors Act (UGMA) and Uniform Transfers to Minors Act (UTMA) accounts
Tips for Filling Out the FAFSA
If you want to sail through the FAFSA, here are some tips to help you on your way.
Be Prepared to Also Provide the Above Information for Your Parents
If dependent students want the application to go smoothly then they need their parents' information to do so.
Give your parents a heads-up about the documents they need to provide weeks in advance so you won't have to scramble when you start your application.
Have a List of Your Desired Colleges On-Hand
You'll need to list at least one school that you hope to attend to help determine what type of financial aid you can receive. You can mention public or private colleges, trade schools, or even community colleges but you can only name up to 10 on the form. 
It also won't matter if you've only just handed in your college application (or already been accepted) to any of these schools — you can always remove schools later on but if you wait to add one to the application, you could miss out on benefits.
READ MORE: How to Choose A College During a Pandemic
Know When, Where, and How to File Your FAFSA
To qualify for federal student aid in the upcoming 2021-22 academic year, you must complete and file the application sometime between October 1, 2020, and June 30, 2022. If there are corrections or updates, file them no later than September 10, 2022. 
Of course, each state and college will have their own deadlines to remember, so check with your desired schools and look into state deadlines for these crucial dates.
Now that you know when and what you need to file your FAFSA, you're ready to apply for student aid! You can opt for any of these methods:
Apply

online

 

Apply through the myStudentAid mobile app

Download and print a FAFSA PDF and mail it to Federal Student Aid Programs, PO Box 7564, London, KY 40742-7654

Call 1-800-4-FED-AID (1-800-433-3243 or 334-523-2691) to request a FAFSA PDF print-out and mail it for processing after you complete the form
READ MORE: How to Apply for Federal Student Aid (and Get Approved)
---
Different documents and a whole lot of numbers — this sums up the process of filling out the FAFSA! Luckily, having everything you need to fill out the FAFSA weeks in advance can guarantee a hassle-free application that will ultimately help you afford the college of your dreams. Good luck!